topic 7151
What Tools and Machinery Needed to Polish Aluminum?
2001
Where can I find more info on polishing aluminum and what the steps are and what tools and machinery I made need !
Jonna Vaden
- Fayetteville North Carolina USA
---
2001
Your question is too vague to be answered properly. Size of the part is needed for proper evaluation of the equipment and/or method. Volume also has a lot to do with answer. Do you want to do part the cheapest way with equipment or labor? Off the top of my head, hand buffing is a possibility in small volume, but machine systems are usually a lot faster.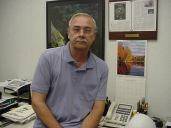 AF Kenton
Hatboro, Pennsylvania
---
2001
The current surface finish of your part will determine what to begin with. Also the grade of finish you want to achieve upon completion. When polishing aluminum, one rule is 'the wetter the better', always use your abrasives with a cutting solution, tap magic works great. 3m makes a product that's called Scotch Brite, that works great on aluminum. For a high luster finish, we use SimiChrome [linked by editor to product info at Amazon], Mother's Mag & Aluminum Polish [linked by editor to product info at Amazon], and sometimes a diamond paste depending on the final finish.
Steve Rastetter
- Kent OH USA


If you have a question in mind which seems off topic, please Search the Site