topic 7020
Lowering the Average Surface Roughness of Hardcoated Aluminum Casting
2001
Q. I am interested in means of lowering the average surface roughness of a hardcoated aluminum casting without losing hardness / wear resistance. Target roughness is less than 10 um Ra on a 50 um thick hardcoat.
Kirk Cooper
- Troy, Ohio, USA
---
2001
A. Your questions concerns both hardness and surface finish. I have a partial answer for you. If you want to improve hardness as well as surface finish, your best method is probably a mass finishing system using steel or SS ball media. This is similar to shot peening, which improves surface hardness, but without the dimpling effect. The only problem is, I am not sure you can achieve that much surface improvement as you want or need using this process. You might want to consider a 2 step operation using a new dry organic media shape first.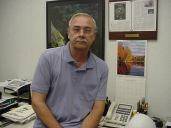 AF Kenton
Hatboro, Pennsylvania
---
2001
A. What is the surface finish before hardcoating? If you can improve the surface before hardcoating, this will probably make your target surface easier to reach afterwards. A good finishing media that you might also consider is a very hard and dense ceramic (140 lb/cu ft). There are some available that have light abrasives for cut and polish. This type of media used in conjunction with a fine powdered abrasive could work very well.
Arnold Walker
- Independence, Kentucky
---
2001
A. Depending upon the initial Ra of the raw part, there are numerous ceramic, plastic, and synthetic medias capable of reducing your finish below a 10 Ra. I suggest you send parts to a process lab that has the necessary surface reading equipment to run samples with the different types of media and take the Ra readings for you.
Eric M Hurley
- Hamilton, Ohio
---
2006
A. Kirk,

Typically hard coat anodize will raise the surface finish of anodize 2-1/2 to 3 times the starting Ra. First you need to begin with a very low Ra. I have developed a process that will only increase the Ra by 1-1/2 times. With a very low starting Ra, this process and some of the other suggestions listed you should not have a problem reaching your requirement.
David H
[last name deleted for privacy by Editor]
- Georgia, USA
---
Thanks David, but please publicly share what you can publicly share, or support the page with your advertising dollars. Proprietary suggestions in the comments have so often precipitated a race to the bottom that we must work hard to see that no commercial benefit is available from postings here. Thanks for your understanding.
Regards,
Ted Mooney, P.E.
finishing.com
Pine Beach, New Jersey


If you have a question in mind which seems off topic, please Search the Site