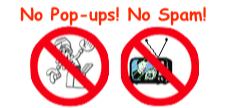 World's #1 finishing resource since 1989
Built on your Q&A's - Chime Right In
A No-Registration / No-Login Site
topic 6987
Passivated copper for radio transmitter facilities
2001
My company makes components of copper for use in radio transmitter facilities. These are large (some of our coils can go to 2" tubing four feet in diameter and six feet long). Here are some typical units: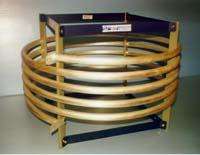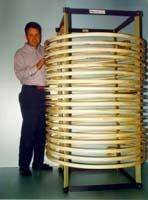 Traditionally, these parts have been silver plated to increase high-frequency conductivity and prevent corrosion (some are used in open applications). We have recently had a suggestion that our silver plating procedure could be eliminated by using a technique to "passivate" the copper. However, none of our suppliers seem to offer much help.
Does anyone have pointers to references or suppliers, or any comments on the appropriateness of this approach to our type application?
Lawrence Behr
- Greenville, North Carolina
---
2001
Mr. Behr -
Passivation, as we typically discuss it on this forum, does not occur for copper. What your colleagues may be referring to is the application of corrosion inhibitor to the copper. Corrosion inhibitors are chemicals that typically react with the metal substrate to form a barrier to keep the corrosive environment from the metal, much like passivation in stainless steel alloys.
I would recommend that you surf around the suppliers listed on this web site for inhibitors to see if something will meet your requirements.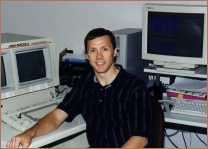 Larry Hanke
Minneapolis, Minnesota
---
2001
As Mr. Hanke explains, there's 'passivation' and then there's 'passivation'. There is the passivation that is a virtually permanent surface enrichment, such as is employed on stainless steels. And there are the conversion coating processes, such as application of chromates to zinc plating, that are sometimes referred to as passivation.
A good corrosion preventative dip for copper is benzotriazole. The next step up would probably be a chromate conversion coating of the copper. Whether either is really good enough for your outdoor exposure, however, is something you would have to actually test.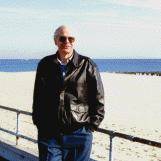 Ted Mooney, P.E.
finishing.com - Pine Beach, New Jersey
Striving to live Aloha
---
2001
I assume, if you make antennas one at a time, in a shop and these are mostly hand built, that you could use the cream form of wipe-on silver plating called "Kool-Amp". This is intended to use as an assist, for making up low resistivity mechanical (bolted) connections in buss bar, but might work for you here for appearance/corrosion improvement.
W. Carl Erickson
- Rome, New York
---
2001
Having some knowledge of transmission theories, it concerns me about removing the silver "skin" which actually participates in the transmission mechanism. Having higher conductivity, it dissipates less and transmits more energy. Otherwise the surface may transmit more noise. I suggest checking with and expert in the electrical engineering dept. at a nearby univ.
Mandar Sunthankar
- Fort Collins, Colorado
---
2001
You may use benzotriazole that is a good corrosion inhibitor for copper & its alloy. Few grams per liter works.
Jason Wu
- Hong Kong SAR
---
April 19, 2010
There is a section in the 25th edition of the Machinery's Handbook =>
... Etching and Coloring Metals, Passivation of copper
It explains and answers your questions...
It basically explains how to achieve a patina using chemicals vs. natural aging... this film then prevents further corrosion... Not sure what this does to the electrical performance...
Joe Rothwell
- Syracuse New York
---
February 16, 2012
Q. Be-Cu Bellows? We are having Bromine-containing flux induced corrosion issues.

I am looking at 1% wt Benzotriazole ... what time/temp for dip treatment?
Jeff Schroeder
- Riverdale, New Jersey, USA