topic 6944
Finishing stainless steel golf club heads
(2000)
Q. I am refinishing a set of 431 stainless steel golf irons and need a way to darken the center part of the face of the club. Is there a simple solution I can use that will last a season before it needs re-treatment? Since the club face strikes the ball at around 120 MPH, it must be something that interacts with the actual mental, not merely a coating.
Any suggestions would be much appreciated.
Thanks, Mish
Mish Quartana
- Des Moines, Iowa
---
---
January 28, 2013
Q. I am refinishing a set of forged stainless steel golf clubs. The face of the club where the ball is "supposed" to be struck is slightly scratched and I would like to remove the scratches and return them to their original appearance. It seems fairly straight forward to remove the scratches, but I will then want to return them to their original matte slightly textured finish. I want to do this while keeping the grooves on the face of the clubs as intact as possible.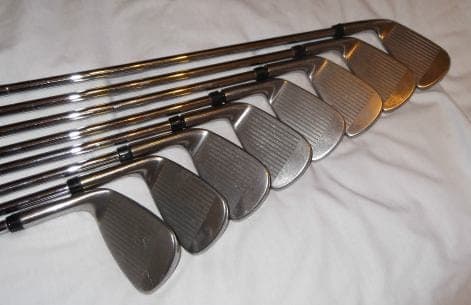 Any help will be greatly appreciated.
Christian Sapp
hobbyist - Wrightstown, New Jersey
---
February 24, 2013
A. Keeping that 'matte' finish really depends on how it was originally produced. It could be done by sand or media blasting, an abrasive wheel, or any number of different methods.

The easiest one I can think of would be a fine or very fine abrasive blasting agent, do some test pieces before you do the final finish.
Marc Banks
- Boone, North Carolina


This public forum has 60,000 threads. If you have a question in mind which seems off topic to this thread, you might prefer to Search the Site