Where the world gathers for
plating, anodizing, & finishing Q&As since 1989
-----
Passivation of Titanium
Q. Is wipe passivation required over the laser marking on medical implants?
T Bond
- Jackson, Mississippi
October 5, 2021
---
October 12, 2021
T,
What we have to consider here is what passivation does and what laser marking does.

Stainless steel style passivation removes iron from the surface to help reduce the formation of iron oxide corrosion. This is NORMALLY not required for non-ferrous metals or alloys, however there are many manufacturing processes that can deposit contaminant iron onto the surface, which then necessitates that iron be removed. Stainless steel can receive contaminant iron also, but is has its own iron to begin with too.

Laser marking heats up the surface, generating new structures of some kind, oxides, carbides, whatever it is, that are visible as this black mark. With stainless steel, this disruption to the surface stirs up the metals that are present there, i.e. bringing more iron to the surface, and therefore requiring a passivation treatment after marking. (Frequently a shorter one than is "normal" depending on how well the mark holds up in the acid.)

With a non-ferrous metal or alloy, there is no iron there, so the laser cannot cause an addition of iron to the surface. If the non-ferrous part is already known to be iron-free at the point the laser marking is done, then giving it a passivation treatment is superfluous. You can't remove iron that isn't there.

This applies to any style of passivation treatment, be it immersion in a bath, or brushing/spraying the acid solution onto the surface (the so-called "wipe" method).

Ray Kremer
Stellar Solutions, Inc.

McHenry, Illinois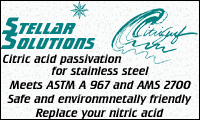 ---
October 2021

Terrific answer, Ray !
Luck & Regards,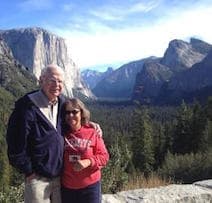 Ted Mooney
, P.E. RET
Striving to live Aloha
finishing.com - Pine Beach, New Jersey
---
October 22, 2021
T,

When doing wipe passivation on medical parts, it is required to passivate the parts before laser marking, and then do a wipe passivate after laser marking for stainless steel, but I found that if the setting on the laser marker is correct you can passivate titanium that is laser marked using Nitric 2 per ASTM A967 [affil link] which doesn't remove the laser marking in my 20 to 25 years of passivating titanium parts. Passivation is voided if the surface gets scratched, scared, or marked in the medical industry.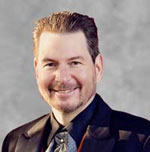 Mark Battles
Plymouth, Minnesota
---
---
↓ Closely related postings, oldest first ↓
---
---
2000
Q. Titanium alloy screws (implants) are passivated in nitric acid for a minimum of 35 minutes. Is there a maximum length of time that the screws can remain in the bath without adverse effects? Is there a relationship between growth of the oxide layer and passivation time?
D. Sudduth
- Largo, Florida
---
2000
A. Mr. Sudduth:

"Passivation" of Titanium is totally different than passivation of stainless steel. The use of nitric acid to passivate titanium is only to remove any iron or other exogenous materials from the surface. The oxide layer on Titanium forms very quickly and all by itself when exposed to air. Since there is no iron in the base metal, there is no enrichment of the surface layer like there is with stainless steel, where the surface layer is enriched with chromium.

So, the answer to your question is that it will not help to leave it in the nitric acid for a longer time, but it could etch away some of the Titanium. So, you do not want to leave it in too long. It may be safer and better to use a citric acid based material for the passivation. This will not etch the titanium, but give excellent removal of iron and other exogenous materials.


Lee Kremer
Stellar Solutions, Inc.

McHenry, Illinois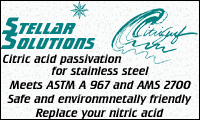 ---
March 26, 2008
A. Hi,
Titanium should not even be passivated, and in citric acid is dangerous for titanium because crack corrosion can build up in the material.

Regards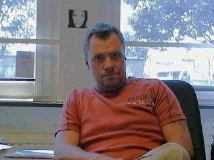 Anders Sundman
4th Generation Surface Engineering
Consultant - Arvika,
Sweden
---
March 28, 2008
A. You can treat titanium in Nitric acid for many hours, and nothing will happen, since titanium is passive in nitric. Speed of oxide layer formation is close to zero. In order to increase thickness of passive film you need to either use stronger oxidizing agents like hydrogen peroxide, persulfates, or switch to electrochemical passivation.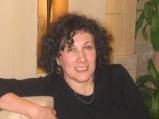 Anna Berkovich
Russamer Lab

Pittsburgh, Pennsylvania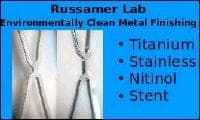 ---
---
2001
Q. I'd like clarification of the concentrations for both the NO3 and Citric acid passivation treatments for titanium. Is there a recommended pre-clean such as NaOH?
David R
[last name deleted for privacy by Editor]
- Methuen, Massachusetts
---
---
March 25, 2008
Q. Is there an ASTM, Mil-Spec, etc., that covers titanium passivation?
Frank Harris
R&D engineer - Boca Raton, Florida USA
---
March 28, 2008
A. Frank,
None that I have ever been able to track down.

Again, "passivation" of titanium is for removing contaminant iron that may otherwise turn into surface rust later on, in a similar fashion to the removal of surface iron from stainless steel during passivation. So the same general procedures used for stainless apply to titanium as well.

Citric acid is NOT dangerous to titanium.

Ray Kremer
Stellar Solutions, Inc.

McHenry, Illinois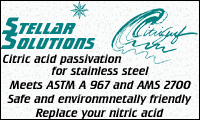 ---
---
April 28, 2009
Q. Hi,
I work in the orthopaedic medical device industry.
We currently passivate all products -- this includes non stainless steel products such as Titanium. I know the chemistry about removal of free iron and formation of an oxide layer, the later of which will not happen on Ti.
Basically does anyone have any info on passivation of non ferrous metals in the medical device industry. Does it need to be done? Know any standards?What is it for?
I ask as our products are plasma coated and are shot blasted, cleaned, passivated and then coated. I am looking to change the passivation to before shot blasting - or getting rid of altogether on Ti products.
I think one reason is that if any ferrous tooling is used by mistake, the passivation will remove any iron contamination, which would mean it is OK to passivate before shot blasting. Another reason may be any iron impurity bought to the surface of the Ti by shot blasting will be removed, in which case it's not OK to passivate before shot blasting.
I have never been able to detect any free iron on the surface of Ti using copper sulphate.
Can anyone help?

Cheers
Jim
Jim Baker
Validation manager at medical device manufacturer - Gloucester, UK
---
April 30, 2009
A. Considering that Ti will oxidize with time in air, I would be a bit surprised if a strong oxidizing acid would not give at least a minor coating.
If you are shot blasting with steel shot, passivation before blasting would be a waste of time. I would find the use of steel shot a bit disturbing.
James Watts
- Navarre, Florida
---
May 1, 2009
A. Review the applicable ASTM standards. You will see that talk of the "passivation" of Ti and its alloys is something of a misnomer.

Acid processing of Ti is more oriented to the removal of undesirable "alpha case" and surface contaminants, as opposed to the use of the term "passivation" in the context of stainless steels.

Dave Wichern
Consultant - The Bronx, New York
---
May 8, 2009
Q. Dave, I always thought that removal of "alpha case" required a fluoride containing acid.
It seems to me that there have been topics in the past where "passivation" of Ti was required. It sure seemed to me that it was NOT the normal use of the word "passivation".
James Watts
- Navarre, Florida
---
May 13, 2009
A. Yes, it absolutely does require the use of HF, or NH4HF2.

The topic of 'what does passivation mean?' has been debated ad nauseum on the site here. Some seem to think it means the formation of an enhanced layer of passive oxides on a stainless steel surface. This is the nitric acid faction.

Others seem to believe that it is simply the removal of iron rich surface smears and foreign contaminants. This is the citric acid faction.

Which is right? I don't pretend to know. But neither applies to Ti and its alloys, which spontaneously form nicely passive oxides on simple exposure to air.

Dave Wichern
Consultant - The Bronx, New York
---
---
June 8, 2012
Q. I read somewhere that nitric acid passivation of nitrided stainless steels reduce its corrosion resistance.

Is this applicable to Ti-6Al-4V alloy ?
Can nitrided Ti-6Al-4V alloy be passivated using Nitric acid ?

Appreciate your opinion help on this.

Thanks
Ravi
Ravi Kumar
- Cleveland, Ohio, USA
---
---
Q. What causes Ti to develop a stain on part of the surface after passivation?
Michael Parisi
Semiconductor ind. - Wilton, Connecticut USA
January 8, 2018
---
January 10, 2018
A. Michael,
Can you clarify what your passivation process was, what chemical, etc.?

In my experience, a "stain" on metal is usually an area that has been lightly etched. You may need a passivation treatment that doesn't attack the titanium so much.

Ray Kremer
Stellar Solutions, Inc.

McHenry, Illinois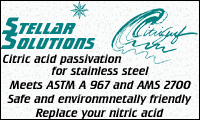 ---
January 18, 2018
Q. I am a supplier to Michael P. noted above. The part in question is CP Ti (grade 2). The drawing callout is to "pickle & passivate" (yes I've read the complete thread including debate over terminology :) . We send this part to an outside plating supplier for the p&p. Their process is ultrasonic alkaline clean > pickle in Nitric/ABF > rinse in DI water > passivate in Nitric > rinse in DI water > dry.

Sometimes the parts have staining (has appearance of "water stain") that isn't removed by subsequent IPA wipe or vapor solvent based ultrasonic vapor degrease.
Dave Gallagher
Equipment Manufacturer - Philadelphia, Pennsylvania
---
January 31, 2018
A. Dave,
From that description, I expect the treatment is way overkill for this alloy and what you have is etch damage on the surface.

"Pickle and passivate" became thought of as one process during the days of nitric acid passivation for stainless steel, and that is why many people still reflexively call out both processes when only passivation is desired.

Under this context, pickling is the etching of the surface in order to remove anything that looks ugly such as scale or heat discoloration, while passivation is the removal of surface iron to enable the formation of a surface that is composed only of oxides of nonferrous metals.

Ray Kremer
Stellar Solutions, Inc.

McHenry, Illinois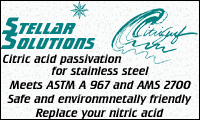 ---
---
April 24, 2019
Q. Hi Everyone, I read the complete thread but I am still confused on the advantage of nitric acid passivation on Titanium. Also, is there another cleaning method suggested for Ti (Pure grade 1)? This Ti is used for surgical implantables, but I am kind of stuck on what method of cleaning to use before sending it to sterilization (Autoclave). Any suggestions?

Thank you
Rans.
Rans Moa
Medical Manufacturing - Tempe, Arizona, USA
May 7, 2019




A. This is a case where you need more information from your customer.

What do they mean by "Passivate". Do they have a written specification or work procedure? If so, follow that. If not, then I'd leave the burden on them. It they cannot tell you the procedure, or the test results to be obtained, I'd be tempted to back away.

The one instance I've personally been involved with consisted of detergent cleaning, rinsing, and leaving the parts exposed to air. It was the written, customer supplied passivation procedure, and we followed it.




Jeffrey Holmes, CEF




Spartanburg, South Carolina






---

May 6, 2019




A. Hi Rans, I suggest electropolishing. It cannot be done in the basket; however, multiple parts can be loaded simultaneously. All contamination from cutting, grinding will be removed. The surface will be surgically clean even after 1 minute of processing. Pure titanium is easily electropolished in acid-free solution.




Anna Berkovich




Russamer Lab





Pittsburgh, Pennsylvania






---
May 9, 2019
A. The term passivation in reference to titanium usually means stainless-steel style passivation, in which iron is removed from the surface (using citric or nitric acid) so that it cannot form rust later on. The main difference is titanium only has iron on the surface if it was deposited there during the manufacturing process, while with stainless steel there is also the iron inherent to the alloy.

It's really a misnomer, as the "real" passivation is the formation of the oxide layer of the non-ferrous metals. But that happens on its own, so industry refers to the acid dip iron removal as the passivation process.

Ray Kremer
Stellar Solutions, Inc.

McHenry, Illinois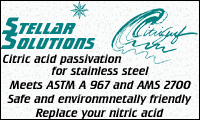 Please see also --
• Topic 33743 "Polishing & Passivation of Titanium -- ASTM A967"


www.finishing.com is made possible by supporting advertisers like ...
this text gets replaced with bannerText