topic 6883
Satin chrome finish on brass
2000
i need to know how can I have a satin chrome finishing on a massive brass door handle. ( mechanical and/or chemical steps ?)
Selim Ozruh
- Istanbul
---
2000
Selim Satin finish on either chrome or brass can be accomplished with mass finishing systems using dry organic materials treated with pumice. Normally it is sold premixed with a type of glue or binder to hold mix together. Depending on equipment and finish, this process can take a couple of hours to a couple of days.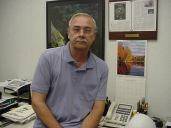 AF Kenton
Hatboro, Pennsylvania
---
2001
For a brushed satin finish on a door handle the part needs to be pre-polished using either a Scotch Brite wheel, or a leewheel (using a greaseless polishing compound) or bead blasting. The part is then dull nickel plated, occasionally after dull nickel plating Scotch Brite is used to achieve a grain, then chrome plated after.
Gary Patigler
- Richmond Ca.
---
2001
For Satin finish you need a Satin nickel on the brass prior to the chrome layer. The big supply houses have this product.
Sara Michaeli
chemical process supplier
Tel-Aviv, Israel


If you have a question in mind which seems off topic, please Search the Site