topic 6879
Obtaining a 8-12Rms Finish on Machined Die Cast A380
(2000)
We are currently attempting to manufacture a 6.00" diameter groove which approximately .125" wide. After machining we obtaining a 20-30 Rms. finish on the groove walls .300" deep. I am seeking a coating or process to improve this to the required 12 or better. The walls of the groove act as the sealing surface for a teflon encapsulated o-ring (which has only passed test with 12Rms finish). Due to the volume constraint the cycle time would need to be close to 1 minute.
Due to the narrow groove width we have looked into grinding, film buffing, teflon impregnation. Any ideas or suggestions would be welcome. Thanks,
Ken Hagadorn
- Benton Harbor MI, USA
---
(2000)
Ken, Over all part size would be nice. I think the RMS you need to achieve can only be accomplished using mechanical methods. It may be possible to get the finish you are looking for using mass finishing equipment and dry organic media. However,it still may be tough.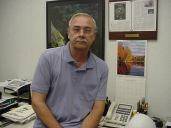 AF Kenton
Hatboro, Pennsylvania


This public forum has 60,000 threads. If you have a question in mind which seems off topic to this thread, you might prefer to Search the Site