education ... fun ... aloha spirit
Chime right in! (no registration req'd)
-----
"Oxidizing? Mystery silver hardware"
2000
I just refinished some furniture, the hardware had been painted to match the wood, but the wood is now lighter so I removed the paint (with sandpaper and 0000 steel wool [affil. link to info/product at Rockler] ) from a couple of the drawer handles and polished them to a shiny silver.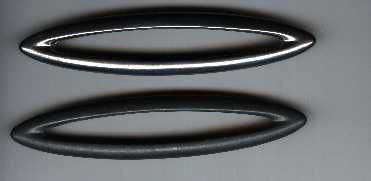 I wised up on the rest of them and used the refinishing stuff (paint and varnish remover) to take the paint off. The problem is that the color of the handles that I did not buff (just removed the paint) look better on the set than the shiny ones(we like the dull greyish look better with this furniture) and I don't know how to make the polished ones look tarnished/oxidized? again. I also don't know what kind of metal they are. The furniture is circa 1960 and the hardware is quite heavy. There are markings on the back that say K12352 and KRC2.
Stefanie Stagnaro
- San Diego, California
^