topic 6783
Electropolished
(2000)
Can someone please give me the exact definition of "Electropolished" Breaking it down, it is a process that involves electric current to draw the finish to the part. Now comes the problem area, "Polished" what degree of polishing is a requirement when an electropolish is called out on a specification or drawing. Is the finished part to be a bright shiny surface similar to that of chrome polished or chroming? Or can the surface of the part be of a dull finish and still be considered "Electropolished". I have been unable to find the answer to this question as to date.
Please someone answer this.
Thanks
Tom Neil
- Spirit Lake, Iowa USA
---
(2000)
Tom: Electropolishing is considered the opposite of electroplating in that the part is anodic (positive) and metal is removed from the high current areas selectively thereby "smoothing" the surface. There is roughly a 50% improvement in surface Ra and what you finish with depends on what you start with. Highly machined parts will be very bright and smooth, and rough, mill scaled parts will be "brighter and half as rough as when you started polishing.
Dan Weaver
- Toccoa, Georgia
---
(2000)
Tom ,
Electropolish is a controlled removal of the base material, nothing is added to surface (like electroplating) just the opposite is being down same as is manual polishing. The DC current is reversed and if the makeup of the bath is correct for the material to be polished it will be bright and shiny, Again you must remember that a lot depends on the material.i.e., electropolished steel, brass, or stainless steel will look different. Electro polish is etching the surface. Thus draws material away from part
Chris Snyder
plater - Charlotte, North Carolina
---
(2000)
You can arive at several different finishes with the electropolishing process.
By selecting different amperage and time relationships along with solution temperature changes, you can have anything from a matte to a mirror finish and still be ''electropolished''.
It all comes down to the technical and the aesthetic requirements your customer has.
Regards,
Phil Sterrett
- Cleveland, Ohio
---
(2003)
Does electropolishing of Stainless Steel affect grain size? Since chemical composition of grain boundary is different, would that cause preferred etching of grain boundaries during electropolishing?
Thanks,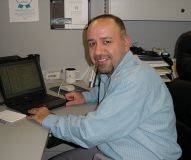 Mazdak Rooein
- Irvine, California
---
(2007)
For Nickel screen mfg process electropolishing method useful or not
JAIMOHAN SHUKLA
- Satara, Maharashtra, India
---
(2007)
Normally, nickel screens would be manufactured by electroforming, Jaimohan. Your question is a little bit vague, but if you can clarify it I will try again.
Ted Mooney, P.E.
finishing.com
Pine Beach, New Jersey


This public forum has 60,000 threads. If you have a question in mind which seems off topic to this thread, you might prefer to Search the Site