60,000 Q&A topics -- Education, Aloha, & Fun
topic 6775
Copper plating tank material : PP vs PVC or CPVC
2000
Q. I'm needing a custom 8 gal tank fabricated - 17x17x7"fluid depth; and am trying to decide which material is best for my application. I'm considering PP, PVC(clear), & CPVC.
The solution temp < 80°F. Plating purity & uniformity is primary concern. I am worried a little about the potential of Chlorine or any other impurities leaching into the bath causing contamination. Is this a legitimate concern?
Tank construction questions:
Will glued PVC joints for say for inlet/outlet connections hold up? Any thought of combining glued joint with a weld bead on the outside? Is a flat welded bottom OK, assuming it will have reinforcing ribs going around the middle of the tank and also ribs down the side, across the bottom and up the other side?
Any help would be greatly appreciated.
Jerry Jenkins
- Vancouver, Washington
---
2000
A. You didn't say, but I am assuming that you are using an acid copper bath for plating. I would make the tank out of PVC and use a molded PP liner for best performance. Glued joints work fine in an acid copper bath. Welded joints will hold up for a while, but, in my experience, are not optimum, which is why I suggest a molded liner. Given the size tank you are talking about, rather than using ribs, I would simply band the tank a couple of times with something along the lines of a tie-wrap tightly.

James Totter, CEF
- Tallahassee, Florida
---
2000
A. Jerry,
Hells Bells! Your temperature is innocuous and any normal thermoplastic will be OK. But why 'clear' PVC instead of the less expensive grey PVC?
No, you must NOT glue on outlets. They will fail. The only true glueable and fairly acid resistant plastic is ABS. Acrylics can be 'glued' but they'd cost you and only the 2 component glues (just like the Denturists use!) would be acceptable, perhaps, for corrosion applications. You have two options. Either weld them on or use tank adaptors.
Further you are going to overkill with the reinforcing = time = $$$. For such a piddly tank l/4" is wholly adequate and 3/8" max for the top max. 2" wide flange. No central flange, certainly NO vertical flanges. Tank to rest on a flat base.
OPTIONS are PVC (choice # l) then PP (unless you have oxidizing chemicals) ... don't use CPVC as the temperature doesn't warrant it and it costs an arm and a leg.
Have you considered a MOULDED Polyethylene tank? You might not get the exact size but it'd cost 60 percent less than a fabricated one ... & use tank adaptors. Have a look at Harrington's catalogue but surely (just over the bridge) there should be some rotational moulders in Portland or at least a distributor. Hope this helps. Cheers!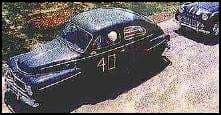 Freeman Newton [dec.]
White Rock, British Columbia, Canada

(It is our sad duty to advise that Freeman passed away
April 21, 2012. R.I.P. old friend).
---
2000
A. Jerry,
Further to James Totter's help, (I sure like his dog but don't quite recognize the species!), I'd want to add some things.
Firstly, I should have mentioned that anyone with any practical knowledge of the fabrication of thermoplastics would, wherever possible, bend rather than weld. A formed or bent edge is always superior to a welded one as it reduces stresses. Even with THICK materials (i.e., for a large tank), one often thinly precuts the sheet along the 'bend' area in order to form a better, easier and a closer ratio bend, said bend being made with heat, of course.
Welding is an art, yes, ART ! If you encounter a very good (thermoplastic) welder, he or she should hit over 8O% of tensile. An on-and-off sometimes welder, union or not, might touch 30%.
The only time you 'glue' PVC is when you have a socket connection as with a pipe. The cement will fill all the gaps and give a super connection (using the now standard THF cements) BUT, BUT, BUT even after one year, if one cuts out a slice from a socketed connection, you can see the cemented area and even, with your fingernail, indent it!
That is why I said that a cemented joint in PVC is nbg when and if you or The Man with the Dog were ever thinking of edge joining. Sure, you could 'glue' on a flat plate to another flat plate surface to build up the thickness, but that's all.
As for 'banding' around the tank, sure, you could do that.
Lastly, tank connectors or bulkhead connectors as some people call them ... are normally easily available in PVC and sometimes in CPVC and perhaps moulded ones in PP, too. They (PVC, anyhow) would cost less than welding on an outlet. Heck, even I could instal one of those!
Cheers !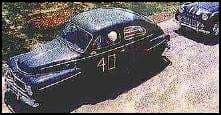 Freeman Newton [dec.]
White Rock, British Columbia, Canada

(It is our sad duty to advise that Freeman passed away
April 21, 2012. R.I.P. old friend).
---
January 27, 2016

First I'm saddened to know the jab I throw will miss the chin intended. Perhaps the collateral damage will infect a smile upon your face, as his did mine. I don't oft a prose to hitherto but in my gherkin state and cast with the mental fortitude of one set upon an answer that leads him aspiring to other questions. Thanks to many and thanks to few, thanks to those who'd seen and those who'd knew.

BUT, BUT, a bend or formed seam is always, always preferable and because of stress and strain transfer losses in plastic welded seams (edit- all fusion welded seams).


Phillip John O'Herron
- Eugene, Oregon, USB