topic 6771
Refinishing old metal filing cabinet
2000
My dad recently gave me an old metal file cabinet of his. It is rust free, but requires a new paint job none-the-less. I'd like to do this myself, but don't know the first thing about refinishing metal. Please advise as to what kind of paint to use, what process/technique you would recommend, and any other relevant information that can help me in my mission.
Thank You!
Kim Pavlik
- Orlando, Florida
---
2000
It may be easiest for you to go low-tech and get yourself a few cans of spray paint and spray away. Most cases we deal with are industrial where we are looking for the cheapest high-tech way, but for a one-shot paint job for a file cabinet, you may be better off.
Tim Neveau
Rochester Hills, Michigan
---
(2002)
You also could consider electrostatic painting. It works very well on old filing cabinets, and you can choose your color from a wide range. If you are affiliated with a university that does its own, they will sometimes do yours at a low price. It can be a bit expensive but the finish is durable and looks good. Sometimes those old filing cabinets are in good shape and it's worth it.
Shira Rogers
- Pasadena, California
---
(2002)
You said it, Shira--I have file cabinets from 1924 from my grandfather's business, and from 1948 from a junkyard, which have continued to serve me for 20 years now, and are heavy enough that they don't dent, period. My newer file cabinets are almost all long gone to the garbage. I do have a Steelcase from the late 80's that isn't quite garbage yet, but it is dented; I wouldn't take ten modern Steelcases (or any other brand) for my one 1948 model.
Motto: the older a file cabinet is, the more worthwhile it is to re-paint and keep forever.
Ted Mooney, P.E.
finishing.com
Pine Beach, New Jersey
---
(2003)
I have an old (possibly from the 50s) set of filing drawers that I use as a bedside table - probably made for some sort of card catalog system at one point. It is (my best guess) brushed steel - the brand name has the word "steel" in it. Anyway, I bought it several years ago and it is now rusting in spots, and looks like it might be getting worse. I tried putting some rust removal on it, and it didn't really do a whole lot to help. I am guessing it was refinished at some point, so I'm trying to figure out whether I can take it to some place in the bay area to have it refinished again, or if there is something I can do in order to do it myself. I like the brushed steel look, otherwise I would have just spray painted over it.
Apologies if this is not the right form for my question - I'm in the dark here. :) thanks!
Lauren Axelrod
- San Francisco, California
---
(2003)
I have a five drawer vertical Steelcase brand file cabinet. This is a an old unit .. very stout .. not a cheapie and is without dents but the paint looks sad. I plan to respray it but can not figure how to remove the card holders. The holders will be very hard to mask. Can they be coated with vaseline or another material to keep the paint from sticking and then cleaned off after the paint has dried. Any help would be appreciated.
Thanks,
David Mayer
- Beaumont, Texas
---
2004
I am also trying to refinish a metal cabinet...I didn't see an answer to the question of covering up the card holders with something...Can anyone help me out? I'm totally stumped, there's got to be an easier way.
Help!
G Prosser
hobbyist - Toronto, Ontario, Canada
---
I guess those card holders are brass or some other metallic finish that you wish to preserve? It would be best to remove them, and easiest; but other than that you would need to use masking tape or electrician's black tape. An Exacto knife might help.
Ted Mooney, P.E.
finishing.com
Pine Beach, New Jersey
---
(2005)
The best way is to sand, prime and paint with automobile spray paint in cans. Be careful not to let it run.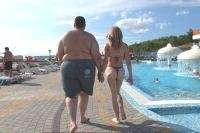 Gordon Duncan
- San Jose, California
(I made a few extra dollars refinishing metal file cabinets and now I can enjoy my summer vacations with a friend)
----
Ed. note: Gordon or his girlfriend is quite famous. A search for this pic at https://images.google.com produces, per Google: "About 21,870,000,000 results" :-)
---
(2007)
I have just inherited my grandparents old metal bedstead. I has been painted with one coat of spray paint. What is the best way to remove the paint without creating a caustic reaction with the metal. What's the best product and how do I go about removing the paint.
I want it to go back, as much as possible, to it's original state.
Thanks
Judy Strickland
hobbyist - Jacksonville, Florida
---
April 20, 2009
However you decide to repaint it it would probably be best to strip the old paint first or use a sealer/isolator type primer to avoid any compatibility problems .

To remove the index card holders : first remove the handles usually held on with two nuts inside the drawer's , then remove a metal plate inside the drawer fronts . This plate slips under the inside top edge and is then pushed forward quite hard to wedge the drawer sides apart , to remove it you might have to push a thin screwdriver blade between it and the drawer front via the handle hole just to get it started . The index card holders are usually fixed with bifurcated rivets so you'll have to drill these out and reattach the holders with pop rivets , small nuts & bolts or flathead brass rivets . Some handles have integral card holders , this step obviously won't be necessary with those .

Re: refinishing the brushed steel effect , try sanding with some 320 grit wet and dry paper wrapped around a cork or wood block , take care to sand in one direction only ( following the grain that's already there ) and sand off the edge of the cabinet so you don't get any little swirly marks.
Ron France
- Bournemouth , Dorset , UK
---
August 10, 2009
Hello - following on from the bedstead question, I have found a 100-year old metal filing cabinet (for hanging files) with four drawers and would like to strip it back to the bare steel. I have seen some professionally stripped pieces and want to know if simply sanding will produce the same effect, or does that involve chemical strippers followed by some kind of gloss or polish? Should I give up the DIY and have it done professionally? What chemicals and chemical reactions should I be aware of? THanks, Claire
Claire Rees
- London, UK


If you have a question in mind which seems off topic, please Search the Site