World's #1 finishing resource since 1989
No login needed: Chime right in
topic 6675
Needs Info for school project on removing rust from pennies
2000
To whom it may concern, I am a third grade teacher and would like to do a science experiment with my class involving using citric acid to remove rust from pennies. I stumbled across your website. Please send information and/or other websites. Thank you very much. Take care.
Ann B
[last name deleted for privacy by Editor]
- Farmington Hills, Michigan, USA
---
2000
Do you want web sites or information on cleaning pennies in citric acid, or both?

Trevor Crichton
R&D practical scientist
Chesham, Bucks, UK
---
2000
I vaguely recall an experiment in one of my son's science books about cleaning pennies with lemon juice. As I recall, the gist of the experiment was to show that the tarnish could be removed from pennies using lemon juice and that the reaction was much faster if a little bit of salt was added to the solution.
The book is long gone, so I don't have the details. Sorry.
Also, in the interest of scientific accuracy - pennies will not have rust. Rust is the product of corrosion of iron and consists of iron oxides and hydroxides. The brown tarnish on pennies will be copper oxides.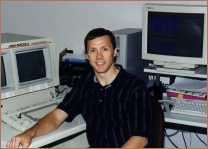 Larry Hanke
Minneapolis, Minnesota
---
Note to students with science projects: Please see our FAQ on Cleaning Pennies; it will tell you everything you probably want to know! Good luck.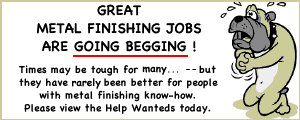 Junior Quality Engineer [Santa Clara, CA]
Plating Process Engineer [Wenatchee, WA]
Plating Supervisor [Chicago]
Plating Quality Inspector [Chicago]