topic 6599
Constraints in decorative anodizing
(2000)
We do sulphuric acid anodizing for all our aluminium alloy components with sealing of hot Potassium Dichromate. We have no cooling system used in our process. I would like to know the reasons for the following observations with chemical mechanisms/reactions involved there.
1. After anodizing the golden yellow tinge of chromate sealing varies component to component and batch to batch when the processes are same.
2.Many times powder deposit observed after anodizing and sealing.
and also clear me:
1. Does the process really need refrigeration or cooling system? or Is there any alternative process available?
2. What more surface protection can be given over anodizing and sealing?
Dhanasekar, D
- HOSUR,TAMIL NADU,INDIA
---
(2000)
Color can be very hard to control if the anodized coating is not uniform. Temp control is an important factor in this process. If your coating is the same thickness from part to part, color will tend to also be more consistent. Eliminate variables starting with temp.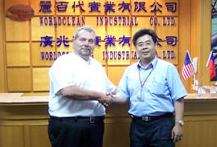 Drew Nosti, CEF
Ladson, South Carolina
---
(2000)
Potassium dichromate sealing puts a green-ish colour to the anodic coating this varies with the alloy state of the anodising bath, etc. The idea of using a potassium dichromate seal is to achieve particular properties into the seal instead of its decorative looks.
Keith Tranmer
engineering services - England


This public forum has 60,000 threads. If you have a question in mind which seems off topic to this thread, you might prefer to Search the Site