topic 6456
Cleaning chromate conversion coating
(2000)
We use yellow chromate conversion coating, MIL-C-5541 extensively on our aluminum components. The components are assembled to printed circuit assemblies which are cleaned in an aqueous solution at 160 degrees F with a saponifier that has a pH of nearly 11. Would you expect the coating to be stripped from the parts during this process? We have been having trouble with this problem? Wondering if this could be attributed to the coating thickness? Are there ways to measure the coating thickness without damaging the components? Is there a similar coating that may withstand our cleaning process?
Dave Girling
- Manchester, Iowa
---
(2000)
Such a high pH would lead me to believe that something in your cleaning solution is attacking the finish. Considering that chromate conversion coatings have no real "thickness" to them. I would venture to check the MSDS of your cleaner solution and see if it has a sodium hydroxide base in it. Or something similar.
As far as alternative finishes go there isn't any that I'm familiar with.
I think a couple of the guys around here do the Boeing based boric-sulfuric process as an alternative to chromates and chromic acid anodizing but I have not a thread of knowledge on this process. It might work, it might not, I can't tell you for sure.
Matthew Stiltner
- Toledo, Ohio
---
(2000)
Aluminum should be cleaned in a neutral ph material at no more than 140 (maybe less) There is no question in my mind that the solution and temp is effecting the chromate.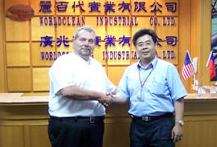 Drew Nosti, CEF
Ladson, South Carolina
---
(2002)
I have a presentation about chromate conversion coating. I hope to send to me some information about this report as soon as possible.
Thank you,
Al-Juhani
- Dhahran, Saudi Arabia
---
(2005)
Investigate Alumiplate.
We have had luck with this alternate bath plating process replacing cadmium w/ chromate finish.
Chris FitzSimons
- Lombard, Illinois


This public forum has 60,000 threads. If you have a question in mind which seems off topic to this thread, you might prefer to Search the Site