topic 6405
Why surface is Brown after Black Oxide process; reddish-brown smut
adv.
(2000)
Q. I want to ask something about a problem in steel parts with black oxide (hot blackening oxidation process). My question is related with the appearance of reddish-brown smut in the cloth, when smut test is performed in a coated part.
What might be the problem?
Thank you.
Graciela Abuin
- Buenos Aires - Argentina
---
(2000)
A. Hello Mr. Abuin:
Is your bath new? If yes, you should lower the temperature about 4 or 5 degrees until the bath "breaks in" and then set it back to the normal temperature. If the bath is aged you should check your operating temperature. It might have climbed a few degrees too high to cause the red smut.
Heatbath Corp. pioneered black oxide products with the famous Pentrate Process.
Regards:
Tom Walen
Springfield, Massachusetts
---
---
(2003)
Q. We are facing following quality problem in Black Oxide Process.
Material Grade : ASTM A216 Gr.WCB
Basic Process: CAUSTIC SODA - Temp: 145 ° C.
Quality Problem: Surface is becoming "Brown" in color instead of Black.
Could some one help us in solving the problem?
VENKATARAMANA . K.
AUTOMATION SYSTEMS - CHENNAI, TAMILNADU, INDIA
---
(2003)
A. Is this a Do-It-Yourself blackening solution? The problem is formation of reddish Fe2O3 (hematite) along with the desired black Fe3O4 (magnetite). The solution is to use a proprietary product from one of the suppliers at the Chemicals link below.
Ken Vlach
- Goleta, California
Finishing.com honored Ken for his countless carefully
researched responses. He passed away May 14, 2015.
Rest in peace, Ken. Thank you for your hard work
which the finishing world continues to benefit from.
---
---
(2005)
Q. We are getting back on some lots sent to our platers a reddish brown finish. The material we are using is an investment casting MIM-2700 it is heat treated at 1700 °F. Tempered at 350 °F 1 Hr. R15N 85-90 Some lots are good, some colored. Is the wide range of hardness causing the problem? If someone can let me know I would appreciate it.
Mark Fritz
machine shop - Barron, Wisconsin
---
---
February 17, 2013
Q. We are a manufacturing industry and in one of our products we use blacking process. The parts are made of drawn sheet metal, round in shape. When blacking or blackodising process is carried out some of the parts have dark brown color instead of black. This causes lots of rejection due to color variation. The process carried out is given below. Please suggest if we are doing something wrong and how to avoid brown color. Also as the parts geometry is different some of the parts turn out grey in color.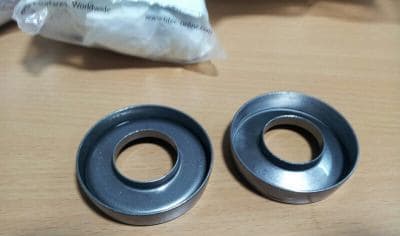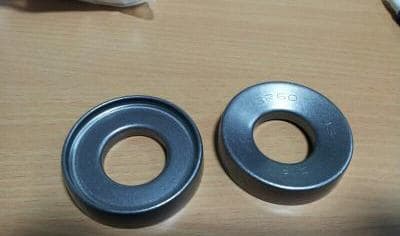 1. First parts are de-greased.
2. Parts are dipped in tap water.
3. Then Parts are dipped in blacking solution for 12-15 mins at 137 °C
4. After blacking they are dipped in tap water.
5. Then they are dipped in hot water (70-80 °C)for 5-7 minutes.
6. And then they are de-watered.

Blacking salt to water ratio is 1:1

Blacking salt: Mixture of sodium hydroxide + Sodium Nitrate. Ratio 5:1 respectively.

Please suggest how can the process be improved to avoid brownish color.

Thank you
Gaurav Gadani
Chennia, India


This public forum has 60,000 threads. If you have a question in mind which seems off topic to this thread, you might prefer to Search the Site