60,000 Q&A topics -- Education, Aloha, & Fun
topic 6364
Plating barrel danglers and other maintenance problems
A discussion started in 1995 but continuing through 2020
1995
Q. I RECENTLY EXPERIENCED TROUBLE WITH A PLASTIC SLEEVE FOR A CENTER HUB IN A BARREL. THIS SUPPLY OF SLEEVES WERE A WHITE PLASTIC TYPE MATERIAL THAT WAS SLIGHTLY DIFFERENT IN APPEARANCE THAN THE NORMAL SUPPLY. THESE HUBS TURNED CHALKY AND FELL APART AFTER 2 WEEKS. I RECALL A DISCUSSION CENTERING ON MATERIALS INCOMPATIBLE WITH HYDROCHLORIC ACID. CAN ANYONE REFRESH MY MEMORY ON WHAT WAS COVERED. THANKS,
Jeffrey Grube
- Punxsutawney, Pennsylvania
---
affil. link
"Mechanical and Corrosion-Resistant Properties of Plastics and Elastomers"
from Abe Books
or

1995
A. Jeff: You want to use polypropylene or Teflon for most applications and stay away from nylon, which tends to embrittle. Good luck from PlaterB
"PlaterB" Berl Stein
NiCoForm, Inc.

Rochester, New York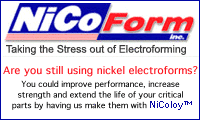 ---
1995
A. It sounds like either the new parts are nylon as Berl suggests or, possibly that they used to be straight Teflon (resistant to everything) and they are now glass-filled Teflon (which won't hold up to hydrofluoric acid).
Ted Mooney, P.E.
finishing.com - Pine Beach, New Jersey
Striving to live Aloha
---
1995
A. Hello Jeff, the "sleeve" you are describing was available in a material that was nylon based. This worked well for many years. The introduction of acid based solutions replacing cyanides caused a problem with this product as the acid base would attack the nylon and make it a gummy looking appearance with severe wear. This product was changed to a polyethylene based material with excellent lifespan. Your note does not state the details, but if the material is white it could be a number of starting products. If it is a "brittle" material, it may well be nylon. Teflon and polyethylene are more "bendable" of a material. Ted, news to me, glass filled Teflon?, well, you'd think it would wear better but the problem (on our end) was never the Teflon wearing out, it was the Teflon sticking to the hanger hub and wearing the barrel. is the glass Teflon a better choice?, again, it's news here
Ron Landrette
plating equipment supplier - Bristol, Connecticut
---
1995
A. Nylon will dissolve quickly in HCl. As you describe, nylon will first turn a chalky white.
Ken Rosenblum
finishing shop - Minneapolis, Minnesota
---
1995
A. Hi, Ron. One supplier I was with tried various materials for the bearing surface of the idler gear. In other words, the idler rotated on a stationary shaft, and the polypro the idler gear was made of wore too quickly, and the bore hogged out, etc., So we wanted a replaceable bushing and we tried many materials. For that particular application Teflon proved to be too soft, it would "flow" out under the heavy load. We had about equal life from glass-filled Teflon and from UHMW polyethylene.
Ted Mooney, P.E.
finishing.com - Pine Beach, New Jersey
Striving to live Aloha
---
1995
A. Hi Ted, well,that makes a little more sense here,I thought you knew someone trying it as a barrel end bushing. My best experience for gear bushings is u.h.m.w. it seems to be the most tolerant, although delrin works good as well if kept from the solution. c.y.a ... ron
Ron Landrette
plating equipment supplier - Bristol, Connecticut
---
---
1999
Q. I am a new maintenance person in the finishing industry, and am having problems with danglers being chewed up very quickly by 100 mm carburised TEK screws. We currently use danglers made of 19 mm steel cable coated with a green plastic which is supposed to be good for the application (zinc electroplating). Could anyone please help with an alternative design of dangler for this purpose?
Thanks, Brian
Brian Webber
heat treatment - Australia
---
1999
A. Hi Brian. Sorry, I'm not quite clear on whether the dangler knob gets worn out too quickly or the insulation on the dangler cable gets abraded too fast. I don't know what your green plastic is, but UHMW-PE is an exceptionally abrasion resistant plastic and should be available in a thin walled soft tubing that you could slide as a sleeve over the commercial dangler. (Of course, you need a good fit or the screws will insinuate themselves between the sleeve and the dangler insulation).
Ted Mooney, P.E.
finishing.com - Pine Beach, New Jersey
Striving to live Aloha
---
1999
A. If the problem is wear of the cable insulation there is a dangler design which coats the portion in the cylinder with heavy vulcanized rubber. This has proven more effective than sleeves. If you would like the manufacturers name, our company distributes this product.
Gene Packman
process supplier - Great Neck, New York
---
1999
A. Dear Brian: I understand perfectly. We have also had this problem. Our solution is we used semi flexible plastic tubing about 1/8" thick as a sleeve around the cable. You must take the cable off and sleeve it from the bolted side. Works great. KH
Ken Hutchinson
- Minneapolis, Minnesota
---
1999
A. The dangler problem you are experiencing is common for those companies doing sharp screws, etc.
1). you should be able to order danglers from your supplier with a clear flexible p.v.c. sleeve or jacket , measure from behind the head to where the dangler passes thru the barrel on the inside + a half inch or so. Get a couple of sample to try out first.
2). consider a center rod contact assembly, this is a 1" dia. 304 ss bar going straight thru the barrel with 304 ss "hairpins" bent from 1/8 x 1" material, evenly spaced, use 1" id pvc pipe to cover the exposed areas between the hairpins. connect the SS to the barrel contacts with 3/4" dia. copper solid, cover the solid copper with either plastisol coat or heat shrink and electric tape in a pinch. These components are commercially available thru most equipment distributors as a "center rod contact assembly"
Ron Landrette
plating equipment supplier - Bristol, Connecticut
---
---
To minimize search efforts and to offer multiple viewpoints, we combined previously separate threads onto this page. Please forgive any resultant repetition, failures of chronological order, or what may look like readers disrespecting previous responses -- those other responses may not have been on the page at the time :-)
---
---
2000
Q. As a person maintaining a plating line, I wonder about the state of the technology. We barrel plate small items with Nickel, Gold, and Lead. The danglers in our process are practically home made. I'm just wondering how often they should be cleaned and/or if there is better dangler materials that 'clean up' easier then what ours do now.
Once a week I have to beat off the hardened plating material from the danglers. It seems like there should be a better way by now. (No one who works in our company now had anything to do with the setup of our line, and none have experience in the field so they wouldn't know if there are new processes.)
Thank you.
Kevin J
[last name deleted for privacy by Editor]
- Harrisburg, Pennsylvania USA
---
2000
A. Hi, Kevin. Electropolishing of the stainless steel dangler knobs can help to passivate them and smooth them so that this undesired metal buildup will have less tooth and can be more easily removed. Also, you should make sure that the plastic sleeves are in very good condition so no more of the metal is exposed than absolutely necessary, and certainly not the ends of the braided copper cables.
You might also talk to manufacturers who specialize in danglers.
Ted Mooney, P.E.
finishing.com - Pine Beach, New Jersey
Striving to live Aloha
---
2000
Sorry I didn't mention this. The dangler knobs are not stainless steel. They are golden in color, unless they are a special type of stainless. Should we use stainless?
I'm an electrical engineer that knows nothing of plating, but I have to keep the line running. No one is really familiar with the technology. Heck how do you electro polish? Understand I'm stuck in a hard place, I can't buy material or talk directly with suppliers, but they want me to look at the process to see if it can be improved, which I've done with other parts of the business. The people who do the buying don't ask about new processes, stuck in the 'it works why fix it' mode.
Thank you for your help.
Kevin J
[returning]
- Harrisburg, Pennsylvania USA
---
2000
A. Although they might not be stainless, I'd bet they are despite their golden color.
I can't give you advice about what waves you should or shouldn't make, but you can't fix anything without making changes. You should probably buy new danglers from a plating equipment supplier rather than fixing & home-brewing them.
You might see if your employer will spring for a training course in electroplating, offered by the American Electroplaters & Surface Finishers Society or by Kushner Electroplating School. Or you might attend a few local evening meetings of the AESF; there is a branch in Philadelphia. Good luck.
Ted Mooney, P.E.
finishing.com - Pine Beach, New Jersey
Striving to live Aloha
---
January 12, 2009
A. Get proper danglers. We do zinc plating and ours are made of copper cable rubberized outside - it prevents the buildup along the cable and only the contact ends are exposed metal. We don't clean them at all - no need! they get a bit "plated" but once they go back to acid pickle they come out like new.
We get ours through a local electroplating distributor.
Joanna Yu
fasteners - Vancouver, BC, Canada
---
---
Suggested Way to Bring Power to Titanium Plating Basket
August 17, 2017
-- this entry appended to this thread by editor in lieu of spawning a duplicative thread
Q. We have a plating department at my place of work and have continuously struggled with how to energize the plating baskets. We've gone back and forth between titanium baskets with a copper wire attached directly to the basket (which causes corrosion pretty quickly on the wire and lug) or running titanium buss bar out of the bath and making our connections behind the line. Either way, our connections don't last very long whether they are in the bath or behind. Some employees here suggest continuing to use costly titanium, which holds up great to corrosion but is an extremely poor conductor and generates quite a bit of heat. Others suggest using copper and replacing it routinely due to it being more cost effective. Is there a better solution, such as tin plated copper or soldering our joints?

Thank you
Al Fontaine
Facilities Specialist & Plating Maintenance Manager - Lincoln, Rhode Island
---
August 2017
A. Hi Al. We appended your inquiry to this thread because I believe that a manufacturer of 'plating barrel danglers' or 'plating racks' could easily design a really proper cable arrangement for you.
Regards,
Ted Mooney, P.E. RET
finishing.com - Pine Beach, New Jersey
Aloha -- an idea worth spreading
---
October 16, 2017
A. Hello, you can use Ticlad (titanium over copper), it's pricey. I would suggest a titanium EAR off of the basket, and then a cable connection coated with air dry plastisol.
Ron Landrette
plating equipment supplier - Bristol, Connecticut
---
---
April 26, 2019
Q. We are dealing with arc burn on nickel plating, so what is the best material for dangler in barrel plating?
John Steve
- California, usa
---
April 30, 2019
A. Hello John,
Brass or copper dangler tips work well. The shape and size of tips must be compatible with your parts to be plated, as well as media. Arc burning can be caused by improper contact within the barrel and parts are not rotating freely, and getting stuck around the dangler tips. Barrel speed, load capacity and current also play roles. When I was in the field I had to ask myself "what has changed in my process to cause this problem?" This meant going back to the drawing board, monitoring and checking everything related to the process. Good Luck.
Mark Baker
Electronics plating - Winston-Salem, North Carolina USA
---
---
Dangler Gets Burned after 8 Mins of Plating in ZnNi Tank
October 18, 2019
Q. Hello all,
I am running a ZnNi plating line here in Milwaukee, Wisconsin. We plate per Spec GMW 4700 which indicates 8 microns thickness and 15% Ni.
I ran into a big problem here that dangler gets burned and covered with zinc smut for about 8 minutes and all the parts around it getting black. Current and voltage kept stable in the beginning of the process, and start fluctuating once the dangler get covered completely. We took the whole barrel out and clean the dangler in HCl, putting back to the tank and it remained good for another 8 minutes until it gets covered again.
We tried to turn off the barrel rotation and it eliminates unstable voltage and parts come out good.
So, I am just seeking expert suggestion/opinions that what causes dangler to get burned. We tested chemistry (KCl, Zn/Ni and contaminants), cathode/anode contact. They all come out positive. We loaded 2/3 of barrel so dangler is buried in the parts.
Any comments are welcome!!
Thanks,
Nick
Nick Young
Shop Employee - Milwaukee, Wisconsin, USA
---
October 2019
A. Hi Nick. First off, make 100% sure that your analysis of the problem is based on personal firsthand observation because it is indeed almost impossibly strange that a dangler could remain buried within a heavy load of parts and produce this problem, but have the problem go away when the rotation is stopped.
May we assume that the knob end of the dangler is stainless steel? Have you tried reducing the barrel rotation speed to see whether the problem persists or gets better as you get closer to the rotation off scenario? I would suggest buying a couple of danglers from a different company to see if anything weird, like wrong knob MOC, intermittent contact between knob and cable, etc., might explain the problem. I tend to doubt that chemistry or temperature causes the problem, but if it's not defective danglers or a short circuit, I would investigate the rectifier situation -- sometimes single-phasing can cause weird problems.
Regards,
Ted Mooney, P.E. RET
finishing.com - Pine Beach, New Jersey
Aloha -- an idea worth spreading
---
March 19, 2020
Q. I am curious if the solution to the "burned dangler" was found. I am running a similar barrel ZnNi (potassium based chloride) process and am having similar issues with fluctuating current (using constant voltage).The voltage does not fluctuate. What is the importance of stainless dangler ends?
We have gone thru connections-thru chemistry. We are now looking at rotation speeds (approx. 5.5 rpm) and dangler length. Our thought is the dangers may be getting pushed out of the parts causing the unstable current draw. Any thoughts.
Dave Muka
- Buffalo, New York