60,000 Q&A topics -- Education, Aloha, & Fun
topic 6338
Rhodium Plating Solution Chemistry, Brighteners, & Additives
A discussion started in 2000 but continuing through 2019
2000
Q. I am interested in recycling rhodium plating solutions to the jewelry industry. I understand that white rhodium-plating solutions consist of a simple rhodium salt, say the sulphate, plus a brightener.
Is my understanding correct? Do I need any other additive?
I would like to know what reagent/reagents I can use for the brightener? Either the chemical formula, or a trade name and supplier will do.
Nahum Finkelstein
- Haifa, Israel
---
---
2000
Q. I would like to do some rhodium plating over gold.
The local jeweler uses a non-cyanide solution,
I have seen references to salt based or acid based solutions but I have not been able to find a supplier.
Help
William S
[last name deleted for privacy by Editor]
- Glendale California
---
2001
A. Hello and hope you be well
Rhodium electroplating bath are:
a. Rh sulfate/H2SO4
b. Rh phosphate/H3PO4
c. Rh phosphate/H3PO4+H2SO4
d. Rh sulfamate
e. Rh fluborate
** f.molten cyanide**
g. Rhodium pentachloro amine/NH3
The best regards
Amirshahram M
[last name deleted for privacy by Editor]
- Iran, Tehran
---
---
2007
Q. Well, I am doing rhodium, gold-silver plating works, so I am interested in this field. But I want to create something new, e.g., Different color shades in Rhodium (black, blues white, steel grey, blue, antique) In gold plating I want to create different color shades, e.g. pale yellow, pink gold, green yellow, antique gold etc. So please send me information or books, catalog or cd.

Thanking You.
Pradip S
[last name deleted for privacy by Editor]
rhodium plater - Mumbai, Maharashtra, India
---
affil. link
"Gold Plating Technology"
by Reid & Goldie
from Abe Books
or

A. Hi Pradip. Coloring of gold is a well established artistry, but you can get some hints in the literature, including Goldie's book on gold plating. I have heard that there are some proprietary colors available in Rhodium plating, but I don't know of any publicly available info about it. Good luck.
Regards,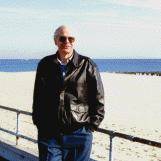 Ted Mooney, P.E.
finishing.com - Pine Beach, New Jersey
Striving to live Aloha
---
---
Rhodium Sulphate Brightener and Whitener
March 24, 2009
Q. I want to know about recovery and Reprocess of Rhodium and after reprocess how to get whiteness and what additives I should add and which brightener I should use to get best results.
Jagdish Solanki
electroplater - Mumbai, Maharashtra, India
---
March 25, 2009
A. You should contact your plating chemistry supplier for help with these issues.
Neil Bell
Red Sky Plating

Albuquerque, New Mexico
---
April 28, 2009
A. Jagdish Bhai,

Recovery is possible but again you need to get the additives for brightening.It would be better to sell off the metal and buy ready made plating solution from reputed suppliers.
Regards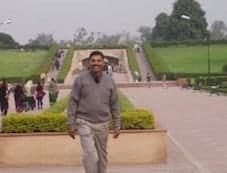 T.K. Mohan
plating process supplier - Mumbai, India
---
---
Rhodium sulfate solution vs Rhodium phosphate Solution for plating
September 13, 2016
Q. What is the difference between rhodium sulfate and rhodium phosphate solution when performing rhodium plating?

I was informed by a plating company that rhodium phosphate plating solution can only reach thicknesses between 0.01 µm to 0.025 µm. Whereas rhodium sulfate plating solution can reach from 0.5 µm all the way to 2.5 µm before it starts to crack.

Is this true?
Robert Lee
Jeweler - San Francisco, California, USA
---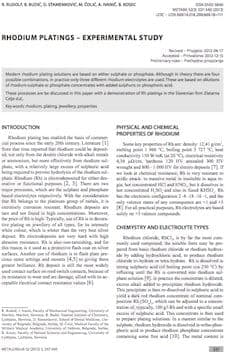 September 2016
A. Hi Robert. According to one vendor of rhodium plating solutions the thrust of that is largely true, although I think your decimal point probably belongs one place to the right for the rhodium phosphate.
Johnson Matthey says their RhPO4-based RJ100P is bright and lustrous to 0.5 µm with a recommended maximum thickness of 1 µm, whereas their Rh2(SO4)3-based RJ100S is bright and lustrous to 2.5 µm.
I might take issue with the wording "starts to crack" though, since I think most rhodium plating, including satisfactory plating, is cracked. You might find this study of the three major types of rhodium plating solutions interesting =>

Good luck.
Regards,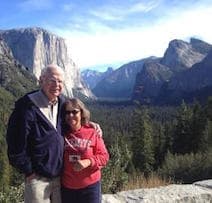 Ted Mooney, P.E. RET
finishing.com - Pine Beach, New Jersey
Aloha -- an idea worth spreading
---
September 14, 2016
Q. Thank you Ted.

I have gone through the paper and am a bit confused by its findings. It lists 5 mixture options with intended thicknesses.

1.Rhodium sulfate + sulfuric acid is for >0.05 µm but seldom for >0.2 µm. (The experiment performed does show that 5 min of plating will reach 0.5 µm)

2.Rhodium sulfate + phosphoric acid is for thin decorative deposit. (thickness not mentioned)

3.Rhodium phosphate + sulfuric acid is similar to Rhodium sulfate + phosphoric acid (thickness not mentioned)

4.Rhodium phosphate + sulfuric acid is ideal for low deposit thickness such as 0.1 µm

5.Simple rhodium sulfate processes without additives of any sort can reach up to 2.5 µm - 5 µm

What is considered a simple rhodium sulfate process without additives and what is not?

Thank you again for the help
Robert Lee
Jeweler - San Francisco, California, USA
---
September 2016
A. Hi again. I am not a rhodium plating expert and cannot offer any deep thoughts that are not in that paper and other available papers.
However, in answer to your more general question, the plating industry tends to reserve the terms "addition agents" or "additives" to materials like grain refiners, brighteners, hardeners, and surfactants; these are mostly/usually organic compounds. Acids and salts (with the possible exception of sparingly-added salts of an alloying metal) are not considered additives. So all 5 of those bath descriptions, as they stand, are "without additives".
Regards,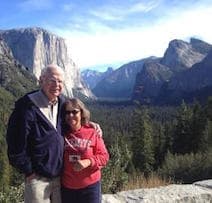 Ted Mooney, P.E. RET
finishing.com - Pine Beach, New Jersey
Aloha -- an idea worth spreading
---
September 19, 2016
A. Hello Robert, when I was in the field I had many customers that used our Rh sulfate based solutions. When a customer wasn't happy with the whiteness or brightness of the piece, we would advise them to add a small amount of phosphoric acid to the bath. If memory serves me correctly, it was around 10 ml/gal. The thickness of the deposit is not greatly affected. Check with your supplier and they can advise you on the correct amount to add based on your bath make up. Hope this helps.
Mark Baker
Process Engineer - Phoenix Arizona
---
---
Rhodium brighteners after carbon filtration
May 6, 2019
Q. Hi all,

I run a decorative plating facility for precious metals specializing in palladium, rhodium, and gold plate. For a while I have come across an issue specifically with my rhodium bath where after running a routine carbon filtration (not a full carbon treatment) my bath will not plate properly for a few hours. We have determined from hull cell panels that our issue is the brighteners separate from the bath. This causing a lack of throwing power, pitting from hydrogen sticking on the surface, and a dark deposit. The problem resolves itself after about 6 hours of downtime without any additives or other work to the bath.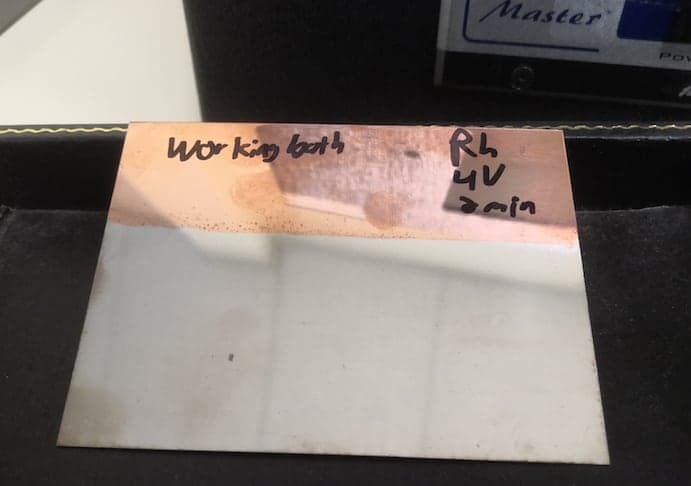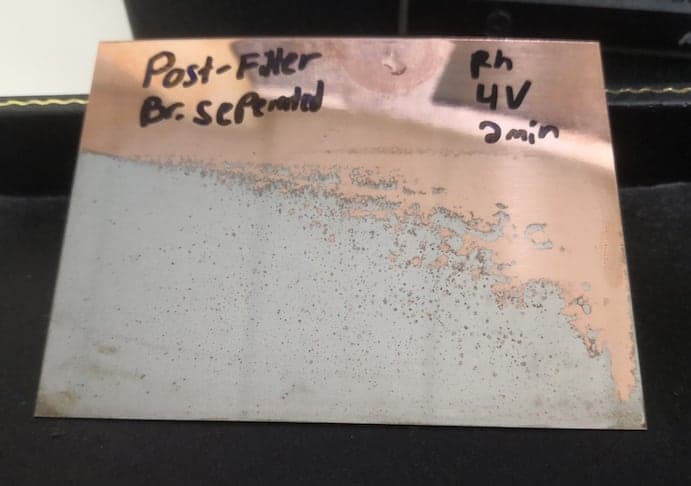 My question is are there any known methods for reducing this downtime or increasing the solubility of brighteners ?

Thank you,
Derek Hutter
Plating Department Supervisor - Buffalo, New York USA
---
May 22, 2019
A. Hello Derek, rhodium baths for the jewelry industry don't need brightening agents. The formulation is rhodium sulfate and sulfuric acid. Some platers add a very small amount of phosphoric acid for a whiter finish. Secondly, regular carbon polishing is rarely done on rhodium baths because of the amount of solution the filter traps. As you know rhodium is super expensive. You also should not be plating while carbon polishing, not sure if you are or aren't. Just curious, did your rhodium supplier recommend carbon polishing?
Mark Baker
Electronic Plating - Winston Salem, North Carolina USA
---
May 23, 2019
Q. Mark,
We do not plate during carbon process and yes our supplier recommended periodic carbon filtration. The brightener compound is to give the Rhodium plate a look as close to sterling silver as possible and without it the color is noticeably darker. Once I go back to a regular filter and run a blank rack the degassed hydrogen gets trapped on the surface in soap-like bubbles. It really just seems like a proprietary chemical becoming insoluble and back during the process. This isn't killing my bath -- just 6 hours or so of production every month.
Derek Hutter
[returning]
- Buffalo, New York USA
---
May 23, 2019
A. Hello again Derek,
I worked for a major precious metals supplier for Electroplating for years and have never heard of a brightener for rhodium. That of course doesn't mean I'm doubting you, but must honestly admit that I can't give you an answer to something I am not familiar with. On this site we responders get questions and hear about certain methods that are uncharacteristic of what we are accustomed to. It may seem to the person needing help can view our answers as condescending, which is not the case here. That being said, the only thing I could add is to schedule these carbon treatments where it does not interfere with production and consult your rhodium supplier.
Mark Baker
Electronics plating - Winston-Salem, North Carolina USA.
adv.