topic 6254
Hobby Plating of Jewelry at home
(2000)
I am new to Electroplating and I want to take up as a hobby the plating of Gold or Silver onto Jewelry. I am a retired engineer with electrical registration and wish to work at home. Have read "Practical Electroplating" [link is to info about book at Amazon] by Thomas Rodgers
Would appreciate any help or advice and where to purchase chemicals.
Bryan G
[last name deleted for privacy by Editor]
- Auckland New Zealand
---
(2000)
A. Hi, Bryan.
It is possible to do gold and silver "immersion plating"on limited substrates (copper, brass, gold, silver) with relatively safe commercial products (see our FAQ "Silver Plating at Home").
You may wish to look up "brush plating" or "hobby plating" for suppliers of chemicals in small volumes.
I don't know what your home looks like with respect to its suitability for electroplating, Bryan, but real silver and gold electroplating are usually done in an industrial rather than a residential setting. Most decorative silver and many gold electroplating solutions are based on cyanide, which is an extremely dangerous chemical to work with. So consider whether you have children or pets at home,and whether you can actually safely do the types of plating you have in mind. Good luck!

Ted Mooney, P.E.
finishing.com
Pine Beach, New Jersey


---
---
Electroplating Keepsakes (family items)
May 1, 2016
Q. Hello there, I am expanding into learning the basics of electroplating. My books are on their way, are there any books you would recommend me reading as well? I am electroplating family keepsakes since I am trying to open up a small business. I've got the regulations down and will further look into it. However, my question is how large of a tank do I need. I know twice as big of the anode. However I am wondering also on the directions with all machinery. Shouldn't they all come with directions? I am beginning to really consider purchasing an entire machine, and buying the solutions. I am looking for colors gold silver pewter copper/bronze.
After reading I know that each has a different volt and agitation system. Is there a machine I can purchase that I can dip in a few diff color baths? Thank you in advance!
Estrella K
[last name deleted for privacy by Editor]
Artist, hobbyist, student (teaching myself) - New mexico
---
Digital version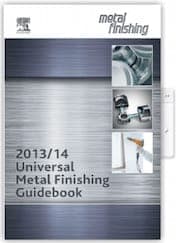 (No longer published, but Elsevier hasn't yet de-commissioned the online version of the Guidebook)
Download it before it disappears.
May 2016
A. Hi Estrella. While still available, please review (and maybe download) the on-line version of the Metal Finishing Guidebook =>
This will give you a full understanding of what electroplating is about. "Electroplating machines" can run from a couple of hundred thousand dollars into the multi-million dollar range.
Home/hobby/experimental plating is a minor and simplified subset with no automation, and where you buy small individual tanks, power supplies, and auxiliary equipment. But there are (and this may be what you are thinking of) small prepackaged modular plating lines consisting of a half dozen small tanks, their power supplies, etc. in a tabletop console. They are avaialble from Technic. Take a look at

www.technic.com/equipment/laboratory-equipment/table-top-units

and see if that's what you have in mind. Regards,
Ted Mooney, P.E. RET
finishing.com
Pine Beach, New Jersey
Striving to live "Aloha"


This public forum has 60,000 threads. If you have a question in mind which seems off topic to this thread, you might prefer to Search the Site