60,000 Q&A topics -- Education, Aloha, & Fun
topic 6245
Gold plating brass horns
2000
Q. How to gold plate brass horns (music instruments)?
Can they be brush plated? How to clean, what chemicals should be used, how thick the layer must be, etc.?
Thanks in advance
Kari Kokko
- Hogfors, Finland
---
2000
A. I don't see any reason they could not be brush plated if you have the skill, but if you are going to invest in that much gold it seems that it would be well worth it to apply a barrier of nickel plate first to prevent the gold from migrating into the brass.

Pumice [paid link to product info at Amazon] cleaning would probably be the best approach, but talk to a supplier of brush plating chemicals and equipment (several are listed in our directory of Products & Services / Chemicals & Equipment).
Ted Mooney, P.E.
finishing.com - Pine Beach, New Jersey
Striving to live Aloha
---
2000
A. Kari,
The horns could be brush plated and as stated in the previous response you should put a layer of nickel down first, this can also be brush plated. You will need to clean the horns with a cleaning and deoxidizing solution prior to plating the nickel and gold. The thickness of the gold depends on how long you want it to last. Gold is a soft material and will wear with use, the more gold you put on the longer it will last.
David Crocker
- Valencia, California
---
2000
A. Moi Kari!
I thought I talked to you about this before. I have been in the factory that makes your horns. There is no nickel anywhere in the plant because nickel can cause allergic reactions to the musician. The brass horns merely need to be polished. It is a hellish job but that is how it is done at the factory. They do not gold plate at all there. They do silver plate and the process is copper primer, bright copper then silver.
If the customers decide they really want gold you can nickel plate then gold plate, but it is important not to apply nickel to the mouth pieces or many of your customers will likely get a rash on their mouths.
If the mouth pieces need replating I suggest you polish them until there are no defects then activate, copper primer, copper mirror, and then silver plate.
Terry Collins
Gold Touch Inc.

Cleveland, Ohio
---
2004
A. My name is Joe Angstrom, I'm an American Musical Instrument Repairman, Been doing it for more than 30 years. I beg to differ with the gentlemen who contend that gold plating is done directly over brass. NOT SO. Any manufacturer who does this will be wasting a lot of gold to last a little time. Generally even in silver plating there is a copper flash applied over the brass.
When I sent horns out to several specialists even a flash of copper preceeded the nickel prior to gold plating. Taboot, I insisted that any tank plating have proper agitation of the solution to ensure a consistent temperature and to help prevent gold from overdepositing on the higher areas. On some instruments where nickel was not applied well leaving micro pores where tin and copper would react into the gold you'll see scaling and pitting. It is my understanding that the tin and other impurites of the brass NOT THE COPPER is the culprit. But you need the nickel for molecular stability of the gold. The better the nickel applied the stronger the bond.
Copper over brass ensures the bonding of nickel, which in turn keeps the gold. The nickel is what actually changed the sound moreso than the increased thickness. The amount of gold does not effect sound unless it is applied in a ratio consistent with the acoustical parameters of the instrument.
Generally buffing away the brass as in any refinishing plating or not can ruin a horn's sound. Any buffing should follow exacting dentword and burnishing to prevent thin spots where high points may heve been. Buffing is an exact science and should be done evenly and by hand using automtive abrasive paper cut into strips. After you reach 2500 you then move to a rag with serium oxide then Lind A. Tripoli and red rough with wheels are OK for Band instruments, or the keys of pro horns (avoid the ends), but for a good pro horn only hand work will do. And no need to degrease. But gold over brass... maybe for those horns made in India!
Joe Angstrom
NAMM Member. NABIRT member - Hackensack, New Jersey
---
---
June 19, 2008
Q. I have a horn to plate at the moment. The customer wants the brass parts done in gold but the nickel silver components of the horn to stay as is. Any ideas on how to do this?

Terry
Terry Lewis
- melbourne victoria Australia
---
June 19, 2008
A. Hi, Terry. In theory it's as easy as masking the nickel-silver components, plating the assembly, and removing the masking.
Regards,
Ted Mooney, P.E.
finishing.com - Pine Beach, New Jersey
Striving to live Aloha
---
---
January 27, 2020
Q. Hi - I have a gold-plated French horn. The gold is mottled and spotted in many places and it seems impossible to clean. I haven't used any metal polish or anything on it - just bath it in warm, soapy water and wipe dry but it doesn't look too great. (There seems to be silver plate underneath.) Is there any way I can make it look nicer?

Also, I was given an old trombone, bare brass it seems to be. There is a large portion of the bell which seems to have lost a layer of something and will not polish up like the rest of it. Anything that can be done? Thanks in advance for any advice!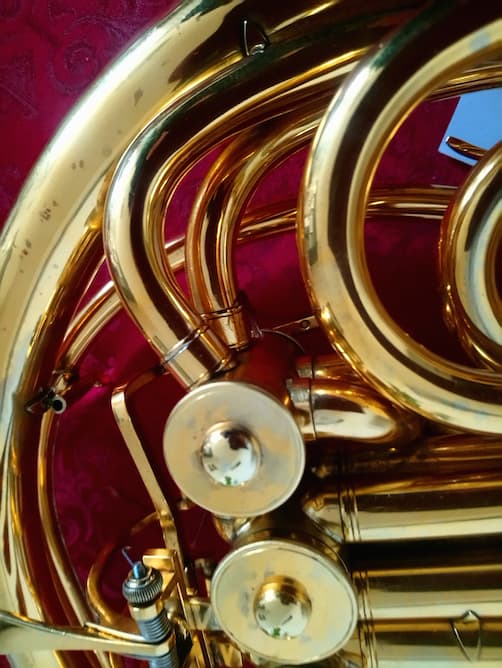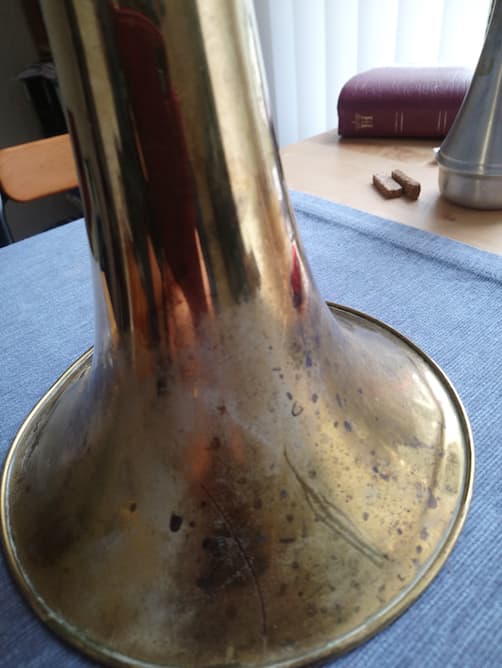 Sheri Pawlikowski
- Prenton, Merseyside, England
finishing.com is possible thanks to our supporting advertisers, including this one: