Not a lecture hall but a roundtable with a seat for you!
60,000 topics spanning 36 years. Education, Aloha, & Fun
topic 6245
Gold plating brass horns
2000
Q. How to gold plate brass horns (music instruments)?
Can they be brush plated? How to clean, what chemicals should be used, how thick the layer must be, etc.?
Thanks in advance
Kari Kokko
- Hogfors, Finland
---
---
June 19, 2008
Q. I have a horn to plate at the moment. The customer wants the brass parts done in gold but the nickel silver components of the horn to stay as is. Any ideas on how to do this?

Terry
Terry Lewis
- melbourne victoria Australia
---
---
January 27, 2020
Q. Hi - I have a gold-plated French horn. The gold is mottled and spotted in many places and it seems impossible to clean. I haven't used any metal polish or anything on it - just bath it in warm, soapy water and wipe dry but it doesn't look too great. (There seems to be silver plate underneath.) Is there any way I can make it look nicer?

Also, I was given an old trombone, bare brass it seems to be. There is a large portion of the bell which seems to have lost a layer of something and will not polish up like the rest of it. Anything that can be done? Thanks in advance for any advice!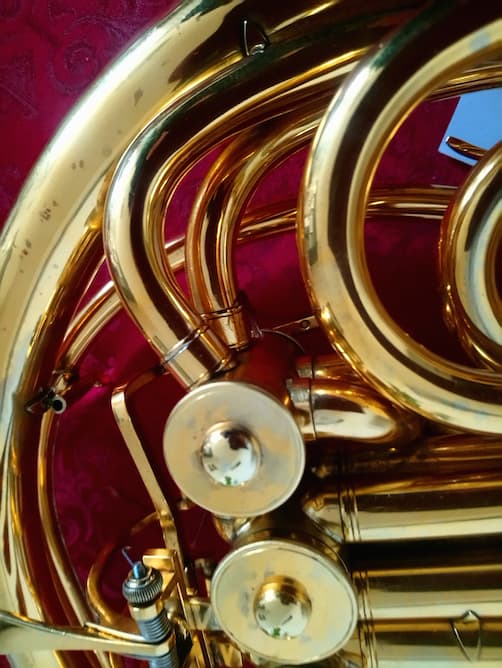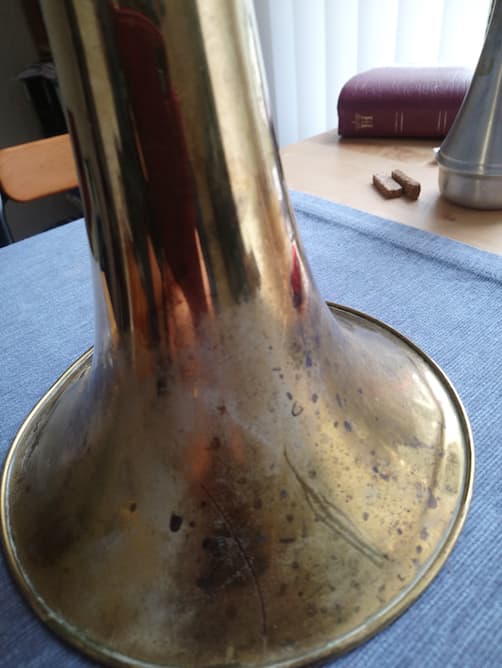 Sheri Pawlikowski
- Prenton, Merseyside, England
---
---
Rose Gold Plating a Saxophone
February 25, 2020
Q. Hello, I'm a sax player who wants to plate an old saxophone as a personal project.

So far, I have been able to use some electroplating kits to re-establish nickel layer of some keys, but this would be a much bigger project for me. Due to the dimensions of the instrument, I was thinking in brush plating process for this project. Currently the body of the saxophone has been unlacquered, polished and cleaned, as I have read in multiple comments on this forum, the steps I have to perform for gold plating the brass body are:

- electrocleaning
- water rinse
- H2SO4 at 10% Dip
- water rinse
- Acid Cu Plate
- water rinse
- H2SO4 at 10% Dip
- Ni plate
- Water Rinse
- Au plate (rose gold solution)

I would greatly appreciate your guidance and advice in this process.

regards
Noel Cortes
Hobbyist - Mexico