Where the world gathers for
plating, anodizing, & finishing Q&As since 1989
-----
Silver plating delaminates from copper parts but not brass parts
Q. Hi there,
I have recently set up a new silver plating plant, plating copper and brass parts to be used as electrical connectors. The reason for plating these parts is for corrosion protection as these connectors are used in highly corrosive environments such as mines and on railways. My plant has been operational for roughly 3 months and I have as much plating experience.

My plating line is as follows:
1. Alkaline Soak/Electroclean, 2. Rinse, 3. Acid dip. 4. Rinse, 5. Copper Strike (cyanide), 6. Rinse, 7. Silver Strike (cyanide), 8. Silver Plate (cyanide), 9. Rinse, 10. Rinse

I get the parts directly from machining. The silver deposits on the brass components are bright, and adhere very well. However, when plating copper components (C147 -- Sulfur bearing copper) there are several problems.
The end result is the copper plated parts are poor, there are a couple of things wrong:
Firstly some of the surfaces have frosting, mainly the machined surfaces, the non-machined surfaces are bright silver.
Secondly, the plating de-laminates (peels-off) when tested, seemingly only the silver strike and silver plating peels off, not the copper strike.
These problems confuse me ... I would expect the machined surfaces to be bright silver given their clean finish; and the plating peeling off most likely means bad cleaning, but if that was the case you would expect the copper layer to peel off also.

A few observations:
- Brass parts come out perfectly, so the problem is only with copper, we use copper 147 for easy machining. I have heard from another plater that C147 oxidises in contact with cyanide however I have not been able to find another source supporting this.
- The machined areas on the parts get a black frosting look during the silver strike, my guess is that this is part of the reason the frosting occurs in the silver plating bath. (The parts have no such phenomenon after the copper strike)

Things I have tried to rectify the problem
- In the first process tank I have tried: Cathodic cleaning with an anodic flash, anodic cleaning, and no electroclean only soak.
- A longer copper strike
- Higher and lower voltages in the silver strike
- Higher and lower voltages in the silver plating bath.

I would like some direction as to why the copper parts turn out so poorly, and what can be done about it.

I have attached some photos to make understanding my problem easier.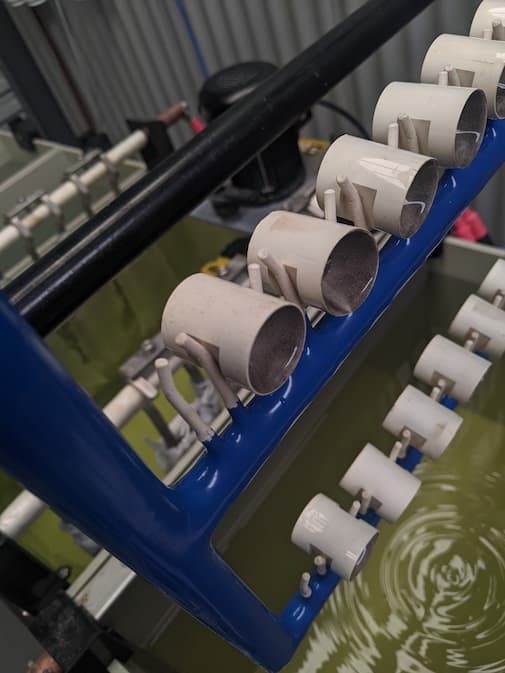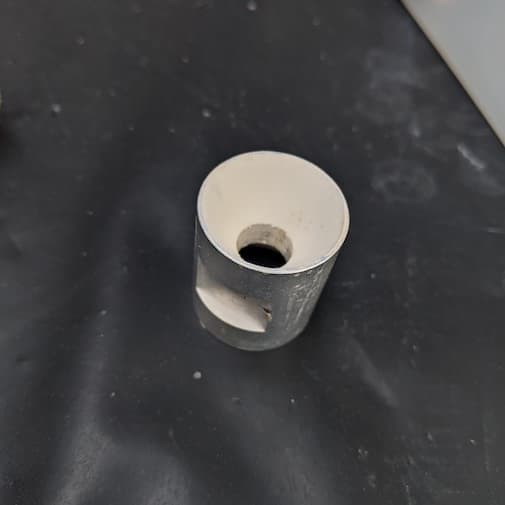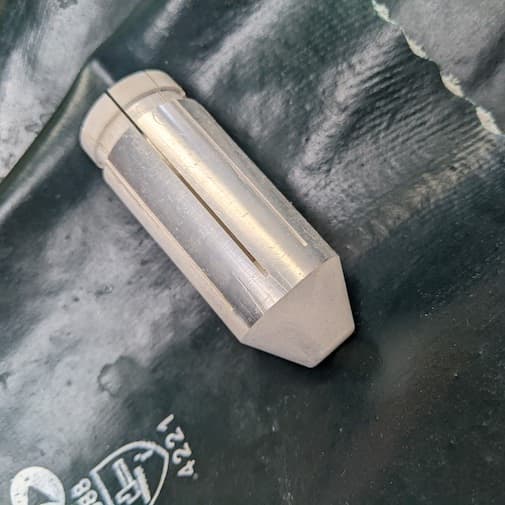 Thank you for taking time to read my question, and for any advice you may have.
Juan Kritzinger
- Newcastle, NSW, Australia
January 9, 2023
A. I do not know "C-147", but if it contains Tellurium, then you must strike in an acid solution (even acid copper) first. Cyanide will not plate onto bare Tellurium copper.




Robert H Probert




Robert H Probert Technical Services





Garner, North Carolina







A. In my experience you cannot treat the brass parts the same as the copper. You do not need a copper strike step for your copper parts. My shop Utilizes a persulfate etch step in the plating of copper substrates. A example procedure is as follows:
1. Soak/Eclean and rinse 2. Acid dip and rinse 3. Copper etch and rinse 3. Acid dip and thorough rinse 4. Silver strike into silver plate etc

You could try just removing the copper strike step to see what the adhesion is like, but all of our procedures utilize a copper etch before plating.

E Gonzales




- Boulder Colorado




January 10, 2023