Where the world gathers for
plating, anodizing, & finishing Q&As since 1989
-----
How to decarbonize the surface of high carbon steel
Q. I am looking for suggestions on methods to non-destructively reduce the carbon in the surface of high carbon steels. I our biophysics lab, we have need for parts with a high carbon level on one set of surfaces and a mild or low carbon steel on others. Certainly one way to achieve this is to add carbon to low carbon steels via case hardening, However we need the bulk of the part to be high carbon steel and only convert the surface to a reduced carbon level.

One thought is to seal the high carbon surfaces, bring the metal part up to 700 and blow O2 over the surface, reacting the C off as CO/CO2. We do also have some parts that due to their shape are quite temperature sensitive so we looking at acid baths, alkaline baths, or an electrochemical procedure to strip away the carbon. Heck we even looked at the possibility of using a supercritical solvent.

There is a lot of literature for adding carbon to the surface of steel, case hardening, but little on the reverse. We thought that before spending even more research time, why not ask the folks who know, or can tell us where to find out more.
Erin Koon
- Carrollton, Georgia
September 19, 2022
---
A. Hi Erin. There may be a practical way to de-carbonize steel, but I'm not personally aware of it.

However, it is pretty commonplace to selectively harden steel. Gears & sprockets for example need soft centers to accommodate boring center holes for the shafts in them, while having the teeth hard. This is done by copper plating the areas which you do't want to get hard before they are carburized. Maybe copper plating the surface which you want to remain low carbon will work for you.

Alternately, you could make the item slightly smaller and then iron plate a surface onto it. Are you sure it needs to be steel? -- because you could plate copper or nickel onto the high carbon item too.
Luck & Regards,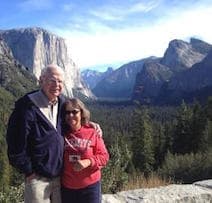 Ted Mooney
, P.E. RET
Striving to live Aloha
finishing.com - Pine Beach, New Jersey
---
Q. We have our parts make of high carbon steel, with a sapphire insert. Because of the research they have to have very hard interiors and we use sapphire watch bearings as nozzles.

So, we really need a way to remove carbon from the high carbon steel, but the depth is not substantial. We might have to resort to supercritical Oxygen bath, or possibly using electrochemistry to strip off the carbon.

The the instruments are used to create 10nm droplets, so surface deposition of another metal is not very appealing. As me now you can see why we don't want to use temp and O2 to remove carbon from the surface, any warping will result in a loss of the part.

The electro negativity of carbon is about 2.55, Iron is about 1.83 maybe we can find a way to strip off the carbon In solution?

We know we can put them in a furnace at 700 degrees and oxygenate the atmosphere to reduce the carbon on the surface. Just holding the steel at that temp changes it's crystalline structure (but you guys now that already)

Erin Koon
[returning]
Student - Carrollton, Georgia
September 20, 2022