Where the world gathers for
plating, anodizing, & finishing Q&As since 1989
-----
Can't restore bright finish to bare aluminum piece
Q. I have an intricate aluminum sculpture I created that started out as bright bare metal but has since turned a dull smokey gray. This occurred after I fixtured the sculpture in plaster of Paris in order to securely hold it while machining the bottom flat in my milling machine. Perhaps the plaster had some chemical reaction with the aluminum?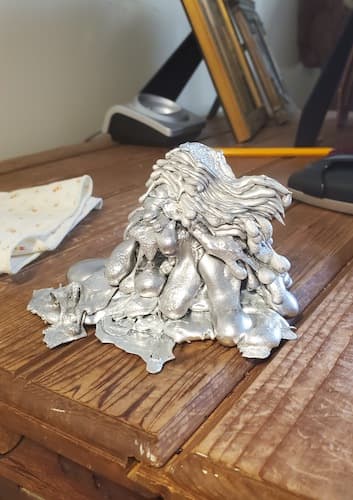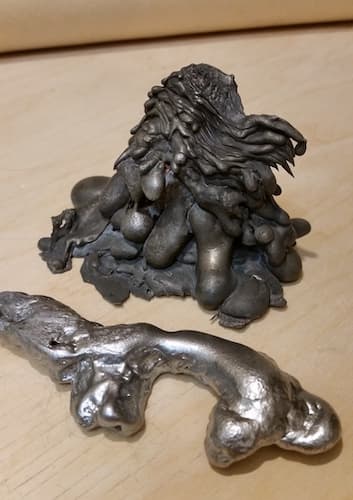 The one photo shows the piece before it tarnished. The other photo shows the same piece now tarnished. In front of it is an untarnished piece of aluminum that was melted from the same batch, and included here for reference; that piece has remained in the same pristine bright condition all this time.
I am at a loss as to how I can get the metal bright again. I do not need a mirror finish; just bright. I wish to avoid any type of harsh abrasives. I and am hoping that some sort of chemical will remove this dull smokey finish. So far, I tried toothpaste, automotive rubbing compound, and soaking in hot cleaning vinegar but none of these seem to have any effect on this coating. Any recommendations would be greatly appreciated.
Mark S Lyons
- Glassboro, New Jersey
June 27, 2022
---

September 1, 2022

A. Try 20 % sodium carbonate solution.

Paste of cream of tartar and either water or hydrogen peroxide can be used to clean stained aluminum objects too.
Hope it helps and good luck!

Goran Budija




- Cerovski vrh Croatia





---

September 1, 2022

A. Hi Mark
I would think that you would need a product that leans towards the caustic as opposed to acidic. it appears the surface has been affected and hence discolored ... chemical reaction of sorts. I might suggest to you start by trying something mildly caustic like a basic baking soda concoction. (I do not know if you would have to use it as a paste or a liquid because I do not know how your piece has been put together); other products are on the market.. ammonia, lye, sodium hydroxide (the last of which if you have never used before then either be extremely careful or do not use it.) but those could tend to be dangerous to work with. Best to err to the side of caution.

One other thing you could try: kitchen cleanser is a caustic product which might do the trick for you as it is in the caustic pH range.

Philip J. Verzal


Saporito Finishing Co.



Cicero, Illinois