Where the world gathers for
plating, anodizing, & finishing Q&As since 1989
Stainless Passivation Temperature Ranges - Why is 90-120 °F excluded?

-----
Q. Does anyone know the reasoning why there is no nitric method that covers between 90-120 °F as there are methods above and below this temperature range (ASTM A967 / A967M [Techstreet affil. link] )?

I have not yet dived deep into the thermodynamics of this situation, but I would expect that this temperature range would also result in a sufficiently oxidizing environment?
PT Omega
- Roanoke, Virginia
June 1, 2022

Ed. note: When in Rome ...
Since 1989 this site has been striving to build a legacy of aloha, camaraderie, & mutual help which we feel is incompatible with anonymity -- readers are requested to post with their real name & town :-)
---
A. PT,
It does seem rather arbitrary, doesn't it.

One would expect that for a given bath recipe, there should actually be a range of time/temperature combinations, with less time needed at higher temperatures. You do see this given for the citric acid option.

The nitric acid options in ASTM A967 / A967M [Techstreet affil. link] were copied over from QQ-P-35C, and the reasonings behind the specific temp/temperature choices used are, I'm sure, long forgotten.

The older revision QQ-P-35B did have a "Type IV" with a temperature range from 70-120 °F, but that was removed for the C revision. AMS2700 [Techstreet affil. link] does have it though, having restored those treatment types that were removed in QQ-P-35's C revision.

Though please note that the various nitric bath types are not equivalent to each other. They are each designated for different families of stainless steel grades. You can't pick one arbitrarily because you like the temperature it uses.

Please also additionally note that A967 specifically allows the user to create a process with any parameters that produce acceptable results.

Ray Kremer
Stellar Solutions, Inc.

McHenry, Illinois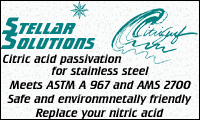 ---
Hi "PT Omega",

You can use that temperature range, but the temperatures mentioned in those ASTM standards are the optimal ones for each different composition of stainless steel.

There are, moreover, another different methods for passivating stainless steels with proprietary products that exceed those ASTM results, with different operation temperatures.

Best regards!
Daniel Montañes
Quality Manager - Cañuelas, Buenos Aires, Argentina