Where the world has
gathered for finishing Q&As since 1989
Sodium Dichromate Seal Tank Liner Materials and a compatible filter!
adv.: Kynar Tank Linings by Goad

(
-----
)
January 31, 2022
Q. Hello all!

I'm tearing my hair out here. I just spent my Friday evening replacing, yet again, the liner in my Sodium Dichromate Seal bath (195 °F, 50 g/L as Dihydrate, pH 6-6.8). The photos attached are of the one I just pulled out, which was 1/8" PVC type 500HT. I assumed it had failed due to a puncture, but could not find evidence of one -- instead, it seems to have SIGNIFICANTLY degraded chemically in the whopping SIX MONTHS it was in there, and I did not see how bad it was until we drained the tank and pulled it out.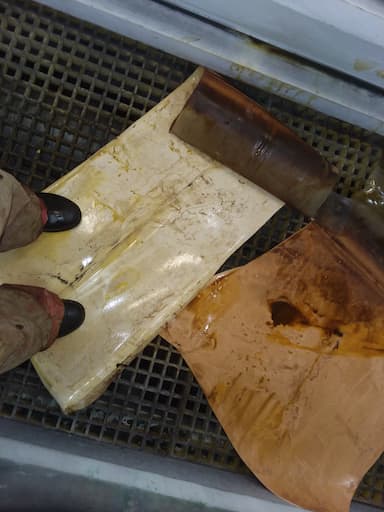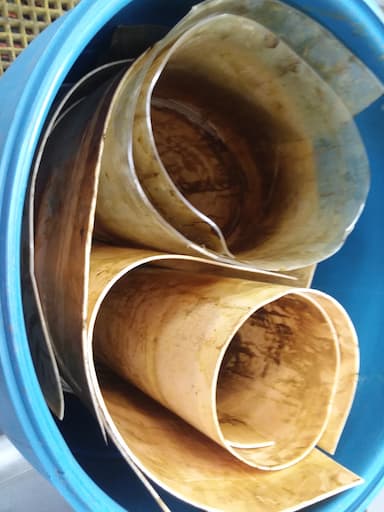 Meanwhile, I had tried to order a flexible grey 3/16" CPVC liner to replace it. We use these for hot Nitric-Dichromate passivation and they do degrade over time, but as minor surface oxidation (flaking) rather than the full permeation that appears to be happening here, and the addition of Nitric makes it a FAR more aggressive tank solution. I have STILL never seen one of the Passivation liners start leaking- they simply become too messy to deal with.

When I tried to order flexible Grey CPVC, I received back the following from my supplier's current plastic fabrication contact:

"Our high temp, translucent/amber color, PVC is formulated like a CPVC. It's high temperature rating is the same as CPVC, which is 200 &ddeg;F. It's common in piping for plumbing that the CPVC is grey but in our formulation it's an amber color. Otherwise, there is no difference. We use this material for all high temperature applications (150 °F and higher) plus hard chrome plating baths."

Well... the new 3/16" PVC500HT liner is in and I'm giving it 10 - 14 months this time ...

What is everyone using in y'alls Dichromate Seal?! The original liner for this tank was 316L stainless, which got destroyed rather quickly at the welds. The next two liners were "Premium PVC", and the most recent one lasted SIX YEARS. I found the PO and the order confirmation, stating verbatim "Liners are not compatible ... This is a planned obsolescence item", and I about keeled over laughing that the one I was warned NOT to buy was pretty darn rugged, and the one I was assured was correct ... Yet here I am asking for help ;)

In regards to the old PVC liners, there's no information as to what, exactly, "premium" means.

On a somewhat related note, I'd love to start filtering this tank to improve bath life.

If anyone can recommend:

-A rugged liner material that is PROVEN to stand up to this solution, and not melt in close proximity to an in-tank steam line (can't remember if it's Ti or Zr, but beside the point).

-A filter setup that can handle it.

I would be most grateful. Thanks in advance!!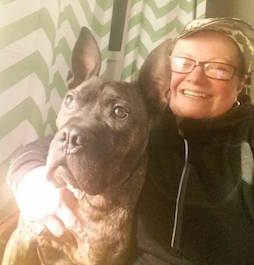 Rachel Mackintosh
Lab Rat and some other things - Greenfield, Vermont
---
January 2022
A. Hi Rachel. I once designed a chromate mixing/manufacturing facility for one of the chemical suppliers to the plating industry, and we used rigid Kynar/PVDF tanks with the intention that they would last essentially forever even in the face of every concentration and every temperature. But unfortunately they cost about 10X what polypropylene tanks of the same size cost, so it's probably not realistic for a plating shop. But you might investigate whether kynar/PVDF or teflon/PTFE liners are available for your tanks and check out the cost. Unless mechanically damaged they should last forever, as should a kynar pump or teflon-lined pump.
Luck & Regards,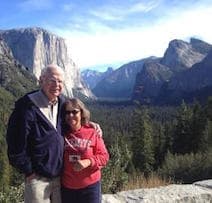 Ted Mooney
, P.E. RET
Striving to live Aloha
finishing.com - Pine Beach, New Jersey
---
February 1, 2022
A. Hi Rachel
I would pay some attention to an additional point: if the liner is compromised in the immediate vicinity of the heating element (in-tank steam line) - it may be beneficial to try to remove the heat from this steam pipe as efficiently as possible. Pump outlet and/or eductors located close to this area and directed towards the steam line may reduce risk to the liner and reduce energy consumption through better heat dissipation.
Good luck,
Leon Gusak
- Winnipeg, Canada
---
February 2, 2022
Hi Leon and Ted!



Thank you both for your help.

Leon, yes the heat right behind the steam line does concern me. I have not found any evidence of melting, per se; however I do believe that the localized hot spot is speeding up chemical degradation. We don't currently have in-tank recirc lines, filter discharge ports, or jets of any sort, for the same reason I'm fighting with the liner haha. I would publicly arm-wrestle the entire Accounting department in the cafeteria for Carte Blanche to spend what it takes to get this tank set up with a proper filtration/mixing system combo!!! Mixing is currently done with a mechanical shaft/prop mixer, and it's angled to drive flow behind the steam lines- how efficiently, I couldn't say. We ARE putting in a simple 316L sheet between the steam lines and the rubber for additional shielding (including from potential mixer-related accidents!).

I've reached out to my new fabricator about quoting flexible PVDF, and am still waiting for a response as to whether this guy even works with that stuff. We shall see if I end up having to post an RFQ in a few months... :)

Cheers!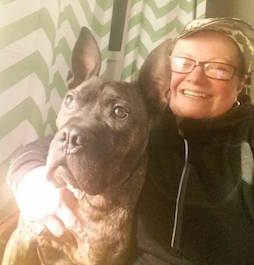 Rachel Mackintosh
Lab Rat and some other things - Greenfield, Vermont
---
February 4, 2022
A. Hello Rachel. The use of Kynar (PVDF) in metal finishing tanks (especially for chrome plating or any hot acid) has come a long way in the past couple of decades.
I now work for GOAD Company that has lined several hundred tanks with Kynar since 1996 and has Kynar jobs in the shop continuously these days. While it would be horrifically expensive and also not a good practice for various reasons to fabricate a tank from thick Kynar sheets, it is not so outrageous to line a steel or stainless tank especially when you consider the cost of downtime.
Liners could be a 1/4" thick rigid drop-in box-type made from a Kynar copolymer or they could be 90-mil thick semi-flexible copolymer that is bonded to the tank in place. I like box liners the best in your case, because the adhesive system used for bonding will not hold up to temperatures above 180 °F. Thinner bag-type liners have numerous problems and I would avoid them. I would also avoid tank fabricators that do not have a great deal of knowledge/experience with Kynar copolymers and their benefits over homopolymer.
All of that being said, I think a regular 316L stainless tank can be good for dichromate seals, but the welds have to be passivated/pickled completely or you will have the failure in the weld heat affected zone that you described. If a replacement tank is not feasible, Kynar liners are the best option that and will prove cost effective over time.

Jon Barrows
, MSF, EHSSC
GOAD Company

Independence, Missouri
---
February 8, 2022
Q. Hi Jon!
Thank you for the detailed options. We do typically use box-type drop in liners for both splitting tanks in half and for protecting the rigid Polypro from chemical attack. Bag liners we treat as consumables. I'm just worried about damaging a thin rigid liner during installation- and I DO hear what you're saying about the need for an experienced fabricator to work specialty materials.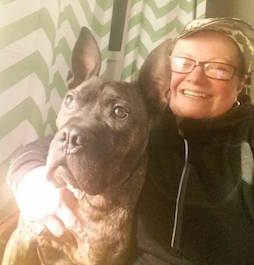 Rachel Mackintosh
Lab Rat and some other things - Greenfield, Vermont