Where the world gathers for
plating, anodizing, & finishing Q&As since 1989
-----
Haziness or Cloudiness on Type III Anodized Titanium
Q. Hello there, I'm having a similar problem. I can't get an even result when anodizing watch dials made of titanium grade 2. My process is ultrasonic cleaning > electrolytic degreasing > warm etching with multi etch (from 7 sec. to 1:30 depending on the part) > anodizing in TSP with a rinsing bath between each step. Anodizing other parts, mainly grade 5 and with a brushed finish, works fine. Even the high voltage green turns out perfect. But the dials drive me crazy.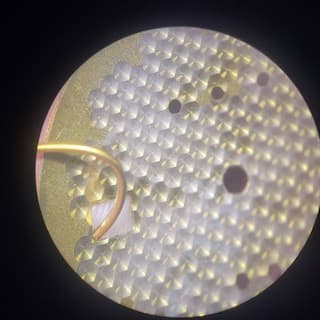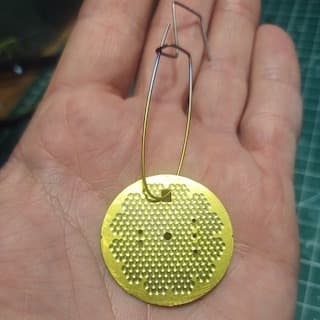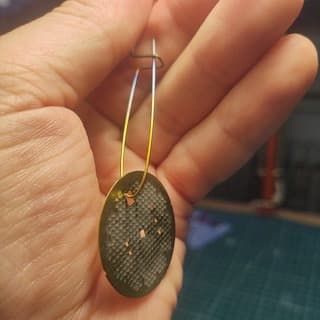 Up to about 45V everything works fine. The trouble starts around 50V. I tried turning up the voltage very slowly, cleaning thoroughly with brake cleaner, changing the baths, moving the parts during etching and anodizing - basically everything. But it didn't do the trick.
I thought there could be milling oxides on the part. Therefore I used a brand new, very sharp end mill and I put the parts under water directly after milling to prevent them from oxidizing -- with no improvement.
Do you have any ideas what I could do?
Matthias Kieser
- Frankfurt, Germany
November 29, 2022
A. Matthias,
CP titanium require longer etching duration prior to color anodizing.

If longer etching of CP titanium is not an option, then you can switch to electrochemical etching prior to color anodizing.
adv. Contact me directly, I will guide you through. Electrochemical etching does not dull the surface.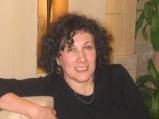 Anna Berkovich
Russamer Lab



Pittsburgh, Pennsylvania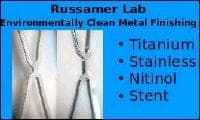 December 2, 2022



---
---
⇩ Closely related postings, oldest first ⇩
---
---
Q. Hello,

First time posting here. We ran into some defects on a batch of screws during the anodization process. The defect can be described as intermittent areas of matte cloudy finish throughout the length of the screws. In other words, the finish along the body of the screw would be ok then cloudy then ok then cloudy again.

We're cleaning with high alkaline cleaner, #2 ringing with cold RO/DI water, #3 rinsing with hot RO/DI water, #4 acid etching, #5 rinsing with cold RO/DI water, #6 Acid neutralizing with high alkaline cleaner, #7 rinsing with cold RO/DI water, #8 Anodizing with trisodium phosphate [adv: item on eBay & Amazon] and RO/DI water, #9 and finally rinsing with cold RO/DI water.

I have posted the photos for a better visual of the issue. Any idea as to what may have caused this? I appreciate the feedback.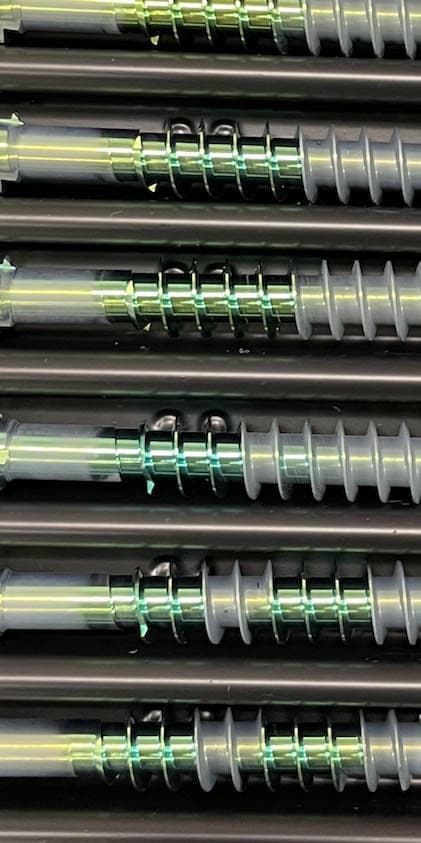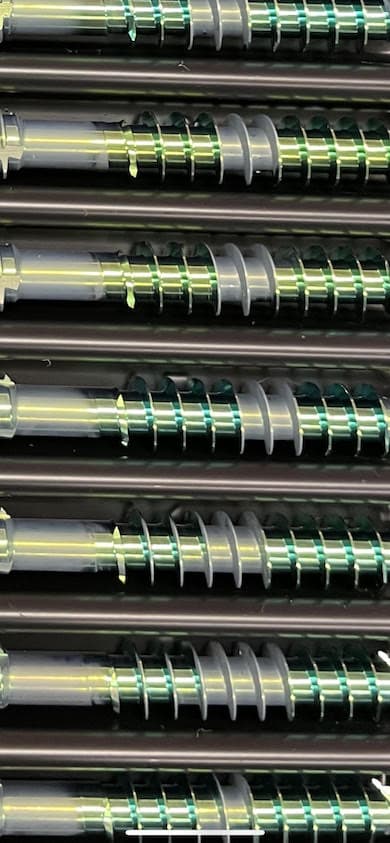 Leo Limo
- Philadelphia, Pennsylvania
October 11, 2021
A. Hi Leo,
My opinion that there is local overheating. Make sure the temperature of the electrolyte is not higher than 70 °F, use large tank for mass anodizing, mask all non-essential surface of the basket or holder (assuming you use titanium baskets), do oxide etching of the basket regularly in-between loads, install moving rack or do electrolyte agitation by any possible means - cooling pump, magnet or mechanical means (in order to prevent local overheating).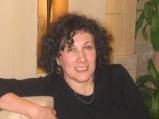 Anna Berkovich
Russamer Lab



Pittsburgh, Pennsylvania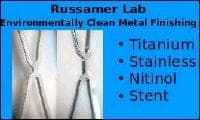 A. Leo,
I would try to slow down the ramping or reduce the amps because if you go too fast to a color you can get a lot more gassing which would affect the surface finish that could cause cloudiness on the parts. The cloudiness seems to be about the same location on different parts, so I would try racking them differently to see if it improves or goes away.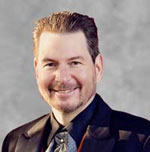 Mark Battles
Plymouth, Minnesota



Leo,
You are absolutely correct. Forgot to mention this issue. I assumed that low amp setting is on default when titanium color anodizing. But instead of guessing amps numbers we setup voltage raise for at least 30 seconds duration until it reaches the required color number, thus limiting amps by itself.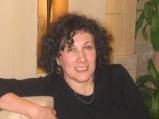 Anna Berkovich
Russamer Lab



Pittsburgh, Pennsylvania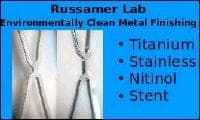 Q. Hi guys, thanks for the answers. The problem comes and goes. I can't seem to make sense of it. I ruled out bath temp, part cleanliness, and etch time through DOEs. The hazing issue I'm experiencing now is similar to what I had previously posted except this time it isn't in the threads of the screws. The screws are clipped on the threads. The racks are blasted daily and used for 6 or so hits before the next blasting.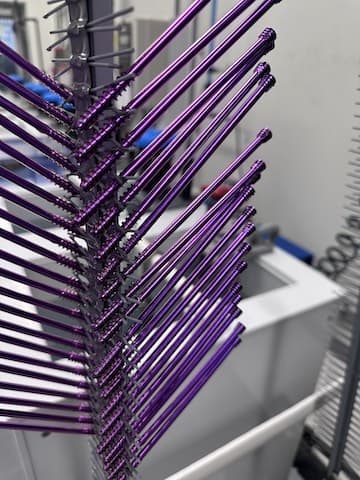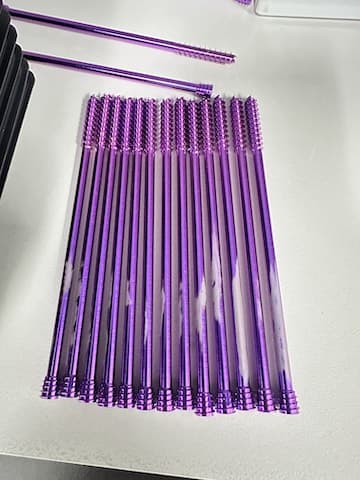 Does the pattern of the gray hazing indicate any particular root causes I should be looking at?
Leo Limo
[returning]
Engineer - Philadelphia
May 26, 2023
A. I suspect overheating of electrolyte. Too much sq. area to do in a single lot.

Mask all rack areas that do not contact parts. Incorporate electrolyte swinging, if the anodizing tank is large enough, or any other possible means of electrolyte cooling.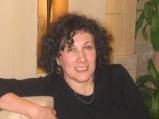 Anna Berkovich
Russamer Lab

Pittsburgh, Pennsylvania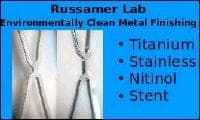 ---