Where the world has
gathered for finishing Q&As since 1989
White powder on anodized finish
(
-----
)
August 12, 2021
Q. I am a machinist and we CNC machine parts. We received a batch of straight knurled knobs back from type 2 anodizing. In a few random places there is a white powder substance on top of the anodizing. The anodizing is perfect under the powder. The powder cleans off with a toothbrush.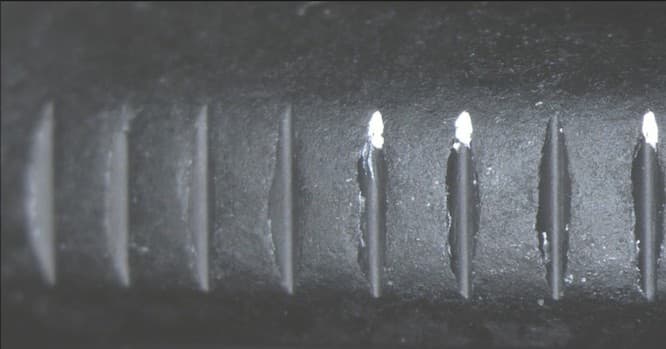 We run these same knobs with the same process all of the time without issue.

My anodizer says it is our fault because a burr on the knurl entrapped the seal coat. I contend that if a burr was the problem then there would have been other imperfections in the anodizing due to entrapment of other chemicals in the processes. It is simply a matter of the seal coat not being rinsed off properly.

What do you think?
Scott Dordick
- Pomona, California
---
September 2, 2021
A. `I am no machinist, but I don't think knurling is a very clean process. It results in folded edges and smeared material. These little void areas will wick in process solutions which are nearly impossible to rinse off. I would bet that you are seeing sulfuric acid electrolyte solution which is drying out and blooming sodium sulfate crystals
Chris Jurey
, Past-President IHAA
Luke Engineering & Mfg. Co. Inc.

Wadsworth, Ohio

---
September 7, 2021

Hi Chris,

Yes, knurling is formed by rolling dies on a spinning part so it is difficult to control the surface finish. We have been making this same part with the same process for 10 years and this is the first time we have had a problem. We have even used the exact same dies on another batch since the above parts and did not have a problem.
Scott Dordick
re
- Pomona, California