Where the world has
gathered for finishing Q&As since 1989
White dots on an anodised finish

-----
)
Q. I am working with an anodiser here in the UK. Lately, I have noticed parts are coming back with white dots. The anodisers are blaming the material and its finish. The part is heavily etched as it is not bead blasted.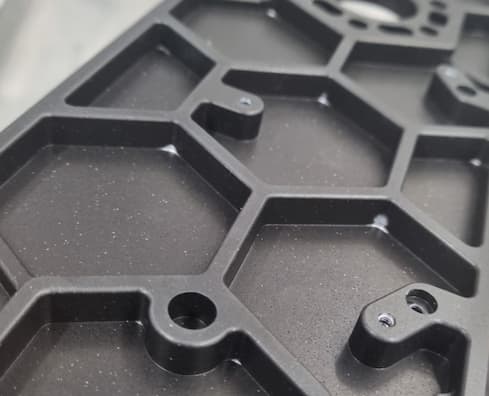 I can't help but think it is not the material or finish to blame as in certain sections of the metalwork you have sections of exposed metal. It was not like this before. So I think its likely to be down to the process itself

Any advice would be greatly appreciated
Joseph Stack
- Devon Exeter
July 28, 2021
---
A. Hi Joseph. We'll see what the practical anodizers and anodizing consultants have to say, but for my opinion ...
It sounds possible that the tiny white dots might have something to do with the material (although, see Robert Probert's article here: What Causes White Spots).
But your anodizer is certainly stretching my credulity is asking us to believe that those large white blotches where water, chemicals, or acid can collect -- or more likely where air collected, depending on which way is up -- were caused by a defect in the material :-)
Luck & Regards,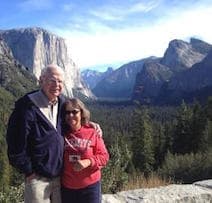 Ted Mooney
, P.E. RET
Striving to live Aloha
finishing.com - Pine Beach, New Jersey
---
A. I see two different kinds of white "spots" in your picture. (1) gas entrapments with no anodic film to adsorb dye. (2) tiny white aluminum sulfate which pops out of the (too large) pores when it hits the hot seal. Make the pores smaller by lower temp, lower free acid and/or higher current density, then use a 5% nitric acid post dip to flush the aluminum sulfate out of the pores ahead of dye.

Robert H Probert
Robert H Probert Technical Services

Garner, North Carolina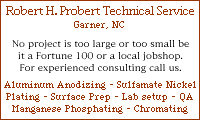 ---
A. I have only one guess...Most likely it seems "gas entrapping" problem.According to pic I think it had been loaded as longitudinal(vertical). Thus, in that recessed areas had been filled by air. That means no anodizing layer and no coloring....
Alaattin Tuna
Anodizing Supervisor - TURKEY Sakarya
---
A. Joseph,
it most assuredly looks as though the larger white spots are resultant of air entrapment (a slight angle backwards with the honeycomb surface on the outside will most definitely aid in eliminating the air pockets). The smaller white spots look material related. It is very common for cast material to display these white spots which become even more evident after the dye process. Returning parts to the anodize tank for 5 to 10 minutes and then dying again will usually improve the cosmetics dramatically. You will generally see this condition greatly magnified on surfaces that have been machined.
I do have to admit, I greatly appreciated Robert's in-depth explanation of the science behind the spotting.
Philip J. Verzal
Saporito Finishing Co.

Cicero, Illinois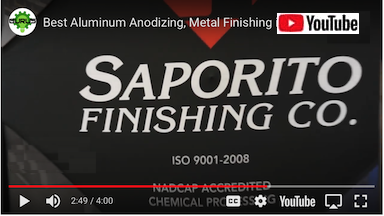 ---
"Surface Treatment & Finishing of Aluminium and Its Alloys"
Wernick, Pinner & Sheasby
from Abe Books
or

Affiliate Link
(your purchases make finishing.com possible)
August 23, 2021

Thank you very much to everyone for their advise. I should have been more precise. The large white dots I understand are down to processing issues.
Q. It is the small little ones I was unsure on.

We use a material called 5754 plan cast which is specifically formulated for anodising.

All of the advice you have all given me will be fed back. I will let you know how we get on.
joseph stack
[returning]
- Devon Exeter
August 23, 2021