Where the world gathers for
plating, anodizing, & finishing Q&As since 1989
-----
Can sealant surfactants be removed?

Q. We have some clear and black anodized (Type II) parts that get assembled with glass components using UV curing adhesive and we have a high failure rate. Temperature cycling is what initiates the failure so adhesives with more flexibility when cured are being tested, but my research indicates that the surfactants used with Nickel Acetate seal can interfere with the bond so I wish to test that variable as well. So the question is, can the residual surfactants be removed in a cost effective manner without otherwise affecting the parts?
Chris Maugham
- Delray Beach, Florida
June 4, 2021
A. The seal is hydrated aluminum oxide. The coating is aluminum oxide. Anything that will remove the seal will also attack the coating. So, no, you are stuck with this batch of parts. On the next run use generic homemade reagent grade nickel acetate. Most all proprietary seals do have surfactants for very good reason, however not for you. Also, follow the anodizing with a rinse, then 5% nitric acid to flush the aluminum sulphate out of the pores, then another rinse, then dye and/or seal.

Robert H Probert
Robert H Probert Technical Services

Garner, North Carolina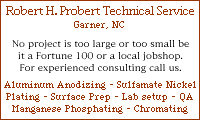 June 5, 2021
Q. Ever solve your adhesion problem with the surfactant? Did you end up switching chemicals/glues? May have encountered a similar issue.
Quint Crispin
- Beaverton, Oregon
June 27, 2023
Ed. note: E-mail to OP now bounces; perhaps he's not employed at the same place anymore. So please detail your own situation for the best chance of reviving the discussion :-)
A. (1) Failure could be due to large difference in thermal expansion coefficients of glass and aluminum. That would depend on the temperature when you are doing temperature cycling.
(2) Any surface should be wettable for good adhesion. One way to test this is to place a small drop of water on the surface. Wettability would be poor if the drop sits as a spherical blob making a large contact angle with the surface. On the other hand it would be good if the drop spreads on the surface easily making a low contact angle.
(3) Wettability can be improved by exposing the surface to a low temperature plasma.
HR Prabhakara
- Bangalore Karnataka India
June 30, 2023