World's #1 on-line resource since 1989
•
-----
Unusual reaction of Bohler K390 steel to phosphoric acid
October 15, 2020
Q. Soaking steel in Boeshield Rust Free (a weak solution of phosphoric acid) usually produces a light gray hazy coating of, I presume, iron phosphate.

Soaking Bohler K390 steel produces a dark black coating.

Why? Is it reacting with the manganese to produce manganese phosphate? Is it carbon? Is it something else?

Here is some information on the K390 alloy.
Carbon: 2.47
Chromium: 4.20
Cobalt: 2.00
Manganese: 0.4
Molybdenum: 3.80
Silicon: 0.55
Tungsten: 1.00
Vanadium: 9.0

Thanks for ideas.
Robert Dick
- Chelsea Michigan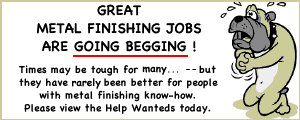 Plating Shop Manager [Salisbury, MD]
Junior Quality Engineer [Santa Clara, CA]
Plating Process Engineer [Wenatchee, WA]

---
November 2020
A. Hi Robert. Both Boeshield Rust-Free [affil. link to info/product on Amazon] and Bohler K390 steel are proprietary products, so you might see if either supplier can offer a lead. From the SDS for Boeshield Rust-Free you can see a list of the main ingredients and try the three main ingredients separately to see if it's actually the phosphoric acid, or you can try straight acid, or one of many other brands of rust converter.
Materials aren't defined solely by their chemical composition of course, but by the steps in their work history as well, and Bohler K390 is a powder metallurgy product, which might be the explanation for it turning black. With only 0.4% Mn, I don't think that's the explanation for the blackening.
But tell us what you're up to. Thanks.
Luck & Regards,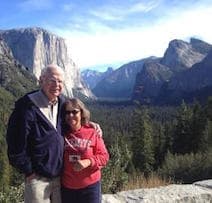 Ted Mooney
, P.E. RET
Aloha -- an idea worth spreading
finishing.com - Pine Beach, New Jersey