Where the world gathers for
plating, anodizing, & finishing Q&As since 1989
-----
Avoiding Tank Overflows in Plating Shop
Q. I'm sure every plating shop has had this happen but an operator puts a hose in a tank, walks away and comes back to an overflowed tank. We've tried the timed push button controller, the gas station type handle, etc. but never come up with the optimum answer. "Progressive discipline up to and including termination" is great, but we've made huge investments in our operators and they're nearly impossible to replace these days. What ingenious approaches have people come up with out there?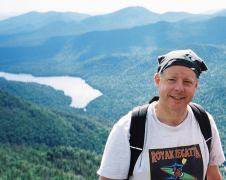 Milt Stevenson, Jr.
Anoplate Corporation

Syracuse, New York
September 18, 2020
A. Hi Milt. Toasting my pop tarts this morning, I noticed that the toaster coils went off 5 seconds before they popped up. Electronic controls are so super reliable and dirt cheap today that we don't even think about it anymore -- even cheap toasters now use microprocessor controllers instead of mechanical devices.
The volume apparently isn't quite there yet for super cheap bluetooth level controls or hose controls but I think we're close. I can easily picture a normally-closed solenoid in the water line before the hose bib so water cannot flow except when 'authorized' by a blue tooth level control in the tank or on the end of the hose line, and it being affordable soon.
But in the meanwhile, I think your gas station type handles, inserted into a proper diameter proper height PVC standpipe at the corner of the tank are a good way to go. I understand that the nozzles are available in plastic or stainless steel if the standard ones corrode too easily in plating shop service.
Luck & Regards,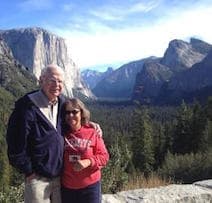 Ted Mooney
, P.E. RET
Striving to live Aloha
finishing.com - Pine Beach, New Jersey
A. A float switch set at a level that's just above the "this tank is full now!" line, and still a few minutes' fill time away from "oh no it overflowed!", connected to a LOUD audible alarm that everyone knows not to ignore, and can be heard clear across the shop.

We have a couple of these installed in our waste treatment area and when they go off, at least two people are guaranteed to go scurrying up to shut off the offending inflow valve, if only to save their poor ears!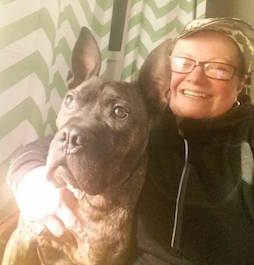 Rachel Mackintosh
Lab Rat and some other things - Greenfield, Vermont
A. 1. "Dead man valve" is a reliable solution to prevent tank's overflow.
2. It is possible to add a device similar to "Ydrostop" - to limit a total amount of water that can flow in the pipe.
3. High level signal from electrical level sensor may be connected (through a special controller) to a solenoid valve that stops water in the pipe.

Anyone who works in a plating shop has seen tanks overflow at least once.
Leon Gusak
- Winnipeg, Canada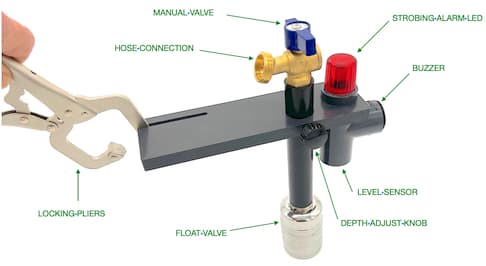 A. Depends on how automated you want to get. If you want a simple device, the "Auto Hose Filler" attaches to a garden hose and clamps onto the lip of the tank. Then an operator turns on the flow. Once the flow is started it fills the tank to the correct level and shuts off with a built in overfill alarm in case.
Peter Blokhuis, Engineer
gizmo-engineering - Phelps, New York
January 12, 2023



This perennial problem reminds me of a time when we had a quite a spate of tank overflows due to platers walking away from hoses.
It caused me to consider writing a research paper extolling our new discovery of 'homeopathic electroplating'.
I postulated that we would save huge costs in chemicals from running the tanks on this new infinite dilution principle.
We would only have to add a few drops or grams of any of the chemical components to the tanks, thoroughly mixing to homogeneity of course, and still get the desired coating finishes on all our components.
I envisaged that we would roll the concept out to all of our processes, and once consistent results were established roll it out to industry at large.
Alas, some industry insiders got wind of this, and I was bought off for my silence.
Too much self interest in maintaining the status quo.
Perhaps someone else will be brave enough to take up the baton in the future.
Best regards
Mark.
P.S. I drink my whiskey neat, the homeopathic principle doesn't seem to work on strong liquor.

Mark Lees




- A forsaken rock in the Irish sea




January 13, 2023






You're on to something there Mark! But alas the anode sellers will have sold their last anode when homeopathic plating gets rolling; they'll fight it tooth & nail.

Any island with good whiskey available on it isn't all that forsaken. Luck & Regards,


Ted Mooney, P.E. RET
Striving to live Aloha
finishing.com - Pine Beach, New Jersey