60,000 Q&A topics -- Education, Aloha, & Fun
topic 61137
Pretreatment Steps for Anodizing of AW 2017 Aluminum?
---
---
May 7, 2013
Q. Hello respected Anodizers,
We are doing 10% Sulfuric Acid Anodizing with Oxalic acid using titanium racks. Item is made of Aluminium rods, Type 2017.
Process sequence:
Degreasing (Caustic + Soda Ash at 40 degrees Cent.)
1 x rinsing in tap water
Chromic acid pickling
1 x rinsing in tap water
Anodizing
1 x rinsing tap water
Sodium dichromate passivation at 85 °C. (in Iron tank)
Sealing in Sealant at 85 ° (In iron tank)
1 x DI Water rinse.
We are frequently getting black spots on the surface of the items anodized which are in the form of small black pits when observed under a microscope.
As per our experience these are due to the oil stains or dirt left over during previous machining operations and left on the items due to ineffective cleaning.
Can some experienced anodizer please help us as to what are these black spots and how to get rid of them?
Thanks
Yasir
YASIR KHAN
- Karachi, Pakistan
---
---
July 24, 2020
Q. Hi.
To anodize AW 2017 how are the pretreatment steps done?

The alloy contains 1,5-2 percent copper.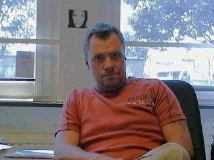 Anders Sundman
4th Generation Surface Engineering
Consultant - Arvika, Sweden
---
July 24, 2020
A. Spend 2 or 3 minutes ramping up to 21 volts, otherwise same as any other alloy.

Robert H Probert
Robert H Probert Technical Services

Garner, North Carolina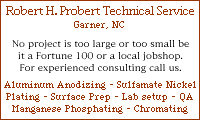 ---
---
July 30, 2020
Hello.

I am also trying to anodise aluminium 2017 4-4,5% Copper
but process fails--

1. degreasing
2. rinse
3. etching- 1-5 mins, part stays black
4. rinse
5. Nitric acid (30%). first step 1 minute, black oxide goes almost off, then washing, washing, and second dip in nitric. it cleans material much better.
6. anodising.
6.1. tank 200 g/l H2SO4, SS (316) anodes, temperature 5-20 °C. Tried different temperatures from 5-20, no difference. time- 30-40min. 24 volts (ramp) and 1-2 amps
6.1.2. coloring- 30 min. after coloring all part is with black dots, like black sand. Can wash off with water, but leaves marks.
6.1.3 sealing 90 °C 30 mins. part is with dots and like black rain.

6.2. chrome salt 35 g/l + H2SO4 120 g/l.
6.2.1. time 30-40 mins. 24 volts 1-2 amps/dm.
6.2.2. coloring black-- can see little black dots
6.2.3. after sealing is black dots again. Much less than in H2SO4, but still it is error.

I tried lot of variations with rectifier.: slowly ramp, fast ramp 1-24 volts ... no results.

After anodisation all looks normal, no errors, just after coloring it happens.

Photos attached with errors.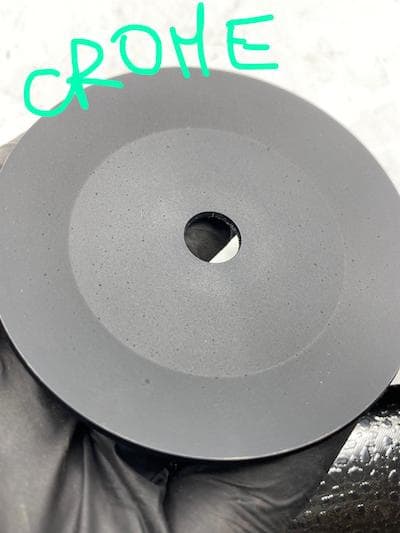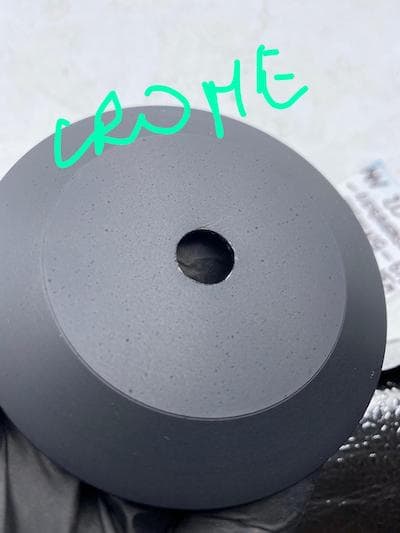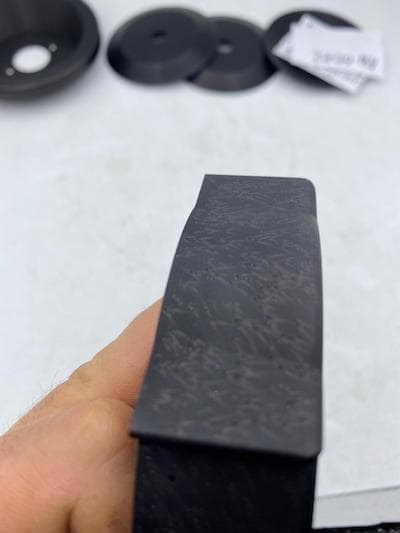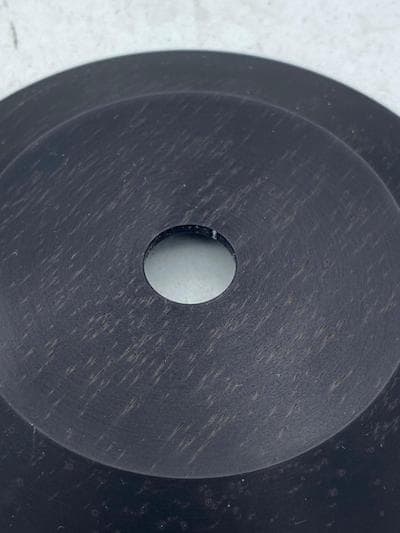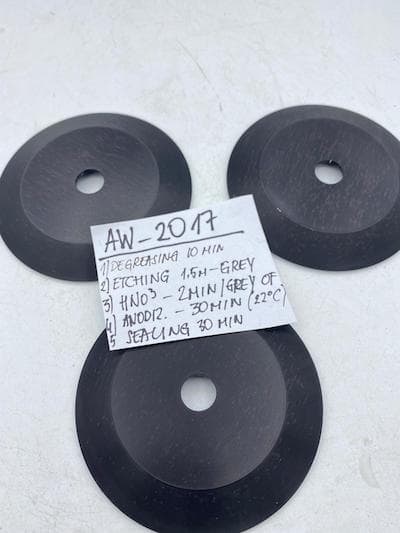 Normal aluminium is working Okay.

Also I am interested to anodise these aluminium alloys:

1.AW 6082
2.AW 2011
3.AW 2017
4.AW 2024
5.AW 7020
6.AW 7075 T6


Any help? Thanks
Ignus Sudzhis
google to look up his work on pinterest, youtube, etc. - Latvia Liepaja
---
July 31, 2020
A. The first thing I would do is reduce the etch time to as short as you can get away with. You are seeing the 'grain' of the stock material, which is made more apparent as the etch process removes various components of the alloy at different rates and exposes/leaves behind material that will not anodize, and therefore not color, evenly.

The higher the Aluminum content in the starting alloy, the less it will be prone to this problem. And related to that, alloys that are high in Magnesium or Copper are quite difficult to get the very even finish you are looking for after dyeing.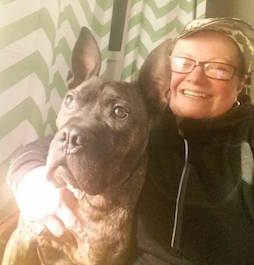 Rachel Mackintosh
Plating Solutions Control Specialist / Industrial Waste Water Treatment - Brattleboro, Vermont