60,000 Q&A topics -- Education, Aloha, & Fun
topic 61132
Kombucha and Stainless Steel
A discussion started in 2009 and continuing through 2020
Adding your Q. / A. or Comment will restore it to the Current Topics page
March 26, 2009
Q. The debate between 304 and 316 on leaching metal toxins is fascinating. I understand they are both inert.
I am making Kombucha tea, which is a highly acidic fermented tea. Would 304 or 316 be more suited, for continuous repeated home use. Better than glass even? The culture would ferment for up to 30 days in the vessel in black tea and sugar. Any help would be great don't want to make family sick.
chad york
- puyallup, Washington
---
April 23, 2009
A. Hi, Chad. Type 304 and 316 stainless are quite similar, but type 316 is more corrosion resistant. I think that is all that could be said short of retaining a laboratory to ferment the mixture for 30 days and then testing for dissolved metals.
But glass is completely inert to food products.
Regards,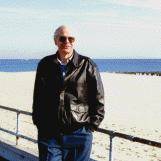 Ted Mooney, P.E.
finishing.com - Pine Beach, New Jersey
Striving to live Aloha
---
---
To minimize search efforts and to offer multiple viewpoints, we combined previously separate threads onto this page. Please forgive any resultant repetition, failures of chronological order, or what may look like readers disrespecting previous responses -- those other responses may not have been on the page at the time :-)
---
---
Kombucha brewer needs documentation that fermenting tea won't leach type 304 Stainless
March 19, 2014
Q. Hi - I am a Kombucha brewer and trying to get my fermenting gear approved by my department of agriculture inspector. Stainless Steel is the norm used without incident by many brewers around the country but this is new territory in my state. I'm looking for someone with a knowledge of metals to verify that the pH of my product is safe to brew in 304 grade SS - he is concerned about possible leaching and wants some sort of documentation that states it will not be an issue. The lowest possible pH would be 2.5 but in reality it will not go below about 2.8. Is there someone in the metallurgy field whom I could hire to write a document stating that this would not be an issue.

Kind regards,
t
tonya donati
- st petersburg, Florida USA
---
March 25, 2014
A. Tonya,
I can't quote chapter and verse to you, but the FDA has long approved of 304/316 stainless steel as a safe material for contact with pretty much everything. If you can track down a citation I would hope that would trump your state department of agriculture.

Ray Kremer
Stellar Solutions, Inc.

McHenry, Illinois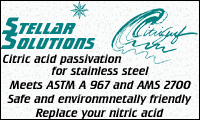 ---
March 28, 2014
A. Google search to the rescue!
Here is a fairly fun paper to read on the corrosion of stainless steels of varying flavors.
"CORROSION RESISTANCE OF THE AUSTENITIC CHROMIUM-NICKEL STAINLESS STEELS IN CHEMICAL ENVIRONMENTS"
http://www.parrinst.com/wp-content/uploads/downloads/2011/07/Parr_Stainless-Steels-Corrosion-Info.pdf

If that's not enough to put you to sleep there is another paper that has MANY good references on corrosion and Stainless Steel:
"Corrosion in the Food and Beverage Industries"
ftp://63.174.97.22/pub/MARC_Records/V13c/asmhba0004202.pdf
Now I'm handing you these papers rather than an easy answer because they provide some very good and reliable baselines (especially the first one) for when 304 is going to start to react (remember Acetic acid = vinegar). Both of the above are from peer reviewed journals.

Generally I think you're getting a bit too much concern from this inspector regarding the tank material. It should be held to the same standard as any beer or wine brewing setup.
Marc Banks
Blacksmith - Lenoir, North Carolina USA
----
Ed. note Feb 2019: .../asmhba0004202.pdf is now found in Vol. 13C of the ASM Handbook or behind a paywall accessible from https://doi.org/10.31399/asm.hb.v13c.a0004202
---
---
May 27, 2020
-- this entry appended to this thread by editor in lieu of spawning a duplicative thread
I'm in the process of starting a kombucha business. Several companies I've researched use a mix of stainless steel, glass and plastic.

The reason being some don't use "stainless steel" is because kombucha is acidic and they didn't want the corrosion factor.

Is this something I should be concerned about? How much corrosion happens for kombucha I'm wondering? Or am I over stressing because its so minute?
Kris Lai
- Hillsboro