60,000 Q&A topics -- Education, Aloha, & Fun
topic 61091
Energy savings in high temperature Type II anodizing
April 18, 2020
Q. As you know, normally temperature is 19-20 °C [66-68 °F] for type 2 anodizing. If I increase this temperature to 28-29 °C [82-84 °F] with proprietary/special chemicals (sodium bisulphate and others), then what will be energy savings as percentage if I compare with 20 °C [68 °F]?
alaattin tuna
- TURKEY,sakarya
---
April 21, 2020
Q. My aim is just only chiller unit's less working ... less energy consumption means greener production and less carbon footprint and less energy cost, Right? So if I get this project with these special chemicals why not continue anodizing production by this system? Of course I will test anodizing quality of profiles by weight loss test in laboratory. I will evaluate all results at end of the project ... I think it's worth trying!
alaattin tuna
[returning]
- TURKEY,sakarya
---
June 4, 2020
Q. Hi Ted, How are you? I hope there is not violent protest in your location and you are ok. I want to share with you a calculation method which is related to my query.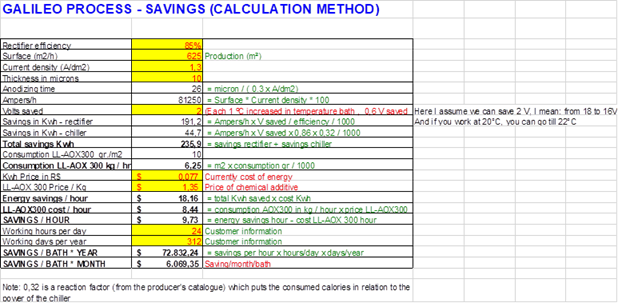 You and other contributors answered my question as a "NEGLIGIBLE" for energy saving issue.But one of the my friends lives in Brazil and works for Italian company as distributor. He has just shared this chart with me and I filled all our production values .So he found saving amount as $72,832 per year
So, my question here is: - Could you check calculation? Is there any mistake with it? -Could you publish this chart on finishing.com as my answer to contributors?
alaattin tuna
[returning]
- TURKEY,sakarya
---
September 25, 2020
Q. Hi again,
I have been testing a project for one week where my aim is energy saving, either electricity and chiller by adding oxalic acid to anodizing bath. I have added 10 gr/lt oxalic acid (it will change pore structure) to anodizing bath and I have increased temperature to 30 °C (86 °F) for that anodizing bath, and also I have decreased the voltage of rectifier. When I checked the anodized profiles I did not see any negative appearance on profiles. I have checked coating thickness, dye spot test, even mass loss test were ok. There was not any white dust due to high temperature effect. As logically,I assume I have saved energy either electricity and chiller aspect.

So how can we evaluate these consequences?
Is there any mistake with my testing?
Is there anyone who object this project as technical aspect?
alaattin tuna
- TURKEY Sakarya
---
---
September 28, 2020
Q. Hi Again. I think you are right Ted.This project seems like vain for energy saving issue aspect. I have tested 3 anodized bars which each of put different anodizing bath (one of baths is high temperature and oxalic acid added, other two are normal, 20 °C).Each of bars all same as pieces and square meter for three baths. Unfortunately, all currents were nearly same during anodizing. So ,your thesis which you claimed due to conductivity effect current was increased by temperature. So all three baths consumed same energy even if one bath is high temperature/low voltage. But should we think same issue as well as cooling energy consumption aspect? Or can we think chiller unit will be less loaded run on 20 °C instead of 30 °C degree?

Sincerely

alaattin tuna
- TURKEY Sakarya
---
September 29, 2020
Q. Hi. Frankly, I do not understand how operating temperature really doesn't much affect the power required to cool the bath? We know anodizing process is exothermal reaction. That means during reaction (anodizing) heat comes out. This reaction is independent from surrounding, right? So to me, keeping bath temperature 30°C during anodizing something else and keep of bath temperature 20 °C something else.
So there is two different issue and both of conditions give different energy load for chiller unit.
alaattin tuna
- TURKEY Sakarya
---
September 30, 2020
Q. Thank you for your compliment Ted. I understand your approach to chiller energy subject. Also can we say volt*amperes*hours all equal for either 20 °C and 30 °C because of conductivity effect? (I think chiller capacity calculation was like this: volt*ampere*3,412=btu/hour).
I tested two bar in different temperatures in last week. I saw both bars were nearly equal ampere during anodizing.So volt*ampere value is same for both bars that means cooling effect same even if different temperatures. Did I explain properly or wrong?

Sincerely
alaattin tuna
- TURKEY Sakarya