60,000 Q&A topics -- Education, Aloha, & Fun
topic 61091
Energy savings in high temperature Type II anodizing
April 18, 2020
Q. As you know, normally temperature is 19-20 °C [66-68 °F] for type 2 anodizing. If I increase this temperature to 28-29 °C [82-84 °F] with proprietary/special chemicals (sodium bisulphate and others), then what will be energy savings as percentage if I compare with 20 °C [68 °F]?
alaattin tuna
- TURKEY,sakarya
---
April 21, 2020
Q. My aim is just only chiller unit's less working ... less energy consumption means greener production and less carbon footprint and less energy cost, Right? So if I get this project with these special chemicals why not continue anodizing production by this system? Of course I will test anodizing quality of profiles by weight loss test in laboratory. I will evaluate all results at end of the project ... I think it's worth trying!
alaattin tuna
[returning]
- TURKEY,sakarya
---
June 4, 2020
Q. Hi Ted, How are you? I hope there is not violent protest in your location and you are ok. I want to share with you a calculation method which is related to my query.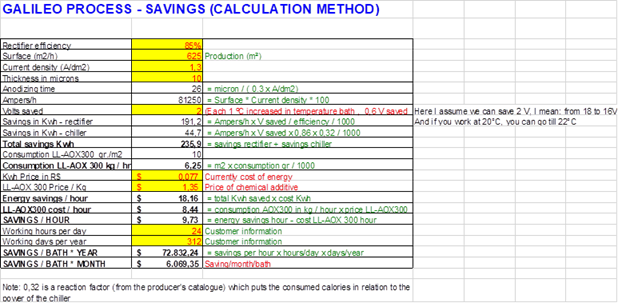 You and other contributors answered my question as a "NEGLIGIBLE" for energy saving issue.But one of the my friends lives in Brazil and works for Italian company as distributor. He has just shared this chart with me and I filled all our production values .So he found saving amount as $72,832 per year
So, my question here is: - Could you check calculation? Is there any mistake with it? -Could you publish this chart on finishing.com as my answer to contributors?
alaattin tuna
[returning]
- TURKEY,sakarya
adv.