60,000 Q&A topics -- Education, Aloha, & Fun
topic 61088
Nickel electroforming with very thin stainless steel foil as mandrel
April 3, 2020
Q. Hi Guys,

I am wondering if anyone will be able to assist me with a possible recommended solution or advice.

I am currently electroforming Nickel micro particles on a 0.05 mm stainless steel foil. My micro particles are 500 µm in diameter by 3 µm thick. Due this being utilized in a government security field, I am unable to elaborate on the micro particle. Current Process:

Acid Etch the stainless Foil before passivation and then nickel striking. Photoresist is then applied and the lighting process is conducted before development then electroforming process.

Due to the passivation, my micro particles are easily removed from the substrate which is perfect. My problem is two-fold:

1) Due to the thickness of the stainless steel foil only being 0.05 mm I am only able to receive 1 (one) application from the substrate. Is it possible to get more applications from an alternative substrate. Please take into account that the 0.05 mm substrate was chosen due to its flexibility and manipulative capabilities to assist in micro particle removal.

2) I am wanting to apply a water-based polymer to the completed substrate upon completion to provide a water soluble layer but also once cured it will allow the micro particles to be removed with ease. I have run test with PVOH with 90% success however, I am struggling on application and removal process?

Any assistance will be GREATLY appreciated!
Marc Strydom
Process Developer - South Africa
---
April 2020

Hi Marc. From your e-mail address I looked up what your company does, but only by doing that was I able to understand your posting. Sadly, I think most readers will find it impenetrable.
Maybe we can tell the readers that it's not that your electroformed nickel objects have "nickel microparticles" in or on them; rather that you are making large quantities of very tiny discrete nickel electroformed objects, 500 microns diameter x 3 microns thick, and that you have named those objects "nickel microparticles".
Even then I'm confused. In an ideal world where the stainless mandrel were more durable, what steps get repeated and what steps don't?
Regards,
Ted Mooney, P.E. RET
finishing.com - Pine Beach, New Jersey
Aloha -- an idea worth spreading
---
April 13, 2020
A. Hello Marc, Have you considered, instead of acid etching the stainless foil prior to photoresist application, electrocleaning it, followed by a mild, non-etching, acid dip. This should be enough for adequate photoresist adhesion. Stainless steel is naturally passive and may not need any passivation after the resist is developed, or you can passivate it at this point, prior to electroforming.
"PlaterB" Berl Stein
NiCoForm, Inc.

Rochester, New York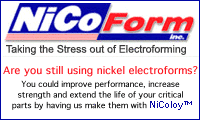 ---
May 8, 2020
A. Marc,
your query leaves many unanswered questions so we can only surmise what you are doing. I suspect you are doing some form of reel to reel electroforming and the thinness of the stainless steel is to allow the (stainless steel) mandrel to be easily taken over rollers etc. You also do not say why you can only use the mandrel a single time.
However, I surmise that you are coating your stainless steel with some form of photoresist and that the flexing of the stainless steel is resulting in the photoresist cracking or being damaged in some other way. Alternatively the stainless steel is being damaged by your process - maybe the bends are too tight or the line is not adequately aligned.
An important feature in using stainless steel as a mandrel for electroforming is to have it adequately passivated. Of course, we assume you have done a proper pretreatment for it! I would recommend a 10 minute dip in 10% sodium dichromate solution, if you are allowed to use it still. If not, try a potassium permanganate solution; alternatively, try using an electrolytic passivate for about 20 seconds. A good passivation will help ensure your electroforms detach form the mandrel with minimum difficulty. Be aware that you may need to reprocess the stainless steel mandrel after every use.
Returning to the photoresist, or whatever you use to create the required shape of your electroform. I note that the electroform is only 3um thick, so your photoresist or imaging coating is probably less than 5um thick. Your imaging pattern (ie photoresist) must be applied to the stainless steel mandrel before any passivation takes place. There are numerous ones available, both wet and dry application and positive or negative imaging. I would suggest you use one that is flexible, yet hard, but not brittle. You may wish to use an electrophoretic coating, as the film thickness can be very easily controlled - if so, try contacting LVH Coatings Ltd in Coleshill, Birmingham, UK.
In any event, the more information you can supply, the more useful any answers will be!

Trevor Crichton
R&D practical scientist
Chesham, Bucks, UK
adv.