60,000 Q&A topics -- Education, Aloha, & Fun
topic 61047
Protecting selective areas on precision machined weldments of Large Synoptic Survey Telescope
December 10, 2019
Q. Hello,

Large Synoptic Survey Telescope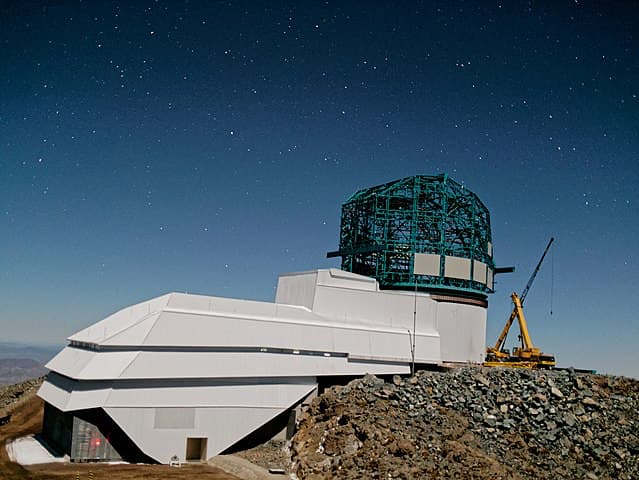 CC BY-SA 4.0, https://en.wikipedia.org/w/?curid=62504391
I have a precision structure that consists of 10 welded mild-steel sub-assemblies. The sub-assemblies all have portions that have precision-machined surfaces with threaded holes and tooling holes by which they are bolted to one-another. The entire structure is to be painted, with the exception of the features that I just described. I am looking at options on how to protect these surfaces and features from rust, both while the structure is in transit to its final destination, and also while it is in service. It is a precision structure that holds an instrument for a telescope, so I have to rule out using grease or anti-seize between the mating surfaces and threaded holes, because I can't have those substances dripping onto the telescope mirror. Is there some type of coating that can be applied in-situ (meaning here, in our machine shop) that provides decent atmospheric rust protection, and that is also less than .001 inch thick?
One of the ideas that I had was to build up a clay dam (or some sort of water-tight barrier) around the features that I want to protect, and pouring an electroless nickel plating solution in there - and once complete, sucking up the fluid with a turkey baster and either reusing it for the next feature, or disposing of it. I'm not sure how practical that is. Has anyone heard of anything like that being done successfully, or does anyone have any better ideas?

Thank you for reading this, and (possibly) responding to my inquiry.
Brian Johnson
Large Synoptic Survey Telescope - Tucson, Arizona, United States
---
December 2019
A. Hi Brian. Although you'll hopefully receive alternate ideas, my first thought is retaining an expert firm to do selective brush plating in situ. This is frequently done on roofs, large statues, and shafting on large ships, and you would have a choice of metals that can be plated, including nickel (which sounds like a good choice), and your .001" allowance would be more than enough. An alternative, depending on how big the weldments are, and how well the threaded holes and tooling holes need to be plated, would be to ship it out for plating of the whole structure with zinc or a zinc alloy both as protection for the machined areas, and as the pretreatment for painting.
Although electroplating and electroless plating are nowhere near as complex as astrophysics & telescope construction, they are unfortunately not as easy as pouring electroless nickel plating solution onto the surface, and I think it would be best to bring in a brush plating expert, and get the whole thing done exactly as you need it, and on site.
Regards,
Ted Mooney, P.E. RET
finishing.com - Pine Beach, New Jersey
Striving to live Aloha
---
December 11, 2019

Ted, thank you! I have never heard of "brush plating." That may very well end up being the solution that we decide on.
Brian Johnson
[returning]
Large Synoptic Survey Telescope - Tucson, Arizona, United States
adv.