Where the world gathers for
plating, anodizing, & finishing Q&As since 1989
-----
Unexpected color change in acid solution for soil digestion
Q. Why naturally the filtrate colour of acid digested soil is yellow?
Subhad hh
- India
August 18, 2023
---
---
↓ Closely related postings, oldest first ↓
---
---
Q. I am doing undergraduate research using 20 mL HNO3, 50 mL concentrated HCl and 4mL 30% H2O2 to digest 5 g of soil samples, in preparation for Atomic Absorption Spectroscopy. The above three ingredients are added to the soil, swirled and let sit for a little. Then the digested solution is poured through filter paper. The filtrate color is normally orange-yellow to orange-red(which I have found to be mainly a property of my acid combination). An unusual thing happened for soil samples from a stream that had dark brown/blackish soil. The filtrate (triplicates) was a dark blackish with a tinge of red. There was some water I had rinsed the filter paper with sitting on top of the dark layer with a yellow tinge from the acid. When I swirled the solution it instantaneously changed to a light orange. Whatever caused the dark color of the solution left no residue on the filter paper. The little bit of soil remaining after the digestion had lost its dark color. Any ideas what would have happened?
Calvin Livengood
- Dunbar, Pennsylvania USA
November 13, 2019
A. Hi Calvin,
My hunch is that your stream mud samples came from anaerobic/reducing conditions (slow-flowing, stagnant, oxygen starved with high BOD and/or COD, high TOC indicating a lot of organic material present, relatively low Nitrate for the amount of total N present, etc) and upon exposing them to a couple of powerful oxidisers, they reacted differently than you see in samples from better aerated conditions. I'll bet your university has a soils extension lab, and if you call over there and ask the techs what they typically see as post digestion sample behaviour from specimens of similar origin, they will be able to give you a better idea of what you are seeing and why.
If your particular school doesn't have one, a State university will. Best of luck in your research!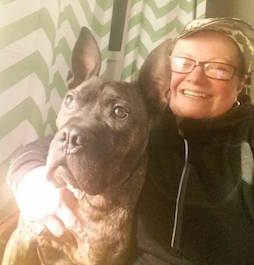 Rachel Mackintosh
- Greenfield, Vermont
A. It's hard to know without information on the chemical composition of the sample.

My guess is that it has something to do with high iron content. Red, orange, black, and brown are all colours that can be formed from different iron compounds.

The acid may have solubilised the iron compounds, stripping the soil of the source of its dark colouring.

When I was doing undergrad analytical chemistry, we prepared organic samples (cereal) for AAS by incinerating them and digesting them in I believe nitric acid. That method might be a good alternative if your current one doesn't work out.
Ben OShea
- Katikati, New Zealand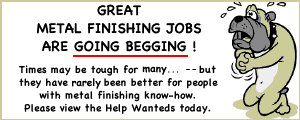 Production Manager for Plating Co. - AST, Arvada, CO
Junior Sales Representative - Resintech, Camden, NJ
Nadcap Chemical Processing Auditor - PRI, traveling