topic 6176
Spot Blueing of guns
(2000)
Q. I am just a 67 year old avid gun collector (have about 20 guns).
Just bought a colt .38 police special revolver with a beautiful finish except for a rust spot the size of a bb on side of frame underneath cylinder. Used steel wool to polish to metal, cleaned and then used Hoppes gun bluing kit [linked by editor to product info at Amazon] but cannot get spot to turn blue after applying blueing. Can anyone help me with this?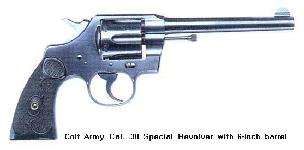 Spot is just about the size of the screw, dead center and just above the trigger (on the frame).
This spot bugs me something fierce (it is so small, but I KNOW IT'S THERE! Especially because the rest of the revolver is in such EXCELLENT condition (a dark beautiful blue - like brand new). Would appreciate greatly any tips I could get to overcome this problem. I am using Q-tips because spot is so small and I do not want to harm the rest of the finish.
Thank You Very Much -- Ed "not too tall" Jones.
Edmond "Bugs" Jones
- Sacramento, California, USA
---
(2001)
A. If I were you, I would try and ignore it because the more you fret about it and try different things to fix it, the bigger it will get. I know from experience. Blueing will not take visibly well to very small areas. Chances are the oxidation process took place but not enough "blue" was absorbed to see it. In any event, I had my new BAR .30 06 deer hunting this year in Wisconsin. Cold, damp and snowing a lot of the time. Tried to keep the surfaces protected but when I finally returned to Florida, I noticed a minute speck of rust on the receiver. I became very distract and was determined to fix it because the weapon had a beautiful satin blue finish. Long story, short, now I have a spot of dull blue the size of a quarter which does not match the rest of the weapon. Only alternative at the moment is to re-blue entire weapon for $200.
A. Karoblis
- Miami, Florida, USA
---
(2002)
A. dear sir, I am also an avid gun collector and a firearm restoration expert......clean the firearm thoroughly with a good dishwashing liquid, like dawn detergent and rinse it in HOT water. the hotter the better, but not boiling......let it dry completely. take a small piece of 0000 steel wool [linked by editor to product info at Rockler] and dip it into your blueing solution. work this into the rust spot. this will clean any residual oils from the spot while blueing and blending it at the same time without scratching the finnish. once you see the blueing starting to work, stop. let it dry and blend it into the other finnish with another dry piece of #0000 steel wool.
john t
[last name deleted for privacy by Editor]
- oroville, california
---
2006
A. John T has given you the best answer. After cleaning work the blueing into the spot with the steel wool. I have done this many times with good results.
THOMAS B
[last name deleted for privacy by Editor]
- Winslow, Arizona, USA


This public forum has 60,000 threads. If you have a question in mind which seems off topic to this thread, you might prefer to Search the Site