topic 6107
How to fuse polyethylene butt joints together?
A discussion started in 2000 but continuing through 2017
(2000)
Q. I am trying to fuse polyethylene butt joints together. So far I have only found one method that is pretty impractical for my purpose. Welding them together with plastic rod, seems to heat the poly too much and causes warpage. My question to you is, Is there anything that will bond polyethylene together. I have explored many epoxy's and glues and have had no luck. Please if you could come up with a liquid form that would do this I would really appreciate it. Thank you very much.
Michael Frank
concrete - Paxton Illinois
---
(2000)
A. Hi Michael !
There is NO adhesive for 'butt joining' Polyethylene (or Polypropylene, for that matter). Were someone to invent a good 'glue' for Pe they'd be an immediate billionaire!
There are two ways only of making a successful joint.
The first one is butt fusion. This requires a Teflon coated heating plate & pressure. After getting the material to the right 'fusion' temperature, one forces the two pieces together. For small diameters, this can be done by hand. For large diameters, you need a machine, ie. CHEVRON, U.S.A. amongst others makes h.d. Pe pipe up to 4 feet diameter. They use butt fusion machines to get around 100% weld strengths.
Yes, you can successfully weld them together. Firstly, cleanliness. No oil. No finger marks. Ensure that you have a compatible weld rod. You bevel the surfaces to be welded. Then you just hand weld (for larger diameters one uses a speed tip). One uses some pressure, too, to force the welding rod into situ. It's NOT like metal welding. You don't you MUSTN'T puddle the weld! Heat AND pressure only.
Welding is an art! Go and ask LARAMY, U.S.A. for their excellent little handbook which they give out with each of their welding guns. Excellent. A fully trained welder, based on tests I've organized, should hit well over 85% of tensile. A German book on welding mentioned the exceedingly rare case of a PVC welder hitting 100% BUT this I can vouch actually happened at ALCORE in Richmond Hill, Ontario back in the 60's.
Finally, hand welding of Pe is more successful if one uses a pure dry air or an air source (assuming that your welding gun doesn't have an inbuilt blower) that is NOT connected to a compressor!
I hope that this will help you. Cheers !
Freeman Newton
White Rock, British Columbia, Canada
(It is our sad duty to
advise that Freeman passed away
April 21, 2012. R.I.P. old friend).
---
(2000)

Hi Freeman... I do thank you for your time and explanation. I was afraid I would get a response like this though. But that is good that I know this now. Once again thank you for replying to my statement.
Michael Frank
concrete. - Paxton Illinois
---
(2001)
A. Now there is a glue that can melt Poly together and its made by 3M but the cost of it is about $140 for about 300 inches of a 1/4 inch bead. So 3M is going to be rich off of it ... well, no, because the cost right now is so high it's not worth it. Figured I would tell you that if money is no object then there ya go.
Andrew William Lusson
- Cedar Falls, Iowa
----
Ed. note: That product appears to be "Scotch-Weld Structural Adhesive" =>

Some of the subsequent discussions get a bit confusing as people recommend various 3M adhesives, because sometimes people are talking radically different adhesives (epoxy vs. urethane vs. acrylic, structural vs. non-structural), and sometimes they are discussing essentially the same adhesive where the different model numbers only reflect different cure times.

We recommend the 3M brochure "Design & Production Guide for Application success", available as a pdf at multimedia.3m.com/mws/mediawebserver?mwsId=66666UF6EVsSyXTtMxMVm8T2EVtQEVs6EVs6EVs6E666666--&fn=8120309%20AdhesiveNTapes_LR.pdf.

We've reprinted here the half page that explains the Epoxy Structural Adhesive model numbers: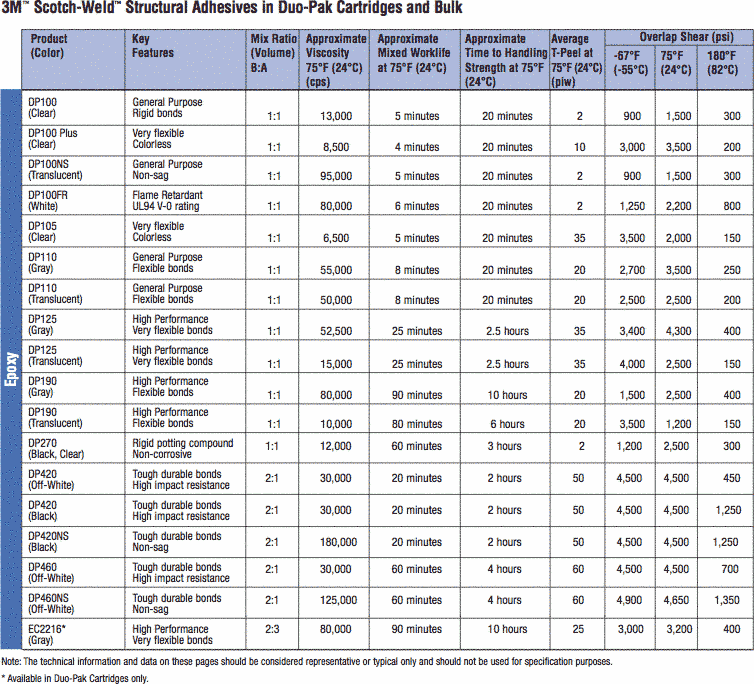 ---
(2001)
A. For Michael and anyone else finding this message. In the medical field, PET a form or polyethylene, is routinely bonded. An example is in the manufacture of balloon catheters. The PET is first corona treated then bonded with cyanoacrylics. Corona treating is a high voltage arc applied to the surface. This breaks the tight molecular bonds of the material, allowing the ends of these molecules to attach to the adhesive. The bonding requires both mechanical pressure and high humidity to activate the cyanoacrylic.
Tensile strength is good, but shear is weaker. My suggestion is talking with the material vendor, the adhesive vendors and the makers of corona treating equipment.
If someone is in the design phase of a project, they may also consider this bond method to hold pieces in place, but providing a mechanical interlock (pin in a hole) to give the mechanical strength.
Bob Guziak
electronics - Thousand Oaks, California
---
(2005)
A. I've been researching vacuum forming of polyethylene sheet recently and this may help you some.
The melting point of high density poly is supposed to be around 130 °C (about 266 °F). The forming temperature for vacuum forming is in this range as well. If by butt welding, you mean heating and joining the edges together so that they cool into a single piece, then you probably already have the equipment at your house (assuming your seams are flat). Just about any household electric griddle with a Teflon coating can be adjusted between 200 and 400 °F. I'd just heat it up, stand my 2 pieces on the edges to be welded, wait for a bead to begin forming when I apply light pressure, then put them together and press like hell... actually, I'd probably tape the pieces together, then let them sit for 15 minutes until they are completely cooled.
Hope this helps, I plan on trying it soon with a project I'm working on.
Brian Peters
- Marietta, Georgia
---
June 20, 2017
You're on the right track here, but in my experience as a Natural Gas Journey Pipefitter the "press like hell" part will leave you a 'cold joint' that will fail. With PE and related plastics you heat them up until a bead (the lips) start to form out of the melted plastic (lips of about 1/8" is what you are looking for), then remove the PE from the iron and "pop" them together quickly ... you don't have or want to be to aggressive here. Apply constant pressure as the "lips" roll back but don't push so hard that you roll all the melted plastic out of the joint or you will find the lips are the only thing holding and the joint is empty. Cooling should only take a minute until you can release the parts and at least in gas line it will take full pressure 60 lbs after 5 minutes. About the only way you can fail is if your material is too cold to join or you squeeze all the melted material out by applying too much pressure. After a successful fusion you can trim the lips off if you want.Properly joined PE is as strong as the original material.
Joe Beaker
- Kansas City, Missouri
---
(2005)
A. Hi,
Polyethylene is a thermo plastic, thermo plastic's can only be heat welded. The warping you are talking about can only be overcome by welding technics; some people would say you have to use clamps to hold the work piece at the correct angle, this is not so, the types of welding you use to weld plastic will always warp plastic. Although if you use another type of weld to overcome the previous weld, you will acquire the desired outcome.

Good Luck,
Paul Hennessy
polymer fabrications - Kalgoorlie-Boulder WA, Australia
---
2006
A. Hi Guys,

3M now has a plastic adhesive that will join polyethylene. The Mfg. No. is 4693, or 4693H for a thicker glue. Several industrial supply catalogs carry this or you can locate it on the internet. It runs about $7.00 or $8.00 a 5 oz tube.

It sticks to the poly quite well but does not make a chemical bond. Also it is not rated by FDA for contact with food so far.

The adhesive and poly must be above 65 degrees when using. To use put an even coat on both surfaces. Let dry until tacky but does not transfer when touched, takes only a few seconds, then press together.

It's not as strong as a welded seam but I'd give it a C+.
Roy Jackson
Gen Foods Retired - Cottonwood, Arizona
----
Ed. note: Thanks Roy! Readers: that model number is a "non-structural" adhesive (which Roy has noted by saying that it's not a chemical bond); that doesn't mean it's not suitable, but please consult the previously referenced 3M brochure to understand the difference.
---
(2007)
A. mrstickys.com has a product called PolyBonder--claims structural lap sheer bond of 2000 psi if proper flame treatment is performed prior to bonding. I believe that it will perform well with butt joints with flame treatment as well. I think TAP Plastics is now carrying it; they should know, they sell HDPE etc.

Hope this helps.
Eric Ryan
- Sacramento, California
---
March 18, 2009
A. I have had success with bonding Polypropylene by using 3M DP420. Surface prep is really important. You need to first clean with ethanol, and then plasma treat the surface. If you do this the bond should be stronger than the plastic being used (it is in my use).

Joe
Joe Conklin
- Pleasant Gap, Pennsylvania
---
February 26, 2011
A. Try this link: www.tapplastics.com/info/video_detail.php?vid=21&format=windowsmedia&PHPSESSID=201102260521521014995032
Tim Espartero
- American Canyon, California
----
Ed. note-- Folks: Links break quickly and the great majority of readers will probably read your posting after the links are broken, which is one reason we discourage them. If you post links anyway, please include the title of the article so we can find it, and summarize your thoughts. Tim's link broke in under a year, leaving us all with no idea at all what it is that he felt we should know :-(
Thanks.
---
December 16, 2011
Q. We had a problem with a HDPE 32" DR11 Tee one of the welds failed during the hydrotest, it presented a one inch leak. We asked a qualified technician to propose a solution and he told us to replace the whole part. Is there a reason why he couldn't repair it with a hand welding gun? did we have another solution?.

The tee transports sea water, test pressure 165 PSI, temp 75 F.
Thanks
Carlos Cornejo
- Lima, Peru
---
June 13, 2014
A. Carlos,

Depending on the use of the pipeline there is not a really good way to patch a hole in a fusion that will hold for long. I've heard of people extrusion welding patches but for pressured pipe this doesn't seem to be a very good idea. The absolute best way to patch something like that, and usually the required way, is to cut out the section that has the issue and re-fuse pipe and fittings in place. This is where electrofusion couplings can be handy, even though they are expensive. Patching a hole in PE pipe is kind of like having a buffalo run through a fence and then trying to patch the fence up with bailing wire. It's still a weak spot when you're done.
Jake Draeger
- Oklahoma City, Oklahoma, America
---
August 12, 2012
Q. I'm trying to bond 1/2 inch PVC pipe to HD Poly., a trash can as it turns out. Am I wasting my time? The HDPE will be supporting the pipe as it will be fitted through snug holes in the trash can. The bond is to keep in place laterally.
Mark Lansdell
- Baltimore, Maryland, USA


This public forum has 60,000 threads. If you have a question in mind which seems off topic to this thread, you might prefer to Search the Site