World's most popular finishing site / Internet's friendliest corner
topic 60990
Rubber lined nickel tank got plated
August 26, 2019
Q. Dear All;
I am working as plating professional and responsible of full automatic brass plating line (bright nickel and chrome). We have only electrical plating baths.

Last week during anode replacement we have seen that on the bottom of tank, there is most probably nickel plating layer approximately 20 cm diameter.
Our tank is steel and lined with hard rubber.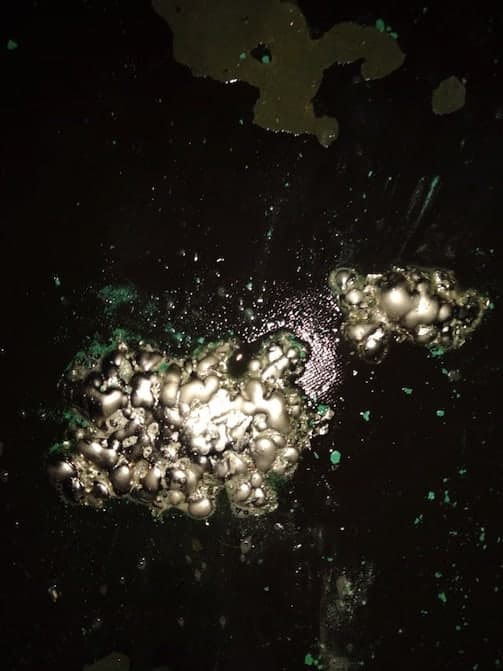 After seeing that we did not do anything since we don't know the condition. Do you have possible solution for that case before it goes worse?

I guess under that metal plating layer there is a deformation on tank rubber which goes to tank steel material.

-Should we take out that plated metal from bottom?

-Could be some fault current to tank then it caused plating on to that deformed area?
-could be somehow electroless plating mechanism happened onto deformed steel surface?

-Should we leave it like that? What should we do?
Alin Kirtlicki
- turkey
---
August 29, 2019
A. Hello Alin,
There are a few possible causes that come to mind. Before the anode change, the old anode bags may have had holes in them. Are you using Nickel S rounds in bagged baskets? If you are using S rounds, when topping off baskets Are some falling into the tank? Are the plating racks clean and free of metals at the contact points? If racks are not clean and metals have been plated up around those contact points they can fall to the bottom of the tank. You also want to check to make sure the cathode bars are not making contact with any part of the tank where the rubber has worn away. If there is an area at the bottom where the steel is exposed, the tank may be electrified because of the cathode bar(s) making contact with the tank, and just plating at that spot where the rubber has worn away. I would remove the metal debris at the bottom of the tank and notice if there is exposed steel under it. It could be something simple as possible causes #1-3. Good Luck and hope this helps.
Mark Baker
Electronic Plating - Winston Salem, N.C. USA