World's most popular finishing site / Internet's friendliest corner
topic 60947
Gold Plating Solution was water clear, now very dark
March 21, 2019
Q. Hello All,

I have inherited a Au plating process from another company whom my employer bought out several years ago. The Au plating baths start out "water white" and tend to turn very dark over time. I am currently at 25k amp min and both baths have the appearance of coffee. Luckily, this does not effect the plating rate or quality of the deposit. I am wondering if anyone else has had a similar experience and what they have done to prevent the bath from turning dark or at least control it?

I have had some success with activated carbon (10" pre-packed filters). This is a wafer plating process using mostly AZ4620 positive resist and occasionally S1818 negative resist as well as Dry Film. See below for operating conditions. I am certain this is organic contamination from the resist but I have used this same resist in a different Au plating chemistry with similar conditions and the bath always stays clear. Thanks in advance for any feedback provided.

Temp: 145 °F
pH: 5.5-6.0
ASF: 1-2
Au: 1 Troy oz/gal

Chris Slider
- Myrtle Beach, South Carolina USA
---
March 22, 2019
A. Hi Chris
If you are using a commercial bath then ask your supplier.
If it is a home brew you are on your own !
If you suspect resist contamination, you should be looking at process control on the resist process not the gold.
You should be aware that carbon treating a gold bath removes a significant quantity of gold. Don't throw the carbon away. Return it to your supplier for credit to your gold account.

A personal comment; Working in °F and Troy ounces is archaic.
The US signed up to the metric system decades ago but it is rarely implemented and using mixed units has led to many problems.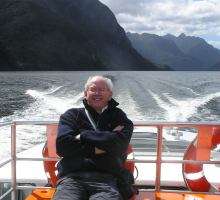 Geoff Smith
Hampshire, England
---
March 2019

True, Geoff, different industries switch from ounces to pounds, or inches to feet at different scales too. As an engineer building plating equipment, our shops always wanted measurement in inches up to 6 feet, and in feet and inches above that. Can't tell you how many times things were supplied at 60 something inches long instead of 6 foot some inches, and vice-versa.

Regards,
Ted Mooney, P.E. RET
finishing.com - Pine Beach, New Jersey
Striving to live Aloha