The world's most popular metal finishing site, and the internet's friendliest corner
topic 60915
Chromium Plating Solution - Better with age
January 6, 2019
Q. Hello,

We are looking to add another dilute standard chromium plating bath to our facility (33 oz/gal chromic acid / 0.33 oz/gal sulfates). We are going to borrow a portion of solution from our 3 other chromium plating baths (all dilute standards) in addition to adding fresh chromic acid which leads me to my question. Sorry, if this has been posted somewhere else --

I have a general question. Experienced (hard and thin-dense) chromium platers and lab technicians have told me that chromium plating solutions get better with age like a fine wine. Why is this the case?

Cadmium plating specifications that I work with call for re-qualification of the bath if more than 30% is disposed lost. I was wondering if the reason for this is tied into it as well.

Sayan K
- Toronto, Canada
---
January 2019

Hi Sayan. although there is a lot of first principles-based science in electroplating, there is still a good bit of empirical knowledge. I wouldn't necessarily call those chromium platers and lab technicians wrong -- although I am not familiar with the basis for that claim and don't, as of today, happen to believe it to be true. Still, any time you makeup a new solution there are possibilities of problems like too much chloride.
What is almost surely true is that if you make up the solution the way you describe, and maintain the concentration of those two chemical, the plating solution is fairly unlikely to be cause of whatever plating problems you experience. So if the old timers have convinced you to not dump the solution, and to look elsewhere for the source of the problems, they've probably done a service :-)
Regards,
Ted Mooney, P.E. RET
finishing.com - Pine Beach, New Jersey
Striving to live Aloha
---
January 9, 2019
A. Even when made up fresh from 'high purity' chemicals, a new bath will often contain minor amounts of undesirable ions and may need to be dummied before the bath is used.
At a lower concentration, the new bath may give plating that is acceptable acceptable and the minor elements are gradually plated out in use.
So experience shows that a bath may become progressively 'better' but this is due to use rather than age.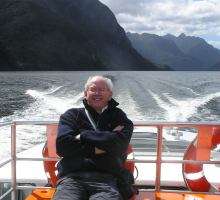 Geoff Smith
Hampshire, England