Live! From beautiful Pine Beach New Jersey: Welcome to the world's most popular metal finishing website
topic 60904
How is partial plating on Flatware done
December 13, 2018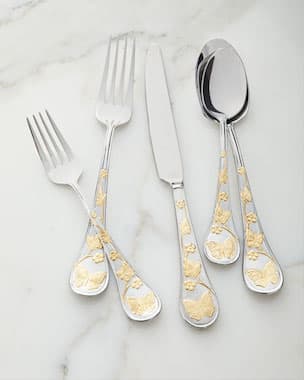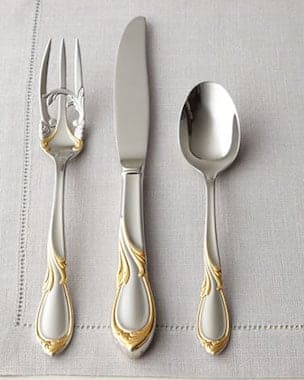 Q. Hi all,

Could you please advise about how the gold or copper finish can be applied partially on the design only and the rest of the surface remains without any coating. This type of finish is done mainly on flatware's handles.

The kind of plating that I am aware of involves dipping of metal items into several tanks step by step and by this the entire item is plated. However, in the attached items only the handle's designs are plated.

Could you please advise me what should I have in order to have these finish?

Thanks
Ahkam
Mohd Ahkam
Employee - Uttar Pradesh, India
---
December 2018
A. Hi Mohd. I can think of four ways that partial plating can be accomplished ...
1. Partial immersion (has been done on copper bottom pots and to silver plate the ends of bus bars).
2. Relieving -- plating the whole item, then buffing away the plating in areas (sometimes done on jewelry, oil rubbed bronze, etc.) More applicable for leaving the plating on relieved areas than on the high points.
3. Brush plating /tampon plating -- a sponge or brush contains the plating solution, and plating occurs only on the spots touched. The flatware could be done this way.
4. Masking -- the item is covered with a gummy 'masking' material so that the plating solution can only reach certain areas. It's possible to use light sensitive masking materials so the whole item can be dipped into liquid maskant, then exposed to light through a silk screen or photo negative, which hardens only where you want no plating (often done to make circuit boards).
For one of a kind items, approach no. 3 would probably be done. For higher volume flatware, probably approach no. 4.
Regards,
Ted Mooney, P.E. RET
finishing.com
Pine Beach, New Jersey
Striving to live "Aloha"
---
December 17, 2018
Q. Thank you Ted! for replying on it.
I believe, this kind of plating is being done by some other technique as the masking is not a practical idea for these kind of products which has these designs on them.
By this technique, floral or other intricate designs on handles are highlighted in detailed.
We use masking OR taping on flatware where we want to keep the handle to be plated and the cup part without plating.
I would need guidance on what are the requisite to have this technique for the volume items?

Thanks
Ahkam
Mohd Ahkam
[returning]
Employee - Moradabad, Uttar Pradesh, India
---
December 2018
A. Hi Mohd. I'm not so sure that photosensitive masking is impractical because it's used on far more complex patterns on circuit boards. But if your volume is very high it is possible to design permanent/semi-permanent masks made of rubber or plastic which are pressed against the component such that only the cut-out area is exposed to the plating solution. The same mask jig is used to plate hundreds of duplicate item. This is done to effect spot or stripe plating on the metal DIP strips which integrated circuits are mounted on. It is also possible to do automated brush plating. Finally, it is possible to deposit gold with PVD processes (or titanium nitride which looks like gold but isn't). The first thing you might do is decide whether you need real gold or just something that looks like gold.
We can, of course, only advise on what might be feasible approaches for this task. We cannot post any information about trade secret methods the current producers of this flatware actually employ.
Regards,
Ted Mooney, P.E. RET
finishing.com
Pine Beach, New Jersey
Striving to live "Aloha"


If you have a question in mind which seems off topic, please Search the Site