Live! From beautiful Pine Beach New Jersey: Welcome to the world's most popular metal finishing website
topic 60880
Need a replacement for Dull Zinc that can be readily epoxy bonded
October 25, 2018
Q. We have supplied to us tens of thousands of turned low carbon steel parts which have a groove for epoxy bonding. Past and recent experience is that without very consistent and careful prep or sand blasting, Nickel (ASTM B733 [link by ed. to spec at TechStreet] or AMS2404 [link by ed. to spec at TechStreet]) severely inhibits bond strength with high temp/high strength epoxies. We are mostly concerned with the ability to hold small parts onto the OD of the turned parts under high speed, so they don't fly off. So shear is not a strict concern, but rather tensile strength of the bond.

Historically we used a Zinc ASTM B633 [link by ed. to spec at TechStreet] Luster-Dull, however we can no longer reliably find baths for this. In general we use 416 or 17-7PH with passivate as an alternative, but the cost difference keeps driving us back to plating. The shiny chrome look shows scratches from minor handling too easily and we prefer a lower luster for that and other aesthetics. Black or dark tones would also be preferable over a high luster.

Ideally I'd like to have a bare steel where the glue groove is, but it must be something we can store potentially for years in our WH. Would be packaged, however it would need to be something we can handle and measure without cleaning upon receipt, then go into storage without large effort to repack and preserve.

I don't know if Black Nickel Mil-P-18317 [link is to free spec at Defense Logistics Agency, dla.mil] can be plated over dull Nickel B733 or AMS2404 to provide essentially a phosphated layer? Alternatively is there a phosphating or similar that is ROHS, REACH, WEE compliant that we can apply that would provide B633 SC3 equivalent corrosion resistance without being painted?

Tolerances are a major concern, we haven't explored any clear coats for this reason. I've become the defacto coating guy here, so any information is a big plus.

The last consideration has been to mask the non-glue areas after a low-phos B733/AMS2404 plate, and do a nitric acid dip for up to 5 seconds to extract phosphate to the surface. This test is in the spec to determine if a high-phos sample has insufficient phosphorous, but since the layer is similar or the same as a phosphating, I'm wondering if this would provide good adhesion and retain enough corrosion resistance to store.

For storage, we just need a B633 SC1 equivalent level of resistance. The SC3 need is for final application, where the glue groove will be protected by the epoxy and bonded components.

Thank you in advance!
Sean Fountain
Engineer - Rocklin, California, USA
---
November 28, 2018
A. Hi Sean
You are only looking at one part of the problem.
There are many variants of epoxy adhesives and appropriate pre-treatments for bonding.
You should speak to your epoxy manufacturer who will have extensive experience of your type of problem and a vested interest in their product being successfully used.

You don't seem unduly concerned with the final finish; have you looked at bonding directly to clean steel?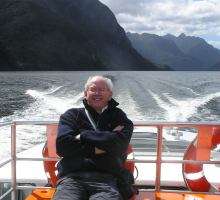 Geoff Smith
Hampshire, England
---
December 5, 2018
Q. Thank you for the first response! I appreciate any and all assistance & advice in overcoming this challenge.

I've replied to the always excellent suggestion to work with the adhesive supplier below. As for this particular request, we are still attempting to find a processing method that will allow Nickel plating without needing to sandblast the adhesive groove prior to bonding.

We need the parts to store dry, without oils or other coating requiring careful cleaning, for a year or more. For this reason just leaving the adhesive groove unplated (i.e., masked) has not been a good option. If you can suggest a masking material which is a peel off, low cost to apply, and provides corrosion resistance for storage in a warehouse, that would be excellent. I am intending to investigate masking materials such as a SpeedMask by Dymax.

_______
Below is my response to the question of epoxy supplier recommendation for this problem, just FYI:

We use a selection of 3M and Hysol products which have similar preparation requirements. In some cases the epoxies have been used for more than 15 years for the same application and there are internal improvements upon the supplier process, particularly since the suppliers recognize poor bonding to nickel plating and have no suggested alternative to our current preparation method.

There are two primary issues with the types of adhesives that we are limited to (for reasons of mechanical performance, thermal performance, chemical compatibility, and human processing/safety requirements);

1) Nickel and Zinc provide a low porosity low surface energy surface. This is part of how they achieve good 'chrome' appearance and also improves the chemical/salt resistance by providing the same barrier with less material thickness.

2) Nickel and Zinc achieve a very smooth surface roughness, providing little surface area enhancement or mechanical locking surfaces for the epoxy to grab.

Adhesives which chemically modify the platings have been ruled out for processing safety reasons.

I have had similar experience and issues with adhesives for PEEK plastic components. There 3M provided me with a plasma treatment based process which their lab testing showed to be superior to just scuffing+IPA treatment. In real world application though, the plasma treat only provided that level of benefit minutes after the treatment was applied. So while 3M insisted on the process, ultimately the process which succeeded is also used by my current employer:

Both parts:
1) Clean with 95% Isopropyl Alchol (IPA)
2) Scuff thoroughly with Scotchbrite 7447 or equivalent
3) Clean with 95% IPA

One part:
4) Wet one surface with epoxy

Assembly:
5) Press parts together to ensure full seat and transfer of epoxy to mating part

With the PEEK parts we saw a 25%-40% improvement in bond strength vs the plasma treated parts under 3M recommended process.

With the metal/metal parts here, even with this process Nickel plating substantially reduces bond strength, but 3M and Hysol have not provided any improved process recommendations.
Sean Fountain
[returning]
Celera Motion Inc - Elverta, California, USA


If you have a question in mind which seems off topic, please Search the Site