60,000 Q&A topics -- Education, Aloha, & Fun
topic 60879
Mill spots and discoloration in 6063 dark anodize
October 22, 2018
Q. I work for a local extrusion plant and we are getting a high kickback of parts that are having severe discoloration. We extrude 6063 Al for structural products and we send all of the parts out at T6. Our finisher is sending them back with a defect code related to residue on the parts similar to a tape or adhesive that would cause local masking of the area.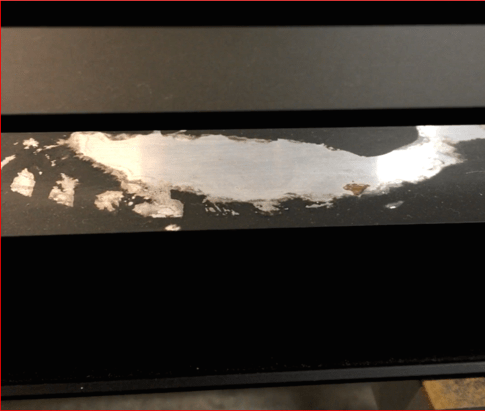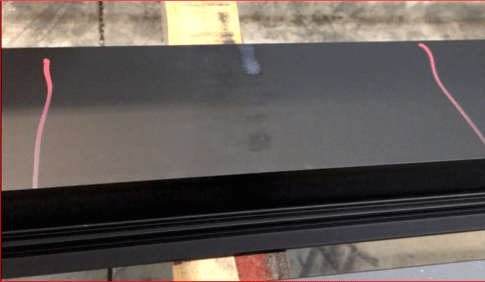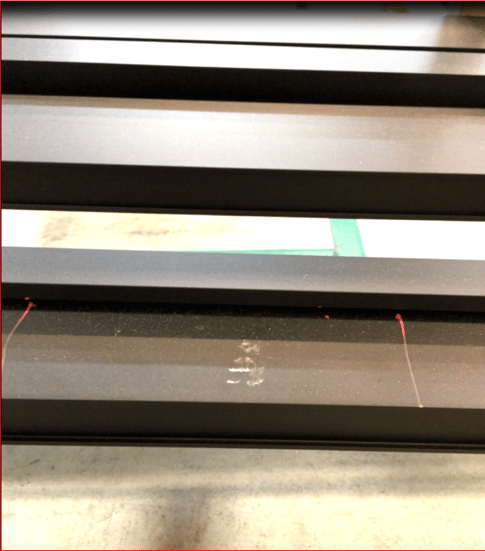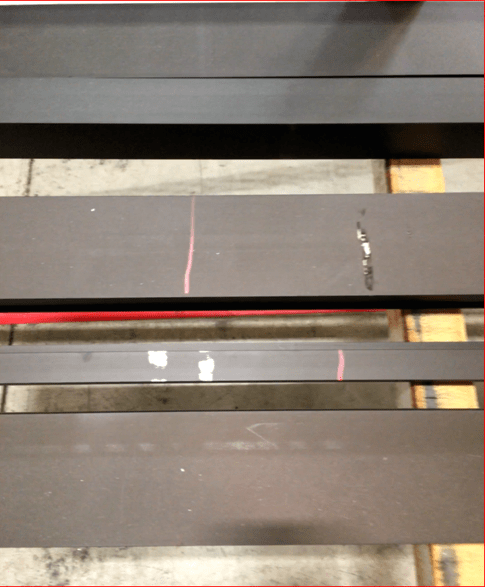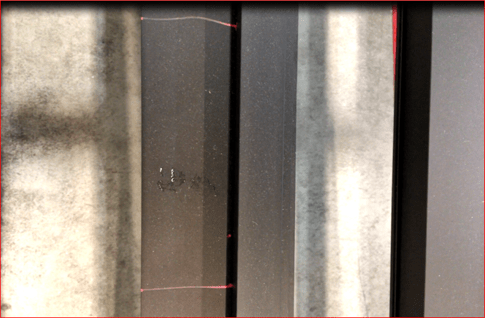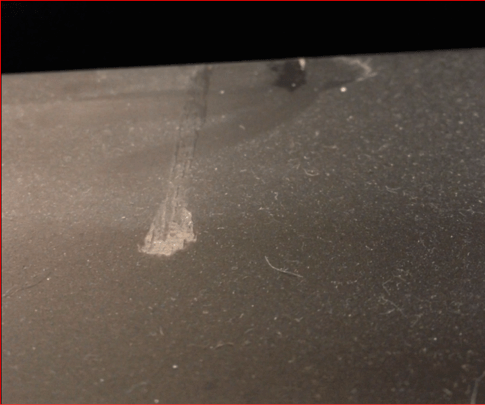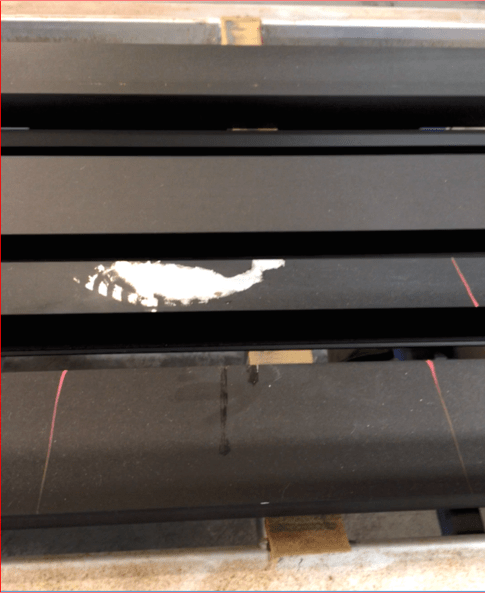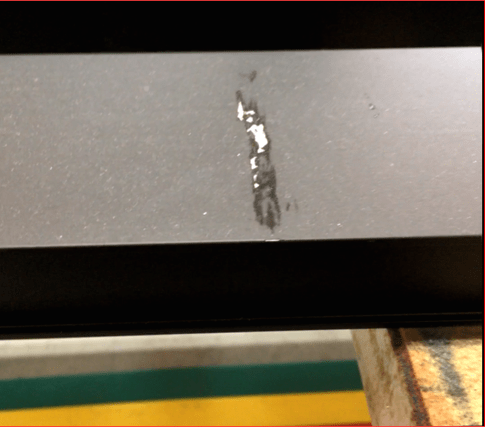 There may be more than one problem here (see pictures) but I am hoping that there is one common solution. This defect seems to come every 3-4 months and it quickly climbs to the top of our list of causes for returned parts. This doesn't appear to be an issue with masking to me but I could be wrong. I was hoping you all could shed some insight into what you think may be happening. I do not have any information about the controls or chemical data for the finisher.
Troy Rice
Process Engineer (Extrusion) - Reed City, Michigan
---
November 1, 2018
A. The defects are atypical of a material problem such as extrusion defects, inhomogeneities or structural defects etc. I think it can be a contamination on the surface, e.g. during the extrusion or subsequent processes (press runout, graphite, roller table, heat treatment). When these are not completely removed during degreasing and etching process no or no good oxide layer can be formed.It is important to measure the layer thickness, are the bright spots blank?
If the defects always occurred by the same company? Then check the surface treatment process. Possibly test parts with defects: strip, grind/scotch the surface, re-anodize.
Joerg Beerli
- Hallau, SH, Switzerland
---
November 2, 2018
aff. link



Aluminum How-To
"The Chromating - Anodizing - Hardcoating Handbook"
by Robert Probert
$89

Q. I'm going to be getting my hands on some samples shortly to get some in-depth information such as layer thickness and lab analysis. Aside from that, the bright spots appear to be an etched mill finish. Just a bit brighter than how it would come out of the press. I have tested various oils and contaminants that could be found around the shop and no defect came back. It seems to come about all of a sudden and it can appear on over 160 parts/week and then it will fall to below ten parts/week, seemingly on its own, after a few weeks of hitting us hard. It won't happen again for another 3-4 months and then it comes back without warning.
Troy Rice
[returning]
- Reed City, Michigan, USA
---
November 2, 2018
A. Looks like re-deposit of floating soil

Robert H Probert
Robert H Probert Technical Services

Garner, North Carolina
---
November 2018
A. Hi Troy. For what it's worth, my personal guess is the same as Roberts, that you are on the right track checking "various oils and contaminants". Maybe you have some outside service come in periodically -- exterminator, refrigeration company, etc.? But if it is contamination, who says it's not happening at the finisher's plant?
Regards,
Ted Mooney, P.E. RET
finishing.com - Pine Beach, New Jersey
Striving to live Aloha
---
November 6, 2018
A. Troy

I am going to go with what your anodizer suggested. There are several pictures that show the tale-tell sign of remnant tape adhesive. An easy test would be to wipe the flaw immediately after it is detected (and dry) with a Kleenex (or similar tissue). The adhesive is pretty much un-affected by the process and will 'grab' the tissue.
William Alexander
- Green Mountain Falls, Colorado
---
November 7, 2018
A. According to pics, there are two problems; one of the "contaminants which including oil" and "tape adhesive". But main question here is where can it come from, this oily contaminant? In my opinion, it can come from bridge cranes as dripping onto profiles, and kevlar rollers of press if it's dirty. Profiles which will anodize should be strictly monitored before loading to eliminate such problems. Also tape adhesive issue is worst because (according to my experience) that profiles is not reworked due to you won't strip the adhesive material so that profiles will become scrap.
alaattin tuna
- sakarya,TURKEY
---
---
August 5, 2019
Q. I have still been trying to track this down. We've tested virtually every contaminant we could think of and nothing came back with this defect. I think that one thing to note is that we don't use any tape in our process so that can be ruled out. Right now I'm testing contaminants that would occur in the inventory locations as opposed to those that would land on a hot extrusion and be baked on in the aging process.

I have also started to track the process dates of the defective material and we are definitely seeing way more in the middle of the week, it drops slightly for a day or two and then by Sunday we are back at a high number of occurrences. Mondays are back to very low occurrences. I've also looked into the press locations associated with those parts and if it is coming from the extrusion process, it is coming from all presses.

Another interesting fact: the parts are not conductive on these shiny areas. They overload the multi-meter. I don't know if this is an important tidbit or not but I don't want to leave anything out.

Many thanks to everybody who has offered up a potential cause. Every one of them is another route for me to look into.
Troy Rice
[returning]
Aluminum Extrusion - Reed City, Michigan
---
August 13, 2019
A. 1. For the big white defect, it is most probably due to your extrusion material got wetted by rain or water (extrusion stacked one above another)before doing next process;
2. For the small white dots defect, it is due to: a). dissolved aluminum content too high; b). bath agitation not strong enough; c). particles inside the bath (filter running and change the cartridge when needed). I believe the white spot happen on top surface (top when hang in the bath) only.
John Hu
- Singapore