World's most popular finishing site / Internet's friendliest corner
topic 60828
Why did aluminum cathodes turn yellow?
August 23, 2018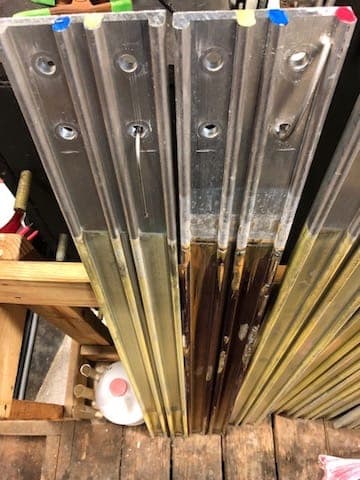 Q. I have been trying to convince one of my customers that if the cathodes turn yellow it is a sign that they are anodized and the connections should be checked.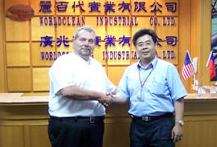 Drew Nosti, CEF
Ladson, South Carolina
---
August 29, 2018
? Can you give us more detail? For example, when does this appearance happen? When you take out this cathode from bath after how many hours (or second) after can it happen? Also what is the alloy values of cathodes? Especially Fe(iron). Frankly, I don't see any of this appearance in our anodizing bath's cathodes, but your comment can be true. I don't object...
alaattin tuna
- Turkey,sakarya
---
August 30, 2018
A. Hey Drew! It is not uncommon for contaminate metals in the sulfuric acid tank to plate onto the Al cathodes. For me, it's copper in the ano solution, mine will develop a light orange color over a period of time. We'll clean them when we decant. The yellow color is puzzling, I'm not sure which contaminate would impart that color, if I'm correct as to what's causing the issue. If he has stray voltage going to the cathodes when the tank is not being used, this will further exacerbate the issue, as at that point, you're pretty much plating out metal onto the cathodes.

I don't think they're anodized as in my experience 6063 Al does not naturally anodize that yellow color.

To really dig into it, Your customer could cut off a small piece and run an EDX with a SEM to identify the metal.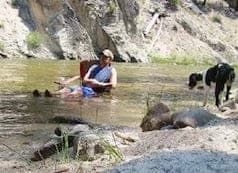 Marc Green
anodizer - Boise, Idaho
---
August 30, 2018

Q. I am really at a loss to explain why. Our cathodes have been sold for over 15 years and are certified 6063T6. Actually, the cathodes in question were cut out of a longer extrusion and the larger part was shipped to another large anodizer who has had no problem with them. I am waiting to run some tests on them to see if I can determine what happened. We almost always stock 6063T6 cathodes for our customers and have never had a problem in over 15 years.

Drew Nosti, CEF






Ladson, South Carolina





---

August 31, 2018

A. Drew,
If they were anodized, wouldn't they look anodized? Are they being used in a chronic acid anodize tank? Has your customer successfully used your product before, or is this a new customer for you?

Willie Alexander




- Green Mountain Falls, Colorado





---

August 30, 2018

A. Iron drag-in from the deox plus copper from 2024 will give you a yellow plate-out.




Robert H Probert




Robert H Probert Technical Services





Garner, North Carolina




---
August 2018
A. Hi. I wonder if the answer might be: "no, they are not anodized, nor are they defective -- they are simply dirty as a result of being used as cathodes in a solution full of contaminants that have discolored them ... they are functional and require nothing more than cleaning"?
If that is the answer, then my question would be how to best clean them.
Is the dark brown anode the same as the yellow ones and from the same tank, and if so, what is the theory for its very different appearance?
Regards,
Ted Mooney, P.E. RET
finishing.com - Pine Beach, New Jersey
Striving to live Aloha
---
August 31, 2018
A. In my situation, discoloration scrubs off with minimal effort, as what I have is just a little immersion plating going on.

Mine are cleaned with scotchbrite. Quite honestly, I don't even know that cleaning them is really necessary, there's definitely been times over my years in the business when we've not been very diligent in keeping them clean, and I've noticed no ill effects.

If your customer has trouble cleaning them using just an abrasive pad, then I would suggest he check for stray current to his cathodes, I believe that would definitely enhance any immersion plating he has going on.

As to another method of cleaning, if it's iron as Robert suggests, I would think a nitric acid dip could help.
Re. Ted's question: I'm betting the darker colored cathode may have had a loose connection at the right hand side through hole. And also, if you look at that cathode, it has what appears to be hand/finger marks, which indicates these can be easily cleaned.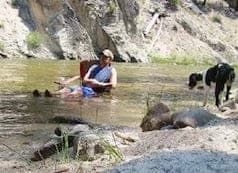 Marc Green
anodizer - Boise, Idaho
---
September 11, 2018
Q. We are actually in the middle of experimenting to see if we can identify the reason the cathodes PITTED. We put a sample of the cathodes that were returned in our sulfuric acid anodizing bath and have checked them every day now for 6 days. Although there was some discoloration on the piece which we know is normal there has been NO ATTACK on the aluminum. We will continue to monitor this and update everyone. We are also looking into the possibility of a chloride attack on the aluminum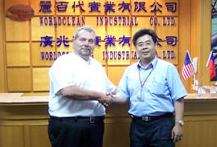 Drew Nosti, CEF
Ladson, South Carolina
---
October 15, 2018
Update: After 6 weeks in my shop's anodizing solution there is NO! NO! signs of pitting on the customer cathode sample or a new batch of cathodes. These results point to problems in his operating bath, not our cathodes.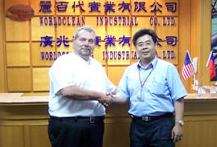 Drew Nosti, CEF
Ladson, South Carolina
---
---
Trickle Charge to Protect Aluminum Cathode for Anodize
October 15, 2018
Q. In a July 2017 article (https://www.pfonline.com/articles/cathode-materials-and-cathodeanode-ratios) Larry Chesterfield proposed using "a cathode trickle charge" when there is no operation currently in the tank so as to provide Cathodic Protection during Down Times. We have been unable to obtain any information about the Voltage or Amps per Sq Ft of Cathode necessary to provide said protection. Any help is greatly appreciated.
Lyndon Tschetter
Management in Anodize Plant - Mishawaka, Indiana USA
---
January 23, 2019
A. We have recently run a test on 2 lots of our 6063T6 aluminum cathodes. A piece of the cathode from each batch was placed in a container of an anodizing solution at room temperature. The anodizing solution was at 185 G/L. The test was started at the end of Aug 2018 and as of today Jan 23/2019, there are NO signs of pitting on either of the samples. No trickle charge was involved. This is the reason most of our customers do not need to use a trickle charge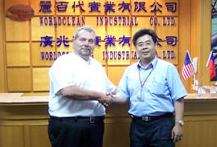 Drew Nosti, CEF
Ladson, South Carolina
---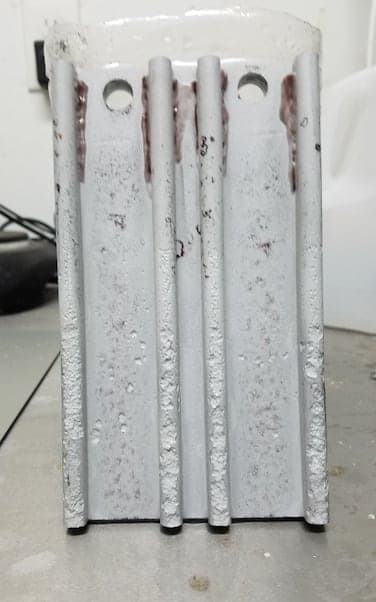 March 27, 2019
Update: : After 8 months of sitting in an anodizing solution at about 190 G/L only slight deterioration on the surface. No trickle charge or anodizing done during the 8 months: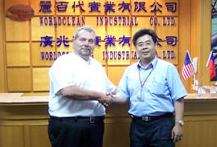 Drew Nosti, CEF
Ladson, South Carolina
---
March 28, 2019
A. One client had 1/8" thick 6061 last 4 1/2 years at 180 g/L, another using the thick dog bone "recommended" 6063 lasted only 6 months at 230 g/L. (Hard coaters on heat treated 2000's need higher free acid) Above test at 190 showed the early beginning. Practically, up to 200 g/L you do not need to worry, but as the free acid is increased it is a real problem at 220 or 230. All this is presuming you do not have chloride contamination.

Robert H Probert
Robert H Probert Technical Services
Garner, North Carolina
---
July 5, 2019
A. Not all 6063T6 cathodes are created equal. Certified 6063T6 made in the USA are the best. Getting T6 is not easy. Most suppliers think T52 is the same. IT IS NOT.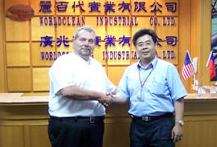 Drew Nosti, CEF
Ladson, South Carolina