Live! From beautiful Pine Beach New Jersey: Welcome to the world's most popular metal finishing website
topic 60819
Aluminum Pool Track Bonding
August 10, 2018
Q. Hello,

I have an aluminum pool track that needs to be bonded to the equipotential pool bonding grid (#8 solid copper wire between all components). The track where the bonding will happen will be encased in concrete. I have purchased direct burial zinc plated lay-in lugs (Ilsco GBL-4DBT) that need to be attached to the aluminum track. I want to reduce the chances of corrosion as much as possible. My 2 choices of screws (because of availability) are zinc plated sheet metal or stainless steel sheet metal screws. These will be purchased from the big box stores. I'm leaning toward the zinc plated based on the charts that I have seen but want to run this by someone else :)

Thanks!

Jeff
Jeff Anderson
DIYer - Spokane, Washington / USA
---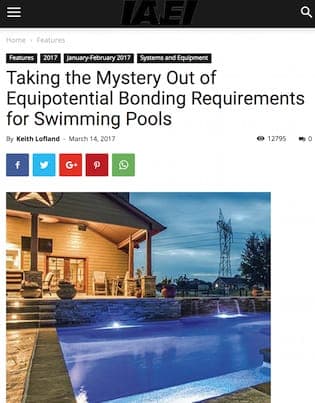 August 2018
A. Hi Jeff. In terms of galvanic corrosion, ultimately you are metallically connecting aluminum (a very active metal) to copper (a very noble metal), so whether you use stainless or zinc plated screws or something else is kind of a distinction without a difference from the galvanic corrosion standpoint, but I'd go stainless for corrosion resistance.
However, I do note that the lay-in lugs you mentioned are tin plated, not zinc plated, and it's a big difference electrically, so I think you should carefully review NEC 680.26 and make sure it is silent on the subject of bolt materials for connecting the lugs to the bonded materials. Best of luck.
Regards,
Ted Mooney, P.E. RET
finishing.com
Pine Beach, New Jersey
Striving to live "Aloha"


If you have a question in mind which seems off topic, please Search the Site