Where the world gathers for
plating, anodizing, & finishing Q&As since 1989
-----
Boiling Diamonds in Acid to Clean Them
Q. Can anybody tell me the best ratio of boiling rough diamonds in acids. I am using 95% sulphuric acid and 65% nitric acid and would love any tips in how to achieve the best results. I think 60% sulphuric to 40% nitric will work well..?
Daniel Brancatisano
Jeweler - Victoria
February 7, 2023
A. Hi Daniel,
There's an excellent page on that at https://gemgate.com/diamond-acid-bath-explained-caution-use-great-care/
... or keep reading :-)
Luck & Regards,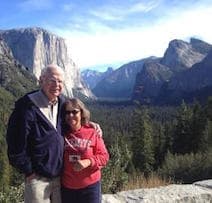 Ted Mooney, P.E. RET
Striving to live Aloha
finishing.com - Pine Beach, New Jersey



---
---
---
Closely related historical posts, oldest first ...
Blackening of Diamonds after De-Stoning process in Aqua Regia
Q. Dear Sir's
I introduce myself as Prakash V Pai from India.
I work as a senior manager, Castings in a firm which manufactures Gold & Studded jewelry for Exports.
Our Exports consists of 75-80 Studded jewelry. Recently one of the orders were cancelled by a customer who had ordered studded rose gold rings. The cancellation was done when the cast pieces were in QC stage. Due to this, we rejected the entire production.
To de-stone the jewelry and to recover the gold, I had to process the rings in Aqua Regia acid which we normally do without any problems, but this time the stones changed color and turned from white to blackish.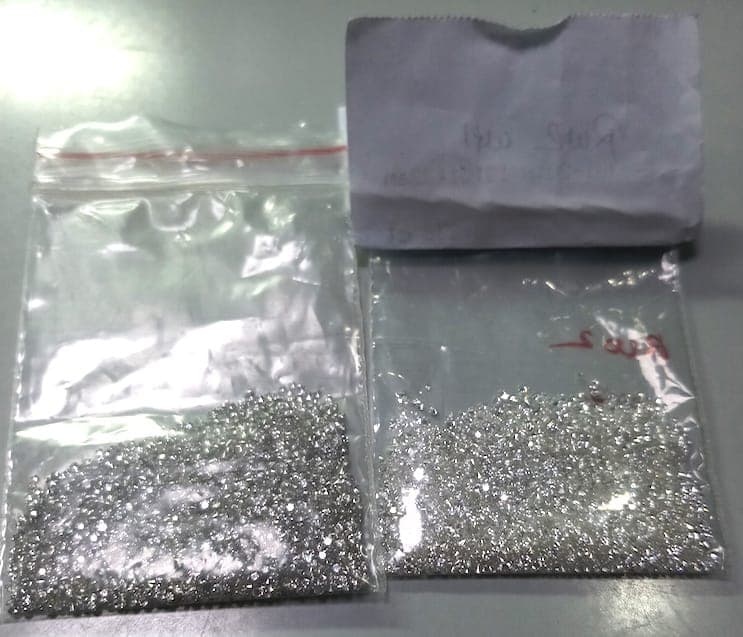 I tried boiling the stones in order to recover the original color by doing the following process:
1. Re-boiled the diamonds in Aqua Regia.
2. Boiling the diamonds in Perchloric Acid
3. Kept the Diamonds in Cyanide solution
4. Boiled the diamonds in Hydrochloric Acid
All the above processes did not yield any results and the diamonds had a shade of black with it.
Can somebody please explain and shed some light, as to what was the cause of diamond turning black?
How to clean it again to bring back its original whiteness? What are the chemicals I need to use?
Re Cutting & Re Polishing on lathe again of diamonds means loss … Please Help!!
Eagerly awaiting for your reply..
Warm Regards,
PRAKASH V PAI
Shop Employee cum Hobbyist - Navi Mumbai, Maharashtra, INDIA
August 1, 2018
A. Hi prakash,
After a long time a very challenging question from you.
No problem, I have a solution. You first boil your only exact 10 diamonds in LR grade sulphuric acid; boil the solution carefully. Remove the boil solution into another beaker, not diamonds, then add very carefully water into it. Take care not to jump the diamonds outside of beaker while adding water in H2SO4. Generally H2SO4 added to water. Some spurting sound comes. Wash plenty of water. Then place on clean cloths generally used to clean diamonds. Please give us feedback about your results. I have another solution also.
bhupesh mulik
cac admixtures - MUMBAI, India
August 5, 2018
Q. Dear Bhupesh,
Will definitely try this process as mentioned by you today.
This black color is due to a film like coating (just like how a car window glass pane is filmed to make it tinted)on the Pavilion facets. It is this coating which makes the diamond look black but in reality it is a very white diamond of VS1 quality. Even with a strong acid like Per Chloric it did not get cleaned.
I would welcome more suggestions on this as I would like to get the diamonds cleaned for reprocessing & casting.
Awaiting for your reply
Warm regards,
PRAKASH V PAI
[returning]
Shop Employee cum Hobbyist - Navi Mumbai, Maharashtra, INDIA
!! Be careful!! - 98% sulfuric doesn't boil until about 320 °C (600 °FF). Sulfuric that hot is one of the most dangerous combinations on the planet. Start small. You may find it will work at a lower temperature.
Chris Owen
- Benton, Arkansas, USA
Q. Hi Chris...
A very good morning to you...
YES if will be definitely be careful with 98% Sulphuric acid.
I did the process yesterday with about 26 karats of Black stone Destoned from finished jewelry.
I must have boiled the diamonds in LR grade 98% pure Acid for over 1.30 minutes ( the acid was boiling very strongly)but the diamonds were still black in shade after cleaning with Distilled water & drying them.
You can make out from the photographs I have attached with this thread.
Can you suggest some other chemical which can react on the thin film coating ....??
Awaiting for your reply,
warm regards,
PRAKASH V PAI
[returning]
Shop Employee cum Hobbyist - Navi Mumbai, Maharashtra, INDIA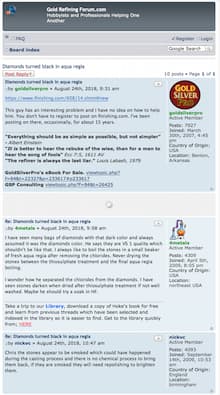 A. I put the question concerning the black diamonds on the goldrefiningforum.com, about a week ago, and here's what I got →
Chris Owen
- Benton, Arkansas, USA
September 2, 2018

Thanks Chris! Some great responses there!
Regards,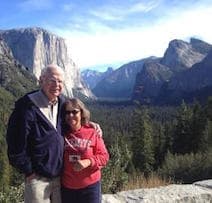 Ted Mooney
, P.E. RET
Striving to live Aloha
finishing.com - Pine Beach, New Jersey
A. Hi,
Diamonds treated in sulphuric acid conc. till enough heating required. 90 min of heating is ok. now colour of H2so4 will change like muddy and dirty type. decant almost all H2SO4 in another beaker and very carefully put water immediately into diamond and few traces of h2so4 containing sample. a exothermic reaction takes place and spurting sound observed. Add plenty of water. Remove it on plastic mesh sieve and do the ultrasonic. check the appearance after cleaning by cloth.
thanks,
Bhupesh Mulik
CAC admixtures - Mumbai, India