Live! From beautiful Pine Beach New Jersey: Welcome to the world's most popular metal finishing website
topic 60812
Inside of hollow anodized aluminum profile has white dots
July 31, 2018
Q. Hi,
Currently we have problem that there are white dots in our hollow anodized profile. It should be no problem, but our customer is quite annoyed since they request to have clean inside and outside hollow profile.

We suspected on having impurities inside the profile.
So we have cleaned inside profile by doing water shoot per pieces before placing profile into the anodizing tank. however, the white dot is still there.

What is the actual root cause of this problem? for your information, we are using horizontal anodizing line.
Ainil Hawa Mohamad Zainal
PA Extrusion Sdn Bhd - IJOK, SELANGOR, MALAYSIA
---
August 6, 2018
? Can you share a pic (or more) about this problem?
alaattin tuna
- sakarya, TURKEY
---
August 8, 2018
Q. Here is a picture of our situation. The dot will leave a mark if we swipe them. We try to reduce the length of the material, but this still can happen.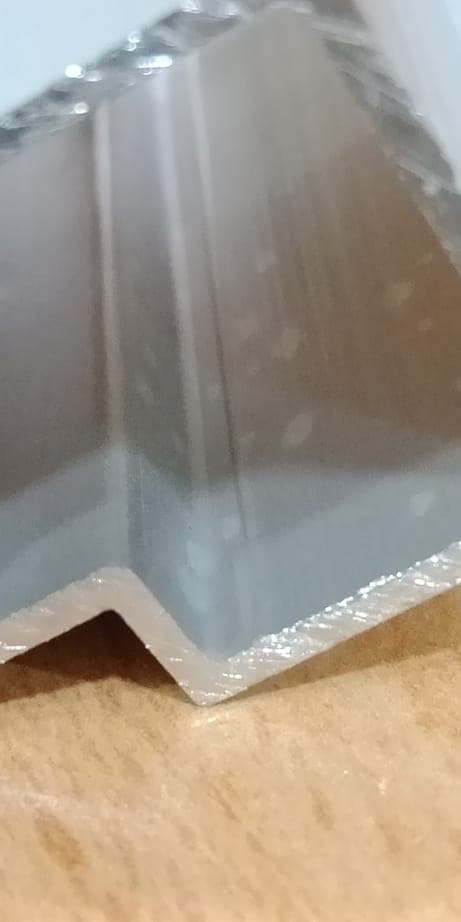 Ainil Hawa Mohamad Zainal
[returning]
PA Extrusion Sdn Bhd - IJOK, SELANGOR, MALAYSIA
---
August 18, 2018
A. These are typical "Air bubble" marks.
Usually these white spots happen when the profiles are dipped into the tank horizontally with the help of a Rack -- because air gets trapped inside the hollow portion of the profiles, or in angular areas, or in grooves (if any) in flat profiles as well.
Therefore, to avoid such, rack the profiles at slight inclination so that there is a slope in all profiles to drain out the water as well as the air bubbles (if any trapped). And also in operation, while the rack with profiles is fully immersed in the tank, do an "up down" movement of the Rack within the liquid level. This will also help in removing trapped air.

Good luck.
Srimay Basu
- Asansol, West Bengal, India


If you have a question in mind which seems off topic, please Search the Site