Where the world has
gathered for finishing Q&As since 1989
Roller Ski Finishing Questions
(
-----
)
June 27, 2018
Q. Hi Everyone,

I have read this forum for years and it has been an amazing resource. So I just wanted to start by saying thanks so very to everyone for posting such well written and technical information. Kudos!

I wanted to most to get your thoughts on the best process for our product finishing..
My company makes roller skis …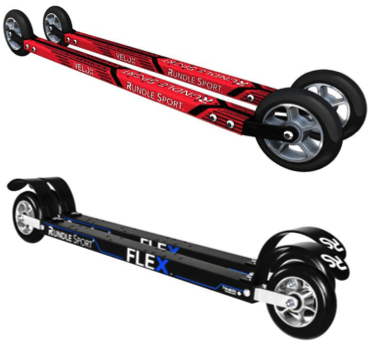 I want to discuss the finishing of the shafts. They are extruded 1"x1.5"x18" long and are used by skiers on their feet. They see a great deal of road dirt and grime..
They are currently extruded 6061-T6 aluminium, Painted and then screen printed. I would like to increase the look of quality of the product and with that comes a change in graphic.. But I was playing with the idea of extruding and then anodizing the shafts blue and then having them laser engraved. I feel this would like sleek and simple. But I am concerned with the fatigue effects of the TYPE II or TYPE III anodizing on a shaft 450 mm long that bends ~1.5 mm on every ski stroke. To me this is not an insignificant fatigue..

We could also move towards powder coating the parts and then digital printing and clear coating over top.. But I am open to anything! I very much like mountain bike frame finishing which as I understand is, painted (what paint process?) then ink transfer decals then clear coated (typically matte).

What are your thoughts for the best way to finish these products without exploding the costs..
Lucas Jungmann
Owner - Canada
---
June 27, 2018
A. I would rule out Type III hardcoat anodize due to the brittleness of the anodic layer- you are correct in worrying about flex stresses. It can and will crack. If you go with anodizing, Type II, with or without dye, would be a far better bet -- Although the abrasion resistance is not as good as for Type III.
Type II with dye opens up a huge range of colors and gives an attractive finish. On an extrusion as shown, if you choose anodizing, a satin-masking step before anodizing will greatly reduce the appearance of extrusion lines and help even out the eventual finish. The severity of how much extrusion lines will show up can vary from lot to lot of stock material, and in some cases clear anodize or a light colored dye will let them show through, so surface prep is important. I speak from experience, as we currently anodize a part made from the same 6061 square tube stock, and without satin masking, striations in the material are definitely visible.
I don't know how well decals would stick over a nickel-sealed anodized finish, having no experience there, but it takes very well to laser marking.
If you go with paint, consider having the aluminum treated with chromate conversion coating (either yellow ChemFilm or the RoHS compliant trivalent version), which will both improve the adhesion of the paint, and allow the substrate to self-heal to an extent if the paint is scuffed, as no doubt it will be in use.
Cool product- good luck!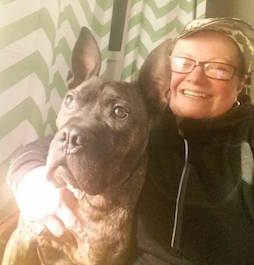 Rachel Mackintosh
Lab Rat and some other things - Greenfield, Vermont