Live! From beautiful Pine Beach New Jersey: Welcome to the world's most popular metal finishing website
topic 60773
How to Colour Stainless Bolts Bright Blue Similar to Aluminium Anodising
June 5, 2018
Q. My situation:I am a motorcycle engineer and normally am only interested in improving the performance of a bike (not only the engine though). However on my personal bike I have decided to be a bit vain and add some colour to some of the metal parts.

I have found kits for anodising which include all the dyes to do at home (the price of pre-bought coloured bolts is extortionate!) However, I can only find these kits for aluminium, as it seems that's the most suitable metal for anodising.

My aim is to get bolts, etc., that look like the picture below: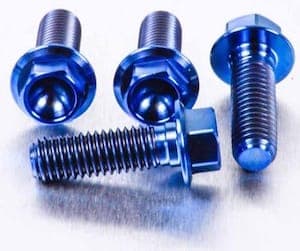 (Pro-Bolt TI Clip-On Handle Bar Pinch Bolts Blue)
The bolts will most likely be A2 or A4 stainless steel such as those you can buy from reputable shops on eBay, though I am also interested in titanium or steel if steel can have a corrosion inhibitor. I am mostly interested in ways that could be accomplished with a DIY purchased kit or I can manufacture most things to make my own.

My question in short - What processes can be used to colour steel/ stainless/ titanium bolts, etc., a bright cobalt type blue using a purchased (sensible prices please, I am a student), or home made kit?

Many Thanks

Ross

My question in short
Ross Hanna
Motorcycle Engineering student - Swansea, UK
---
June 2018
A. Hi Ross. Bear with me a minute and hopefully it will be worth your time …
If you dip a brush in a can of paint and start applying it to various surfaces, although there might be some small differences in its appearance depending on the texture of the underlying surface, you're going to get pretty much the same color & look because it comes from the resins and pigments you've coated onto the surface, not from the underlying aluminum, titanium, stainless steel or plain carbon steel you brushed it onto.
But when you anodize or do other 'conversion coatings' you are generating aluminum oxides, titanium oxides, chrome oxides, and iron oxides ... and asking iron oxide to look like titanium oxide is unrealistic; it's like trying to bake cookies while substituting salt for the sugar.
The general technology of aluminum anodizing is that applying low voltage electricity (about 12 volts) while the aluminum is sitting in sulphuric acid will produce an aluminum oxide surface with millions of tiny drill holes in it. If that anodized aluminum is then immersed in a cobalt blue dye, the dye will be absorbed into those drill holes, and the dye can subsequently be locked in.
The general technology of titanium anodizing is that applying higher voltage electricity (more like 10-120 volts) while immersed in Coca-Cola or TSP will produce very thin (partial wavelength) virtually transparent titanium oxide coatings on it. When light hits the titanium, half of it will bounce off the outer surface of the part, half of it will penetrate the transparent oxide and bounce off the underlying titanium, and the interference effects can produce colors like the rainbow sheen of a drop of oil on a water puddle. If the thickness of the titanium oxide is held consistent, you can get a single color instead of a rainbow, and depending on the particular thickness you can get cobalt blue, yellow, green, purple or other colors of the spectrum.
It's rather weird, but you can get pretty much the same color from aluminum anodizing and titanium anodizing even though the actual technologies and causes of the coloration almost couldn't be more different. Titanium anodizing is very accessible to hobbyists and we have many threads here on that topic.
My limited understanding is that stainless steel can be colorized via diffraction coatings like titanium but that it's quite a bit more complicated and not readily achievable by hobbyists. Coloring plain steel via anodizing processes isn't possible. Maybe stick with aluminum or titanium. Good luck.
Regards,
Ted Mooney, P.E. RET
finishing.com
Pine Beach, New Jersey
Striving to live "Aloha"


If you have a question in mind which seems off topic, please Search the Site